Before we go into the five reasons to visit Barcelona in 2019, here's what you need to know. Whatever you might be thinking about low-cost carriers, I still believe they're the best thing on the planet right now. If it wasn't for Ryanair, Wizzair and the rest, I'd have probably seen a fraction of the places that I can now state I've seen until today. I'm so happy to change two, even three planes to reach a certain destination, knowing that I've paid less on the tickets than I'll be spending in the airports on super bad coffee and some McDonalds I shouldn't eat in the first place.
So it happened with my Barcelona trip this April. My flight cost me just 45 bucks or so. I took two planes to reach Barcelona, stopping at Milan Bergamo airport, and then one flight direct back home. I love flying, so if you're not into that, you should consider a direct flight. Although if you're not into flying, I'm wondering as to why are you reading this article right now.
Regardless, you should go to Barcelona. The sun is amazing there. It has a different feel to it. The way it makes the temperature just right for jogging, for sitting on the beach for 3 hours and meditating while planespotting, it's just much better than anywhere else. There are many reasons why you should visit this awesome city, but for the sake of our time together today, I'll only briefly name 5 of them, letting the photos do the work for me.
1. The Barceloneta Beach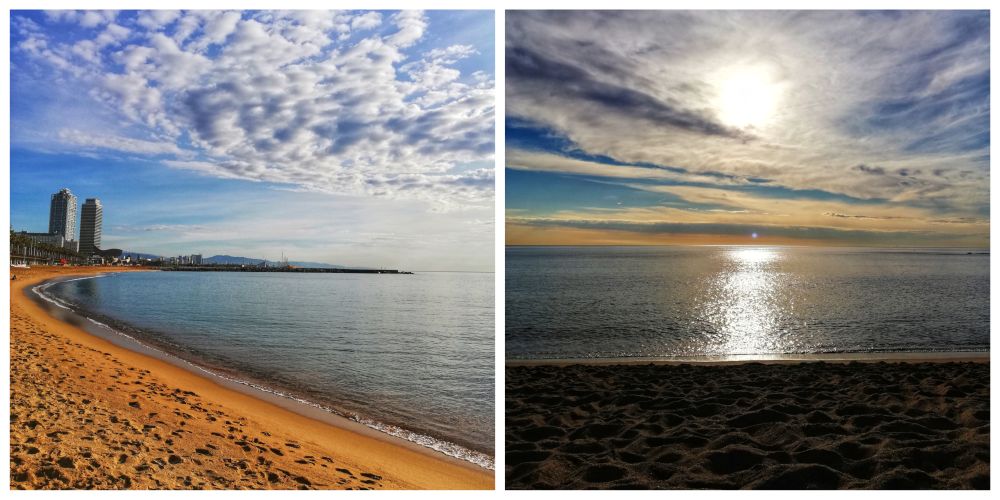 Barcelona is known for its amazing municipal beaches. I live in Romania, a country with miles upon miles of Black Sea coastline. Yet, none of our beaches looks like Barceloneta beach, a long stretch of sand that's Instagrammable from all angles. Stop by one of the markets in the city, grab yourself some breakfast of fresh fruits and a smoothie, then leisurely walk to the beach and enjoy the morning in peace and harmony. It is the very best thing you can do in this city, hands down.
2. Sagrada Familia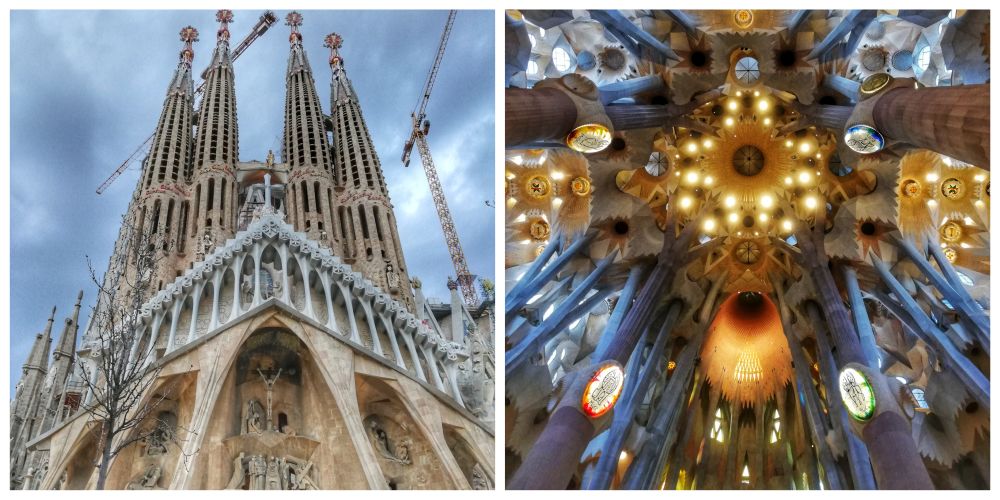 Antoni Gaudi was a genius bordering insanity. But then again, all great minds of the world were like that. But not like Gaudi. Gaudi was something else. Besides the houses he designed throughout the city and the famous Guell Park, the most famous building in Barcelona is the Sagrada Familia. This is the place where you go not only to see a church but to be completely mesmerised by a church. It made me feel a certain way even when I saw it from the plane, from miles away. If you thought Notre Dame or St. Peter's Basilica were amazing, wait until you get inside the Sagrada Familia.
You will have a hard time believing your eyes. Everything inside, the shapes, columns, windows, structures, lights, everything seems surreal. But at the same time, it all looks… natural! Gaudi said that in Nature, there are no corners or squares, so you will never find a corner or a square in the Sagrada either. It's truly a world wonder, this one. Book your tickets in advance. Try and make it there in the morning or at dawn, at sunset. The colours are incredible.
3. La Boqueria Market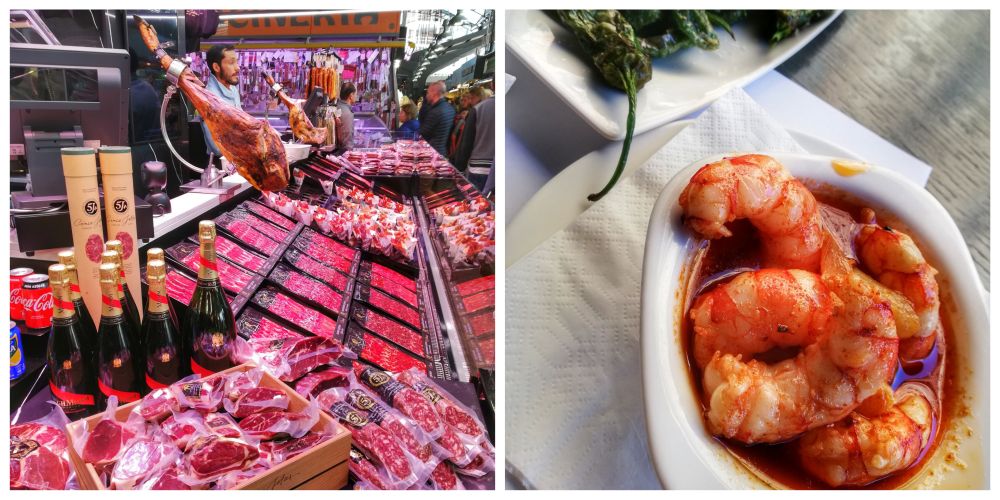 When arriving in a new city, always head for the markets for the ultimate culinary experience. This rule is crucial for your own good because going into a restaurant all the time can prove to be expensive and not the best idea every time. La Boqueria Market is steps away from the famous Las Ramblas street. Don't worry, although it's in the middle of the city, the place is still a market where locals come and buy fruits, vegetables and seafood. And jamon!
Speaking of seafood and jamon, there are plenty of little shops in the market, restaurants and taverns where you can enjoy fresh prawns, oysters, small fish and so on. Also, you can literally buy cones of jamon and just snack on them for a bit. Heaven costs just 5 euros. I tried almost all of the stalls inside the covered market and I haven't had a bad experience. I paid 10 Euros for my breakfast and about 5-8 Euros for a tapas dish at lunch. Look for the freshly squeezed juices shop that has no added sugar in the drinks.
4. Gaudi, the "painter" of Barcelona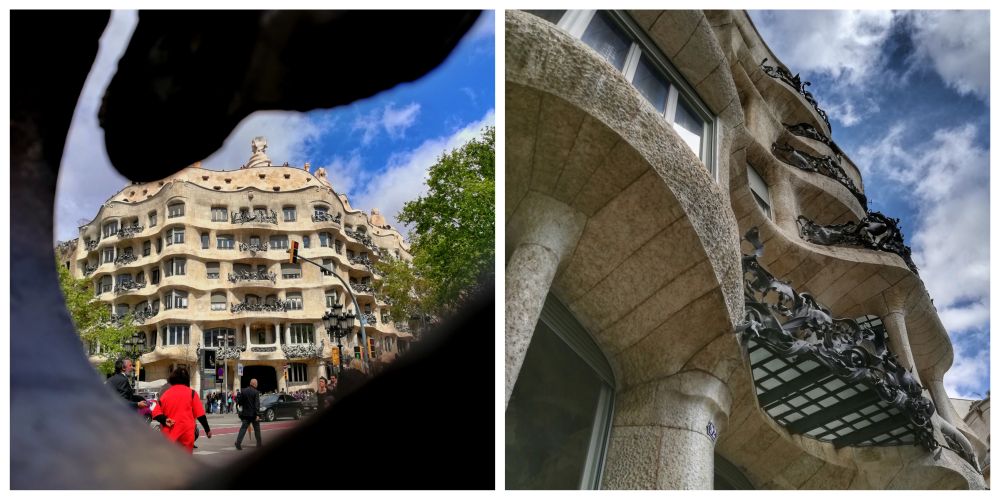 Besides the Sagrada Familia, Antoni Gaudi has erected many other places in Barcelona that are a must-see. You have the Park Guell, for example, which is an oasis of not only greenery but also intricate works by the famous artist. Then, you have the three houses, Mila, Batllo and Vicens. His influence is spread all around the city, so you'll not only see Gaudi's work in Barcelona but if you're aware enough, you'll be able to feel it as well.
5. The Magic Fountain of Barcelona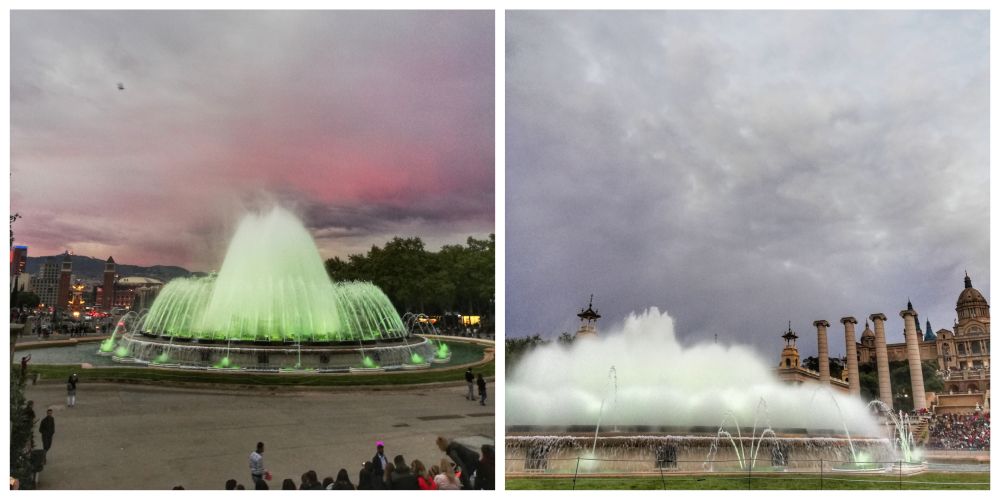 At first, I thought "come on, this is a magic fountain, a cheap trick to get people to a certain spot, watch a lame show and then make them pay for something". Boy, was I wrong! The Magic Fountain in Barcelona is truly magical. You have to check the schedule online, but if you're lucky enough to be there when there's a show, go and see it without second-guessing your choice. It's a spectacle in the true sense of the word, with lights, music and water jets that spread not only in the main fountain but all the way from the museum to the Placa d'Espanya.
P.S.: Many more pictures from Barcelona on my Instagram profile.