Free tools are crucial for any freelance writing business. Just because they're free doesn't mean they're not good. On the contrary! Freelance writing is usually an almost cost-free business. You need a great laptop, a solid internet connection, and a notebook if you're like me and want to physically "check" things off of lists. But you do need your virtual tools, no doubt.
Before diving into my most useful 24 free tools that I use for my freelance writing business, I'll break down the process of freelance writing as I see it. Then, I'll move into the actual tools that I use, based on the topic of interest, such as writing tools, money management, engagement and social media, clients, and so on. It's a complete list, that's for sure!
Freelance writing as a process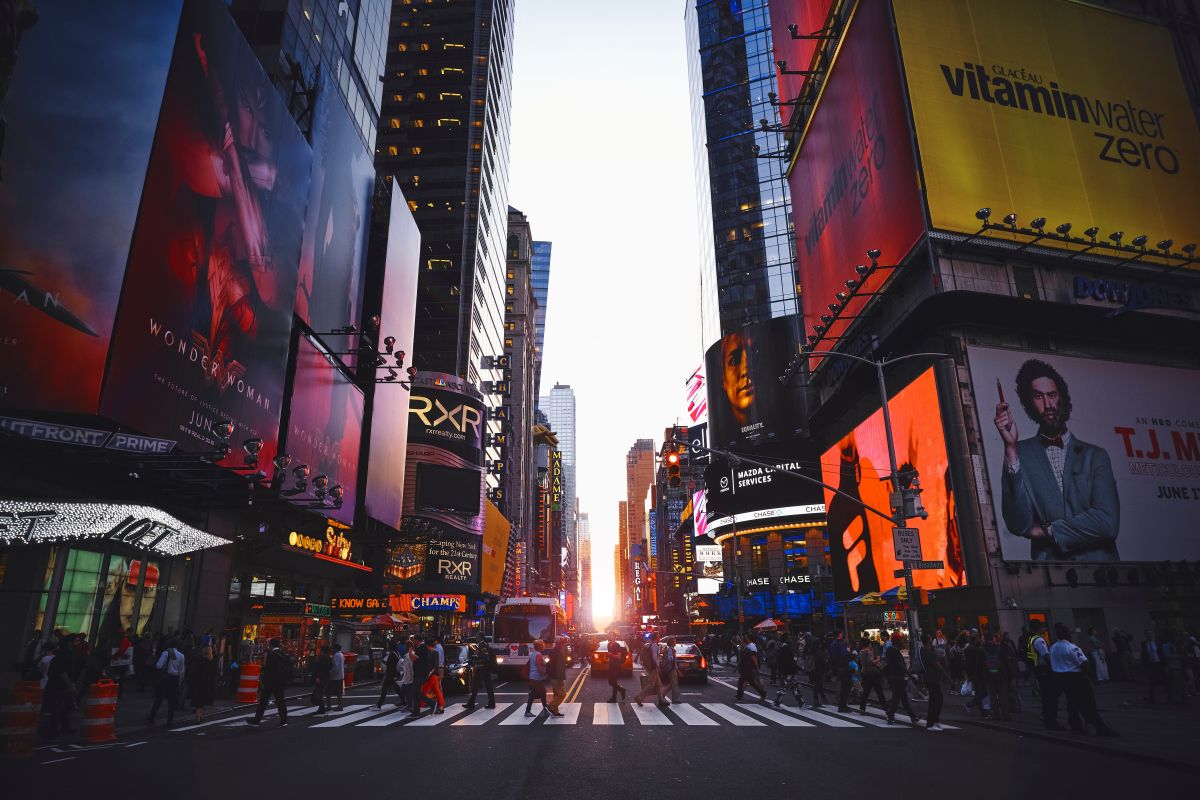 Writing for money is a topic that I've covered in-depth in another post, so for the sake of introducing you in the topic of free tools you can use for it, I'll keep it short here with just the process of how to acquire clients, how to write, invoice and promote your services online.
Finding clients
The very first step into this process is finding your clients. This is possible by either signing up to a platform that is bringing together freelancers and clients, such as Upwork or Fiverr, or by simply pitching your prospects directly via email.
Writing
The actual writing part of your job will be done on either a separate tool such as Word, or directly online into a writing service, like Google Docs. Once ready, you can simply send the text to your client, or share the document with them on the web.
Payday
Happy freelancers get paid on time and well. For this, there are many online finance free tools and invoicing apps you can use, but for me, PayPal and my bank app have been enough for the past 5 years of doing this full time.
Blogging and social media
Content creators need to be found by the right clients, or search for them when the time comes. For this, I use a mix of blogging and social media to keep the relation with my prospects happening. I've branded my enterprise as a freelance-writing-for-travel type of company, and so I share travel photos on Instagram, freelance advice on Facebook and LinkedIn, as well as full-on writing and business management guides on my blog.
24 free tools for my freelance writing business
I've split the free tools that I use with my freelance writing business into four categories. The first one has to do with managing clients, and consists of the freelancing platforms that I use, as well as things like LinkedIn or Gmail, also important for communication. I've also added the messaging tools where I keep in touch with my clients, but also my one and only invoicing tool.
For the second category, I've added my writing tools, the actual free tools that I use on a daily basis for my writing jobs. In the "social media" category, I've added the apps that I use for reaching out, posting my photos and advice, and so on. The fourth category is for the visual part of my jobs, including the free tools that I use to edit photos, create logos or infographics, and so on.
Free tools for client management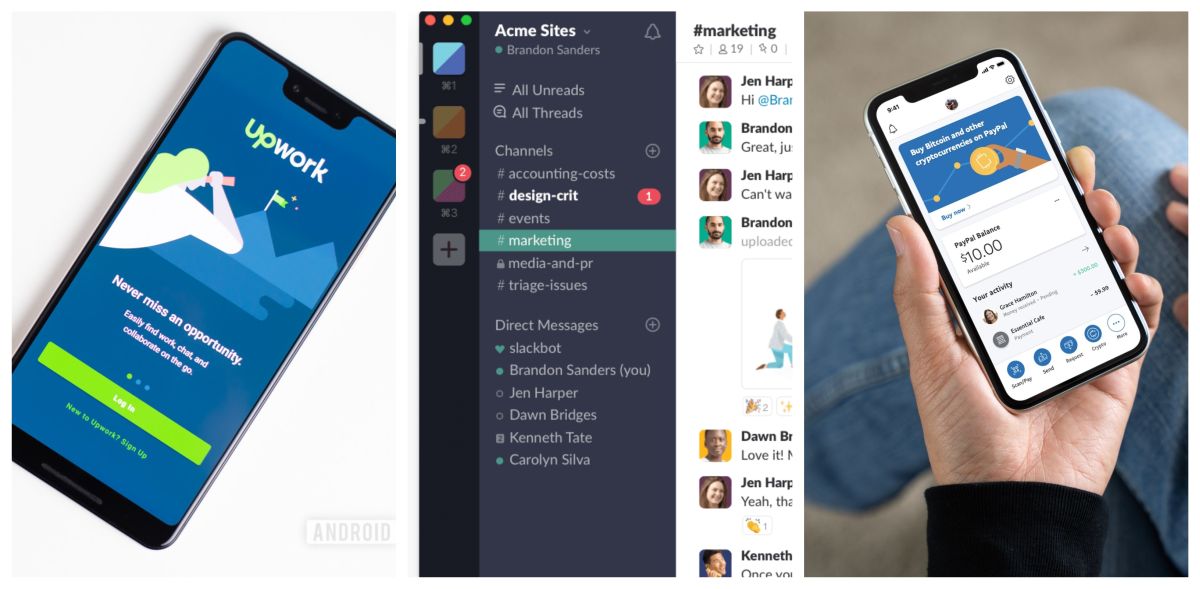 Fiverr
For me, my freelance writing career started with Fiverr. I got my account back in 2016 and landed my first gigs on there in a few weeks. I earned about 1.000 bucks in my first year, which is nothing. But the lessons I've learned while on Fiverr helped me get to where I'm at. Fiverr is free and is still a great place for writers and other freelancers to start. – Link
Upwork
Out of all of the many freelancing platforms out there, Upwork is the definite leader. I started on it back in 2018, and now three years later I've managed to earn over $10.000 from the platform alone (more on that in a later post) which is great considering less than 25% of my income over these 3 years were from the site. Upwork brings freelancers and clients together.
Although free, you will have to pay your time and duties to the Upwork site. How? By paying a hefty commission of 20%, 10%, or 5% from your earnings based on the sums of money you've made with a certain client. For example, you'll pay 20% for all jobs under 500, and the commission drops as you move to better-paying contracts with the same client. – Link
ProBlogger
I haven't given this tool much thought the first time around, and it was a mistake. ProBlogger is a great place to look for professionals who are searching for freelance writers. I'm happy to report that 80% of people I've pitched on there have replied back. And that about half of them have hired me to write for them. It's also a great place to learn about blogs and writing.
To apply for a job, simply go on the site and click on the "Jobs" tab. There's no fee for you to apply to a proposal on there, but don't waste the time of your prospects, and your own, if you're not actually qualified for the gig. Apply for the jobs you can deliver for, keeping it simple and friendly, but professional. ProBlogger is a great tool still very few writers know about. – Link
LinkedIn
Probably the biggest mistake of my freelance writing career has been cheapening LinkedIn for my first few years at the job. This social platform for business is simply incredible. Both for information, sharing your own, and for connecting with people. Not just other freelancers, but clients as well. Make your profile stand out, and post regularly. It's worth it! – Link
Gmail
Out of all of the email clients I've ever used, and am still using, Gmail sits at the top of them all. It's completely free up to 15 GB, of which I've only used about 6 in 10 years, and it simply doesn't fail you. It has excellent spam filtering, it allows for complete customization of your experience, and it's fast and reliable. I have a few business accounts for other enterprises, but for my freelancing, my Gmail is still the one I go for each day. – Link
Spotify
You'd think writing has nothing to do with Spotify, but the fact of the matter is, music is the absolute best break food you can consume. It puts an end to one topic you're working on, and then resets your creative juices for the next, which can be a completely different style of writing altogether. It's well worth it, even though I do use the paid version, but the free one is as effective as the money one. And I also use it on every single workout, so it's worth it. – Link
Slack
My main communication app to keep in touch with my big clients is Slack. It's free to use for freelancers, as far as I know, as some clients have to pay for it based on how many channels they've got. No payment at my end though. Slack works wonderfully, comes with great notifications that are never late, and so is the ideal messaging and document sharing app! – Link
Skype
Although I'm not using Skype on a daily or even weekly basis, based on clients, I do use this tool to see and hear my clients from time to time. There's nothing better than a face-to-face session to keep the momentum going while on a project. Or to pick things up and move on when things are a little shaky. It's important to see people. Skype is perfect for it! – Link
Asana
One of the most popular team planners out there is Asana. This intuitive tool lets clients and their teams of freelancers work together to accomplish the many goals they've set for their projects. I used Asana for the first time about 4 years ago, and since then, whenever clients ask what's my preferred mode of project management, this is my very first proposal. – Link
Audacity 
I use this tool paired with a semi-professional microphone from Trust, which was originally intended for a podcast but hey, who's got the time? Audacity is free and simple to use. Just double click on it, start the recording, record your voice message and instantly save it and send it to your client. It's important for your clients to sometimes hear you, literally. – Link
PayPal
When it comes to international invoicing and keeping things simple, there's no better service in my books than PayPal. This tool I've been using for close to 6 years now. It has the lowest percentage of taxes out of all payment services, coming at about 6% of the invoiced sum. Upwork, on the other hand, takes 20% plus VAT from your money, if your project is under $500.
I love PayPal for the simplicity with which it allows me to not just send invoices, but also manage the recurring ones, and look back into the older ones when I need to. It comes with some of the best exchange rates between it and my bank. And yes, minus the percentage, it is free to use and that's amazing. It surely makes our freelancing lives a ton easier. – Link
Free tools for writing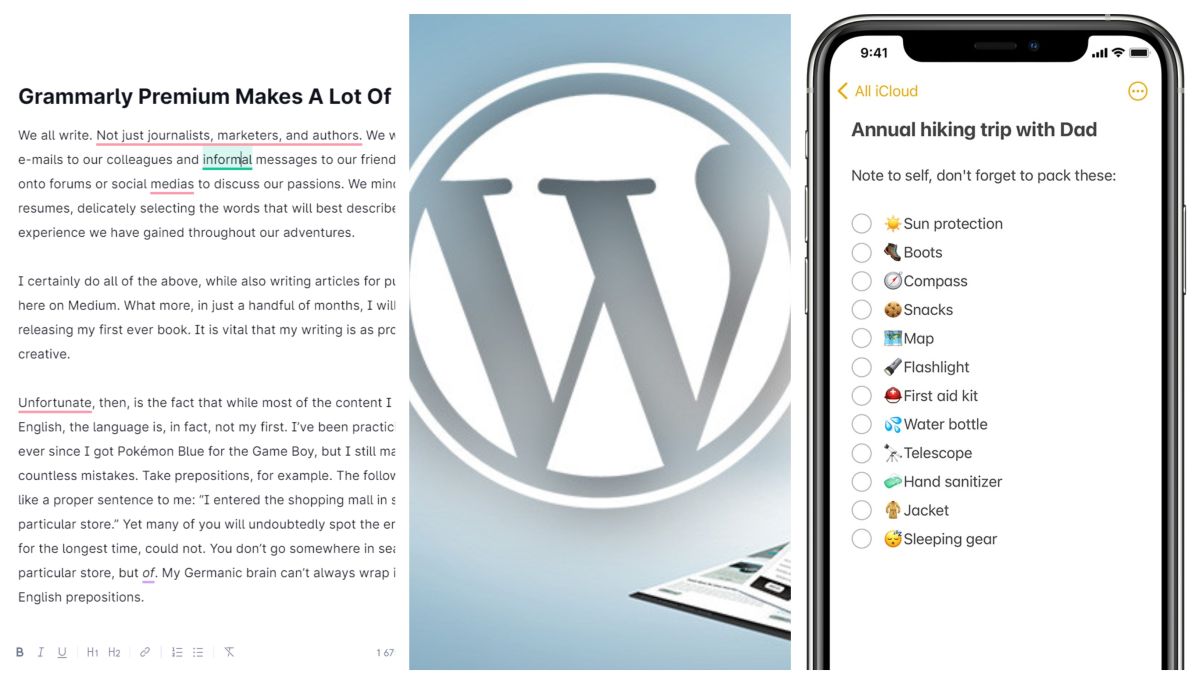 WordPress
I remember starting my first blog at age 16. Ever since then, WordPress has become my only go-to tool for blogs, websites, and everything that has to do with a new online identity. I don't even know other services that can be as flexible and as customizable as WordPress. And the best part is, it's free to use once you've got your domain and theme! No monthly fee, no nothing.
WordPress has been at the foundation to all of the websites I've ever used, and am still using today. I use it for this website, for my clients, for my Romanian creative agency, for the clients of that agency, literally for all things having to do with site creation. There's nothing you cannot do just by adding a plugin, and the level of customizable tools in it makes it a true hit! – Link
Google Docs
The main reason I don't bother with an offline text editor, as a writer, is because Google Docs is available to me from literally anywhere. I can go on my phone, access the shared document that needs to be edited, and solve any last-minute issues while on a bus or train, or even from bed. This complete freedom of access is not possible with a normal docs editor. And it's free! – Link
WordCounter
A simple tool for counting your words, I use WordCounter on a daily basis. Freelance writers deal with a lot of word counting because most projects are length-sensitive. You're always counting words to make sure you commit to the required length. With this, you can copy and paste stuff from a site to a doc and it automatically formats the text. – Link
Grammarly
Here's one tool without which I'd have never been able to reach my current state of full-time words crafting. Grammarly is a must for all writers, regardless if you're writing emails, or your next big hit novel. It's free, although you can pay for the more elaborate version, which I found to be useful, but not worth the money. Grammarly is the best grammar teacher you can have. – Link
Notes
I use a notebook to write down my to-do list for the next day, and then follow the tasks accordingly. But for everyday notes, I am doing great with using the Notes app on my laptop or iPhone. It is there when you need it, it can be made into bullet points which can be checked once ready, and it can be sent to other devices with a simple share. Free as well! – Link
Free tools for social media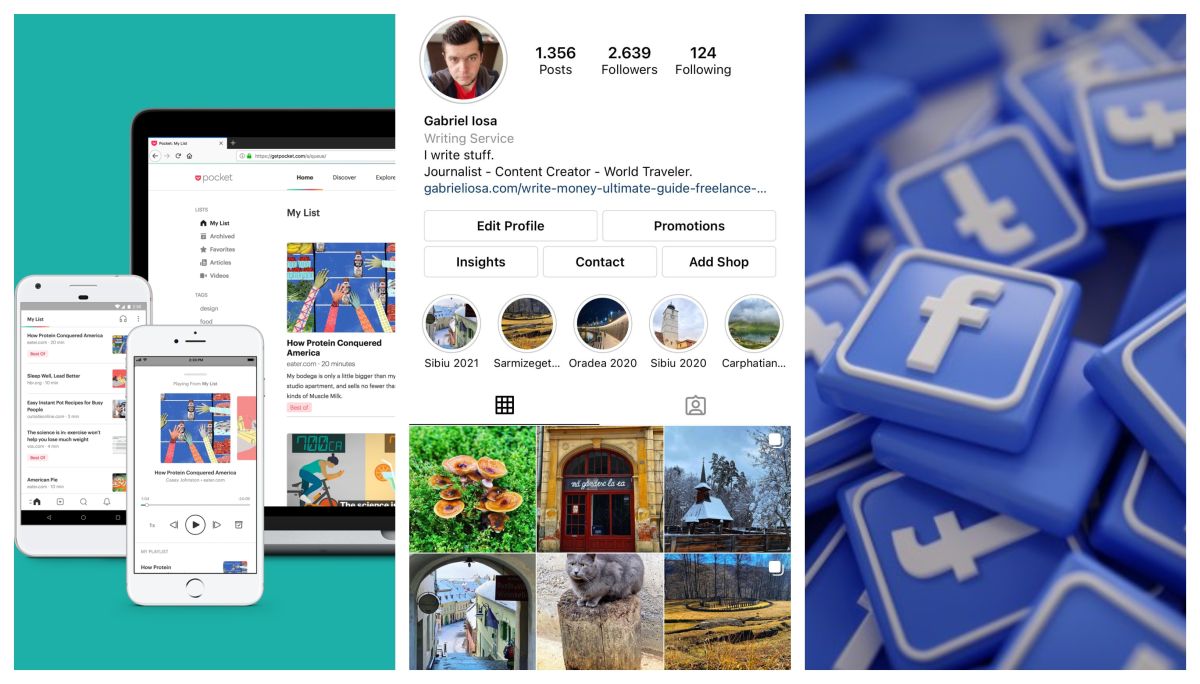 Instagram
My love for Instagram is still very high, although the platform has gone more into the money-making frenzy than in previous years. I used to get 500-700 likes on my travel photos, and now, it's a celebration if I get 100 to 200. But still, Instagram and its Stories are a great way to promote your ideas and businesses. It's free to do so, to a certain extent, and it works. – Link
Facebook
The most famous of all social platforms, Facebook has really taken the "shut up and give me money!" motto under its belt. It's almost impossible to reach people nowadays without paying for it. Why? Because it's become so popular, it's simply not possible anymore. Sure, you can still pull off a few good moneyless campaigns, but even great ones are being stripped away from what they can really be. 
Performing posts on Facebook are a rarity. But when they do come up, they can elevate your business like no other platform. This is because most people are on Facebook, and still engaging with content, even business-related. I use Facebook with all of my enterprises, mostly without putting money into it. And I do struggle, but I'm not dependent on it. This is the trick.
Don't let your freelance business be dependable on one platform. Just do what's right and create more than a few client funnels, and when one of them is underperforming, you've got the rest to keep your flow going. Facebook works for both free and paid promotions, but it does take a lot of creativity and courage to go completely free when campaigning on it. It's tough! – Link
Pocket
This tool is just great! Whenever you stumble upon a great piece you just cannot go through right at that moment, be it on Twitter, Facebook, or anywhere else where there's an article posted, you just click on a little icon and it goes to your Pocket. And it stays there forever, or until you get some time to read it. I can't believe I just found out about this. And it's free!!! – Link
Google Analytics
Knowing what works and why, and what doesn't, and why, is the only way to grow a business. When I first started to work as a journalist, installing the Analytics from Google on my news website has literally changed the game for me. All of the data about great and terrible performing news pieces were there! Reading it, I could improve in real-time, which led to me getting even more quality pieces and, surely, returning visitors. It's a must-have tool! – Link
Yoast SEO
WordPress fans know this is the best tool when it comes to SEO. It's so easy to use, it practically feeds you everything you need in order to make your posts stand out in Google searches. Because of this tool, I now have 8 highly performing posts that are ruling the searches and send 500 and more visitors to me every day. I get around 5-10 job proposals every week, the viable kind, from just rightfully using this tool alone. Completely free. – Link
Free tools for visuals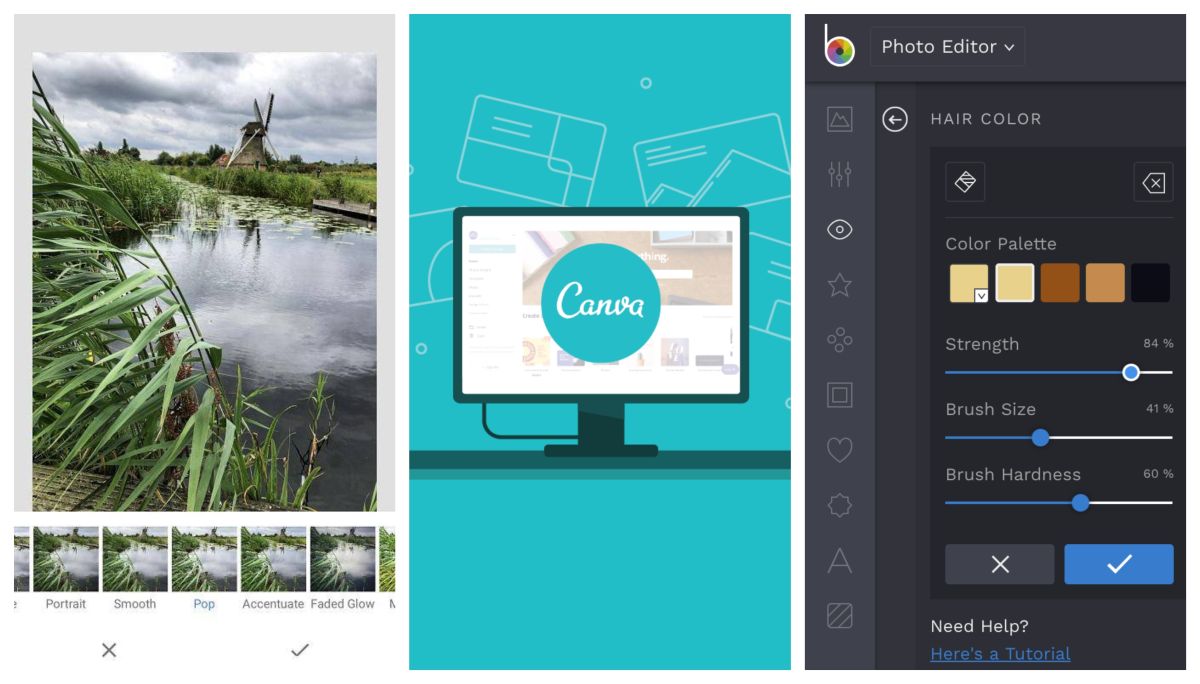 BeFunky
When it comes to graphics and visuals, BeFunky is my go-to tool for simple edits and collages. It's mostly free, although they've gone a little money-crazy lately, but who can blame them? Their product is great, and it works perfectly every time. You can split photos and turn them into collages, as well as do edits on all of the features of a photo. I use it almost daily. Including this post! – Link
Canva
Another indispensable tool for design, but this time including logos, Instagram Stories, Facebook covers and many more, is Canva. This is a great tool which I'll probably end up paying the monthly fee for (it's like 12 bucks) sooner or later. It just works wonders and there's no design element you won't find on it. Works in the browser, and saves you design money. – Link
Snapseed
When it comes to a quick image edit on my phone (I use this phone, for anyone who's interested) the main app that I use is Snapseed. The best part about Snapseed is its presets. I love them all and am famous for using just about every one of them on my Instagram. Which is not a great thing, but at least I'm offering diversity. Free to use, loads of options, mobile. – Link
Well, there you have it! These are the free tools that I use on an almost daily basis, for my freelance writing business. Again, "free" does not mean "bad", or "incomplete". It can also mean "great", or sure, "good enough" at times, but it's still free! Not putting money into things like photo editing, or email services, saves people like you and me tons of money on a monthly basis. Money you can put into a savings account, or into that new laptop you've wanted forever.
At the end of the day, the right free tools, used well, are more valuable than the fancy paid stuff you don't know how to use.
—
Hei, just a quick thing before you leave:
First, nice of you to read thus far, it means that you've enjoyed my writing!
I'm not here to ask you for any likes, shares, or comments, although that would be cool of you! Instead, I'm offering you a chance to have an even better piece, sort of like this one, but better, written for you by a content creator. That would be me! Check out my Services, Portfolio and Testimonials pages for details. And then shoot me an email at the address you'll find on the Contact page.
If you're a freelancer like me and are confused about learning how to make money online, especially through writing but also programming, design, or social media management, you can buy my book. It's called "From 0 To $2543 A Month With A Crappy Laptop – The Freelancing Course From A Self-Made Content Creator Boss" and you can find it on Amazon at 50% off!