In this Lisbon travel guide of the capital and largest city of Portugal, a country that has it all, I will take you through everything you need to know about this superb city and its surroundings. From pristine white-sand beaches to hills and mountains of immeasurable beauty, from delicious pastries and seafood to the world-famous Porto wine, and from surreal ancient landmarks to mystical castles and quintas, Portugal is one destination you can explore endlessly.
Usually, most travellers start with Lisbon when they arrive in Portugal. It's the perfect place to begin your Portuguese adventure. If you're in the country for just a few days, Lisbon will surely fill your schedule pretty quickly. My trip to Lisbon in November of 2019 was just 3 days long but it allowed me to see not just the top attractions of Lisbon but also Sintra and Capo da Roca, the westernmost point of continental Europe.
Getting to Lisbon
Lisbon has only one airport, the home of the famous TAP Portugal airline and a hub to many European, American and Asian companies. You can get to Lisbon from anywhere in Europe with both normal and low-cost carriers. My flight from Timisoara to Lisbon via Milan's Bergamo Airport and then return via Brussels cost me 50 Euros. That's a cheap flight considering there are 4 planes involved. You can also get to Lisbon by train from anywhere in Portugal or Spain, as well as by bus using some popular services like Flixbus.
Airport to Lisbon's city centre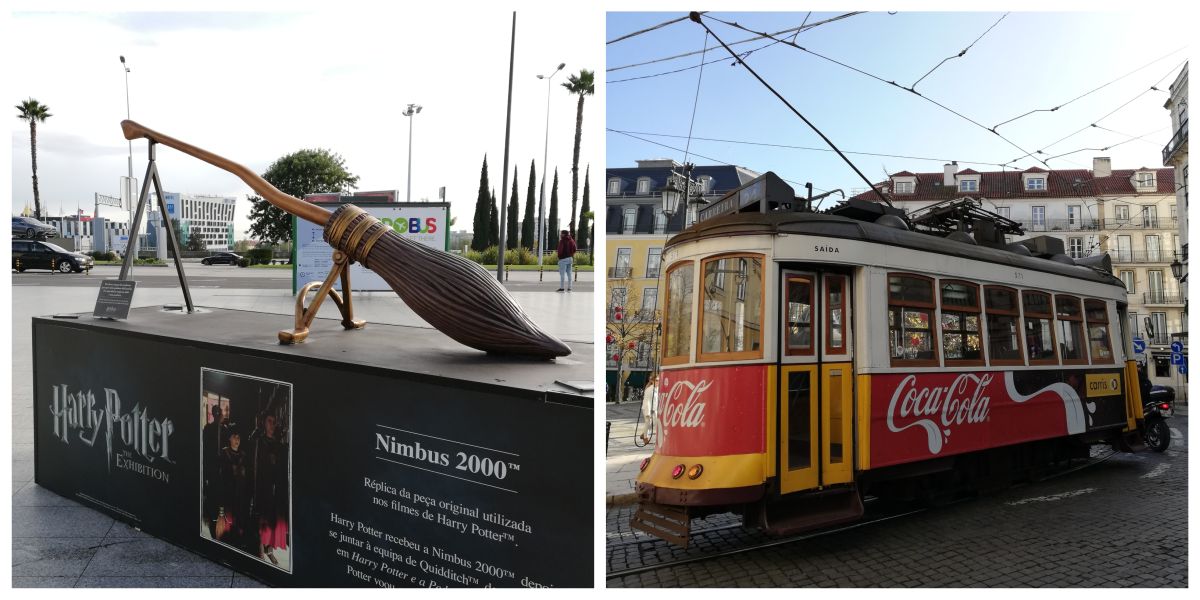 The city centre of Lisbon is close to the airport. This means any mode of transportation to the central area of town is affordable. For example, an Uber ride from the airport to Praca Rossio, the main square of the city costs about 7 Euros. Taxis are also somewhat the same as far as prices go. Me, I took the metro from just outside the terminal building into town. I bought a Viva Viagem travel card that costs 50 euro cents and then put 10 Euros on it. Be aware that some of the card payment machines don't work, so do bring some Euro banknotes with you.
Once you have the card loaded with some money, simply touch the sensor on one of the automatic doors to the underground trains and you're good to go. In order to get to the city centre, simply follow the Red Line or Linea Vermelha towards S. Sebastião. The trip to the city centre will take you about 30 minutes. You can find more about the Lisbon metro here. 
Where to stay in Lisbon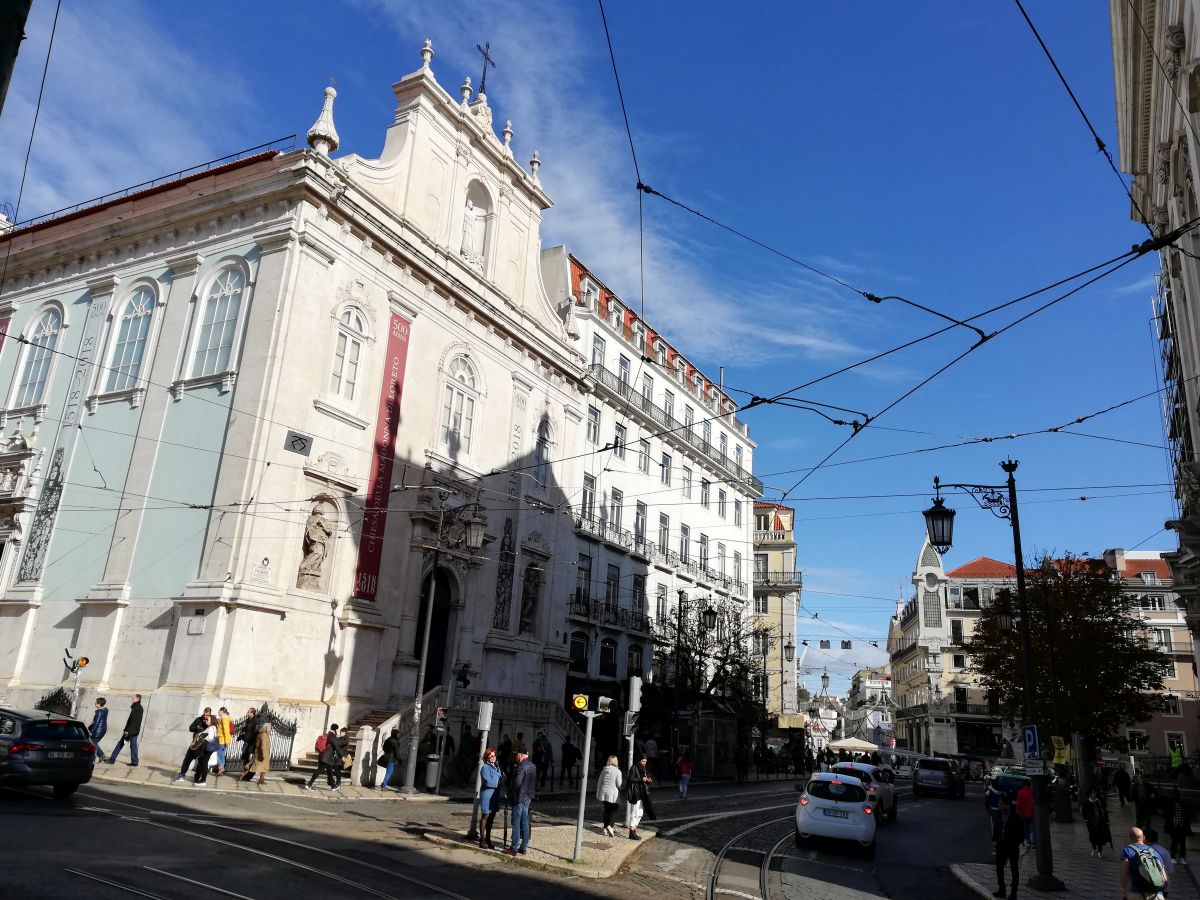 As with any European city, you'll find both the budget and the more luxurious options when it comes to accommodation while in Lisbon. I myself am a fan of cheaper hotels and guesthouses that are not that modern in amenities but are located in good neighbourhoods with great connections to public transport, supermarkets and restaurants. This way I can get to anywhere I want fast and I can grab a bite to eat at my convenience.
Most hotels are priced a tad lower than the average hotel room price in Europe. You will find great accommodation starting at as low as 20 Euros per night for a private room. Dorm beds in hostels start at 7 or 8 Euros. A better 3-star room in a central hotel is around 35-50 Euros. Of course, you can stay at 5-star hotels but you will pay a ton of money for a room you'll only be using one hour in the morning and one in the afternoon. And for sleep. So just don't.
My stay – O Eletrico Guesthouse
Address: Rua dos Anjos 12D, 1170-014 – Website
I spent three nights in Lisbon, for which I paid 71 Euros, so about 24 Euros per night. My stay was at O Eletrico Guesthouse, a small hotel located steps away from the metro station and various international restaurants. I got a single room with a shared bathroom which might be uncomfortable for some. For me, it was all that I needed, moreover as the place had 2 bathrooms so there was never a problem with a shortage. They were both clean at all time. And I got free breakfast in bed which was quite decent!
The only downside of the accommodation was the street it was on, where especially at night there was some funky stuff going on. One Uber driver told me it was the most dangerous street in Lisbon. Others told me that there was a rehabilitation centre for alcohol and drug addicts on the street, so seeing people who were lurking around under the effect of illegal substances was nothing out of the ordinary.
I am a pretty logical and aware person so, as far as I'm concerned, I never felt unsafe during my stay. Yet I can see how a solo female traveller, for example, would feel uneasy. Personally I got to be on the street at night and there was nobody trying to sell me anything or even talk to me. I just mind my own business and so did the people on the street. There was no noise coming in from the street at night, and also the guesthouse has a 24-hour reception and you can get inside the place only when the receptionist confirms that you are staying there and personally opens two doors for you.
The delicious food of Lisbon
One important reason why people fly from all over the world to Lisbon is Portuguese food. Considered the best seafood in Europe and one of the best in the world, the dishes that I've tasted here are surely amazing. I got to try both the local cuisine, as well as some international dishes as Lisbon is one of the most culturally diverse cities on the planet. Down below are the 5 restaurants that I've tried during my stay in Lisbon and that I'd recommend you try while you're there for some incredible experiences.
A Merendinha do Arco Bandeira: Portuguese seafood at its best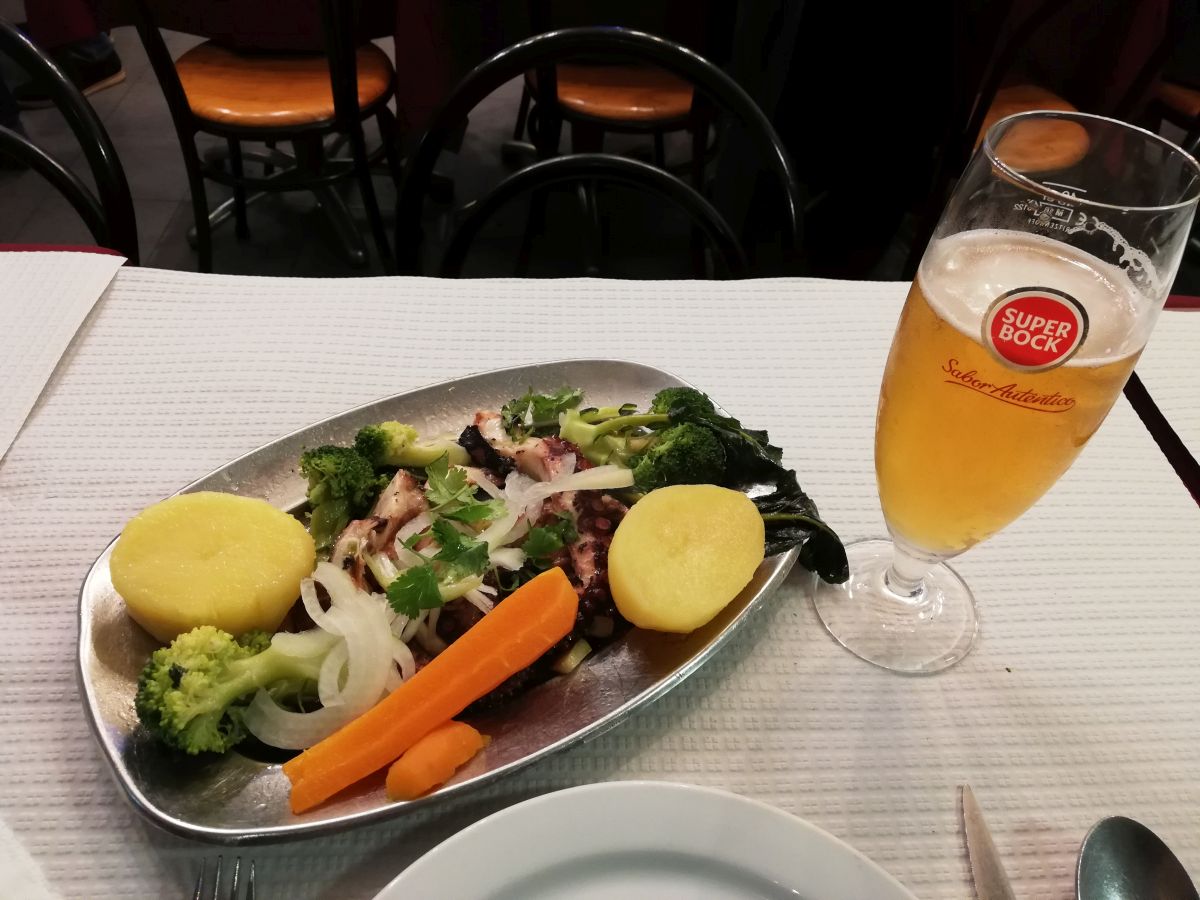 Address: R. dos Sapateiros 230 – Website
Simple decor, traditional seafood, low prices for being in the city centre and a vibe that's famous the world over. I simply adored my dinner at Merendinha do Arco, one of those picture-perfect places in Lisbon that scream "Portugal", "fresh fish", "friendship" and "quality over anything else". I ordered the octopus dish which comes with boiled veggies. Don't worry, the boiled potatoes and broccoli are swimming in a delicious melted butter sauce with TONS of garlic.
It is a delight for the senses. The octopus was fork-tender, which makes it simply unbelievable. You will never have a tastier, more tender and more fresh octopus anywhere else. And for 15 Euros with beer included, it is a bargain. I even got dessert, a simple, refreshing coconut cream served in a tall glass that was ideal for the end of a legendary meal.
Frangasqueira Nacional: Melt-in-the-mouth grilled chicken, the best sausage and homemade chips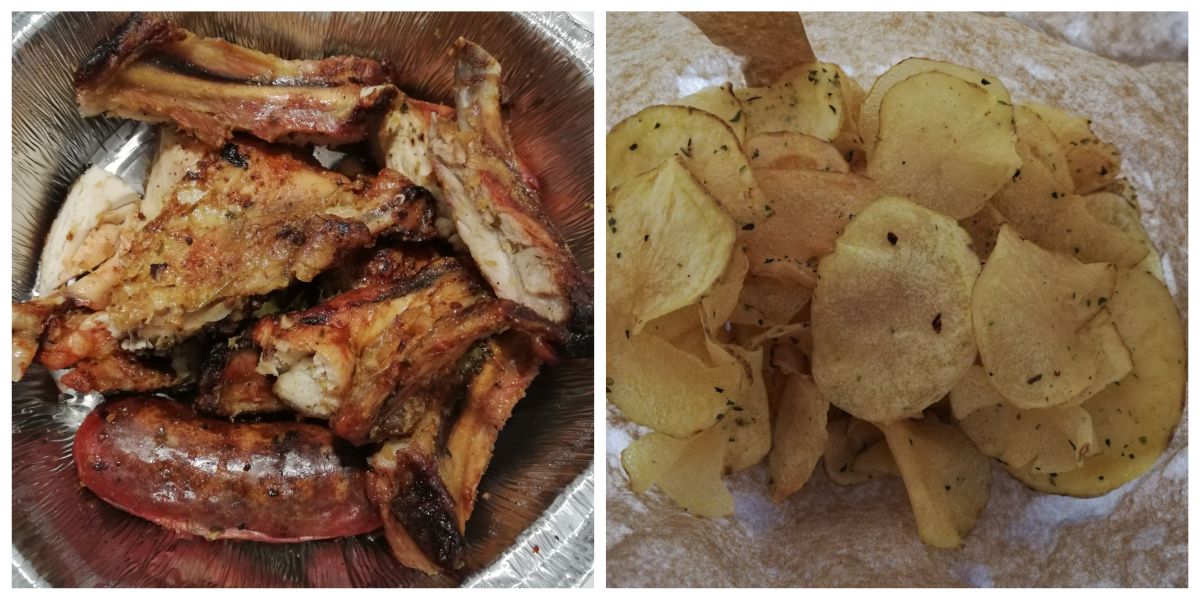 Address: Tv. Monte do Carmo 19, 1250-127 – Website
I have never thought much when someone mentioned this restaurant to me. It is just grilled chicken, sausage and some chips, right? No. NO! Oh, no no no no NO! This place serves THE MOISTEST grilled chicken you will ever pop in your mouth and the best short sausage you will ever taste. Period. It is located on a steep street which is perfect considering you will eat the entire dish without taking more than 5 breaths.
The owner has her own style of cooking and interacting with clients. She is so classy and charming, although she's grilling all day and that is not an easy, womanly job to do. She does it with such grandeur and pleasure, it's like watching a play live on stage. You never want to leave but just stare at her and the grill! Prices start at 7 Euros for half a chicken, one sausage and four ribs as a combo. Add some water or juice and a HUGE bag of homemade chips and you're still just a tad over 10 Euros. Unbeatable!
Pastéis de Belém – The best egg tarts on planet Earth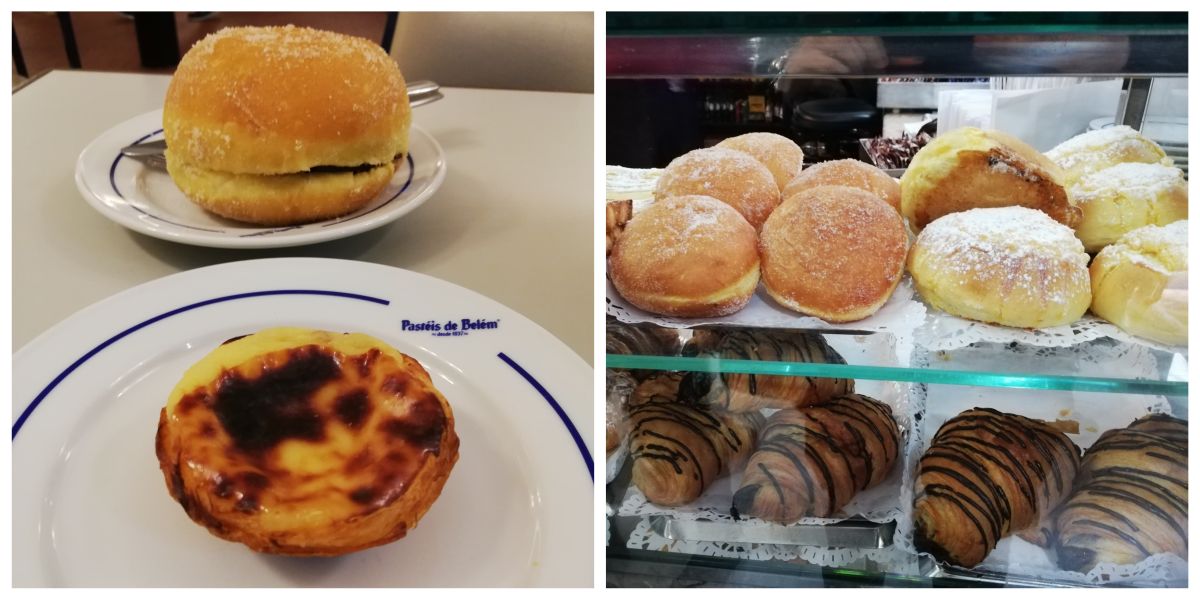 Address: R. de Belém 84 92, 1300-085 – Website
There's a good reason why this place, Pasteis de Belem, is the most famous pastry shop and egg tart producer in Lisbon, Portugal and probably the entire world. The products, called pasteis de nata are to die for. It's as simple as that. After a short tram ride from central Lisbon to Belém neighbourhood, you get in front of the Jeronimos Monastery and right next to it is this legendary shop.
Inside the shop there are over 400 seats, so definitely take a seat in one of the many rooms and just have a waiter take care of you. They will bring the order fast and easy, they are polite and the place is fairly clean regarding how many people are coming in and out every hour. The prices are fair, I think it was a tad over 1 Euro for the pastel and about 2 Euros for an immense doughnut filled to the brim with delicious dark chocolate cream. Totally worth me gaining about a kilo after the trip!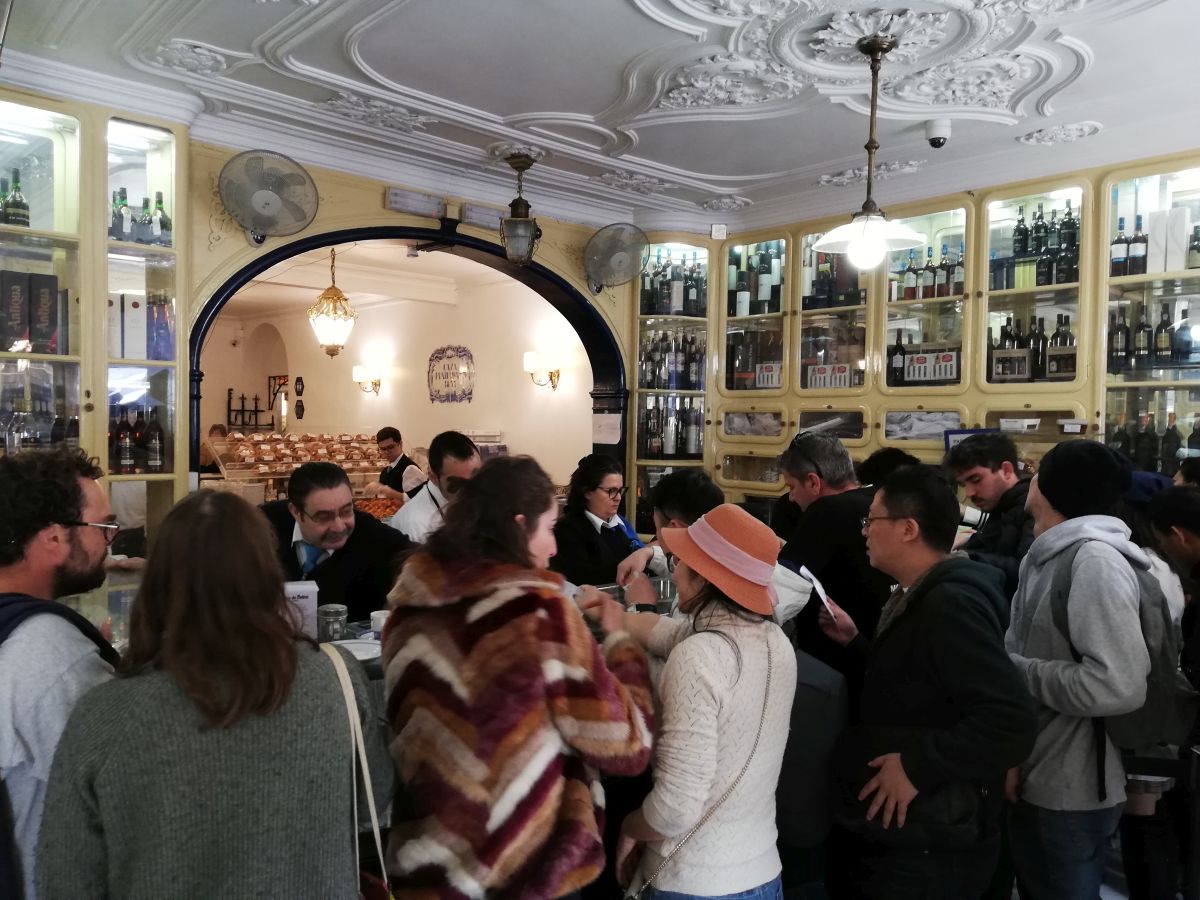 I also tried the famous egg tart pastries at another famous place called Manteigaria. This place is easier to reach if you're in central Lisbon and don't have the time to go to Belém. They were stunning as well, but it was a little more crowded when I went. Prices were the same and the quality was top notch. I also got some pasteis de nata at some local bakeries and to be honest, they were also delicious. I think there aren't many bad pastry shops in Lisbon so, if you're not in it for the crowds, you can give these pastries a try anywhere and will most likely have a delicious experience.
Tantura – Best hummus outside of Israel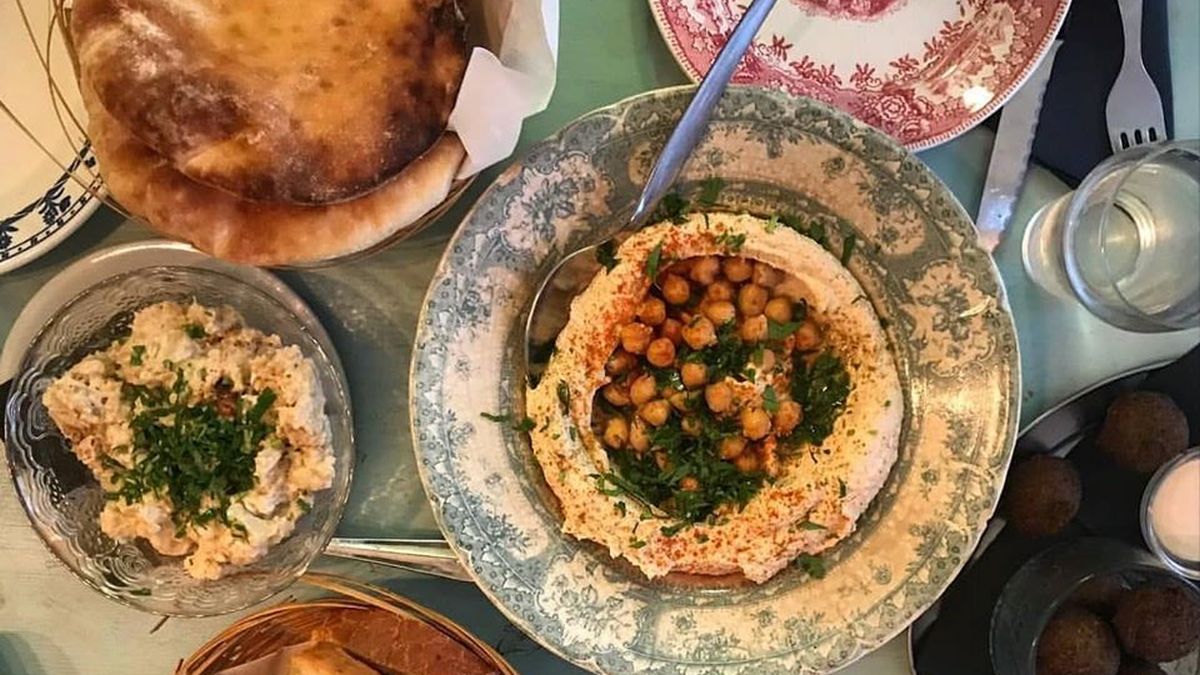 Address: R. do Trombeta 1 D, 1200-471 – Webiste
I am a huge fan of Oriental foods. I love hummus, falafel and all that is sweet and has pistachios in it. If you were to put a plate of falafel and some mushrooms-topped hummus as a dip in front of me and just leave me there forever, I'd be pretty happy to spend the rest of eternity just like that. Tantura, a small place in Lisbon, claims to have the best hummus outside of Israel. In the world.
If you know Israel, you know they make the best hummus. It's more than just food there, it's culture, tradition, food taken to religious status. So stating that you have the best hummus on planet Earth outside of Israel is a bold claim, to say the least. And while I haven't tried the hummus in Tel Aviv or Jerusalem just yet (2020, I cannot wait for you to come here already!) I can say with all my logic and heart that Tantura has the best hummus I have ever had.
Food for the soul
The magical plate of hummus with mushrooms was 7 Euros. I added an order of falafel which was about 5-6 Euros and took everything to go. Even though I told them not to, as I am on a lifelong no-bread diet, they insisted on me having the pita bread with hummus. And I said "screw it, you guys seem to know what you're talking about" and took it.
It was divine.
It was perfect. Creamy, sweet and sour, tart, rich, nutty, oily, earthy, smooth. I can go on and on just adding the adjectives that you'd expect from the best hummus you'd ever taste in your entire life. I can't think of a better takeaway dinner in my 27 years of life. It was the very best dinner I've had in a hotel bed. And I'm sure it would've tasted much better if served at Tantura. All the tables were booked that night, unfortunately, so make sure to call in advance to reserve one.
All about noodles – The legal Chinese restaurant
Address: R. Andrade 26, 1170-014 – Website
There's an illegal Chinese restaurant in Lisbon. Well, I'm sure there are many more than one, but one of them is actually called "The Illegal Chinese Restaurant". I've heard about it from Mark Weins, the best food blogger on Earth and my absolute travel idol. Unfortunately, after searching for the place for hours on side streets in a weird part of town, and finally finding the place, I was saddened to find out it was closed.
Craving Chinese food and especially noodles, I stumbled upon "All about noodles", a place run by ac completely Chinese staff. This is always a great sign wherever you go into a restaurant that claims to be the real deal. The waiter seated me in a heartbeat and served me the menu in seconds. I got my usual beef with noodles, which to my surprise were hand-cut noodles. I loved them a ton and for 7 Euros with a soda, they were the best and satisfied my craving for Chinese food perfectly.
Must-see Lisbon attractions
Lisbon has many tourist attractions that are totally worth visiting. I've had two full days in the city so I took the easier way out and only visited the top 5 must-see places in the city. These places are incredible and you will surely love them.
Jeronimos Monastery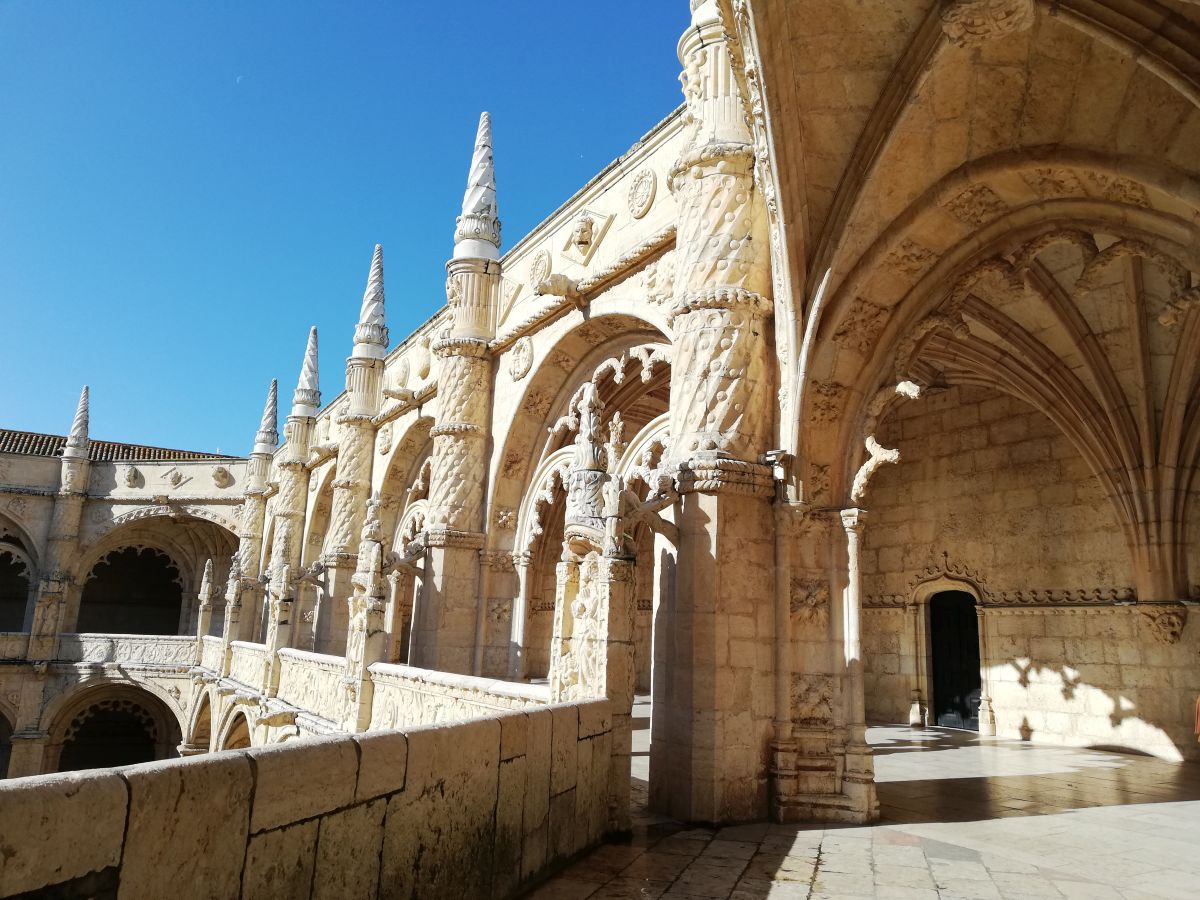 Address: Praça do Império 1400-206 – Website
Ranked among the most beautiful churches in the world, the Jeronimos Monastery in the neighbourhood of Belém is my top recommendation for your Lisbon trip. This means if you only have a couple of hours in the city, this is where you should go. The entrance is 10 Euros to see the cloister, which is the most impressive part of the entire complex. So is the actual inside of the monastery, which hosts the tomb of Vasco da Gama. Or, how I called him, my grand-grand-grandfather. Jokes aside, you will be amazed by the interior courtyard of this place, the colonnades and the design. You cannot miss this one while in Lisbon!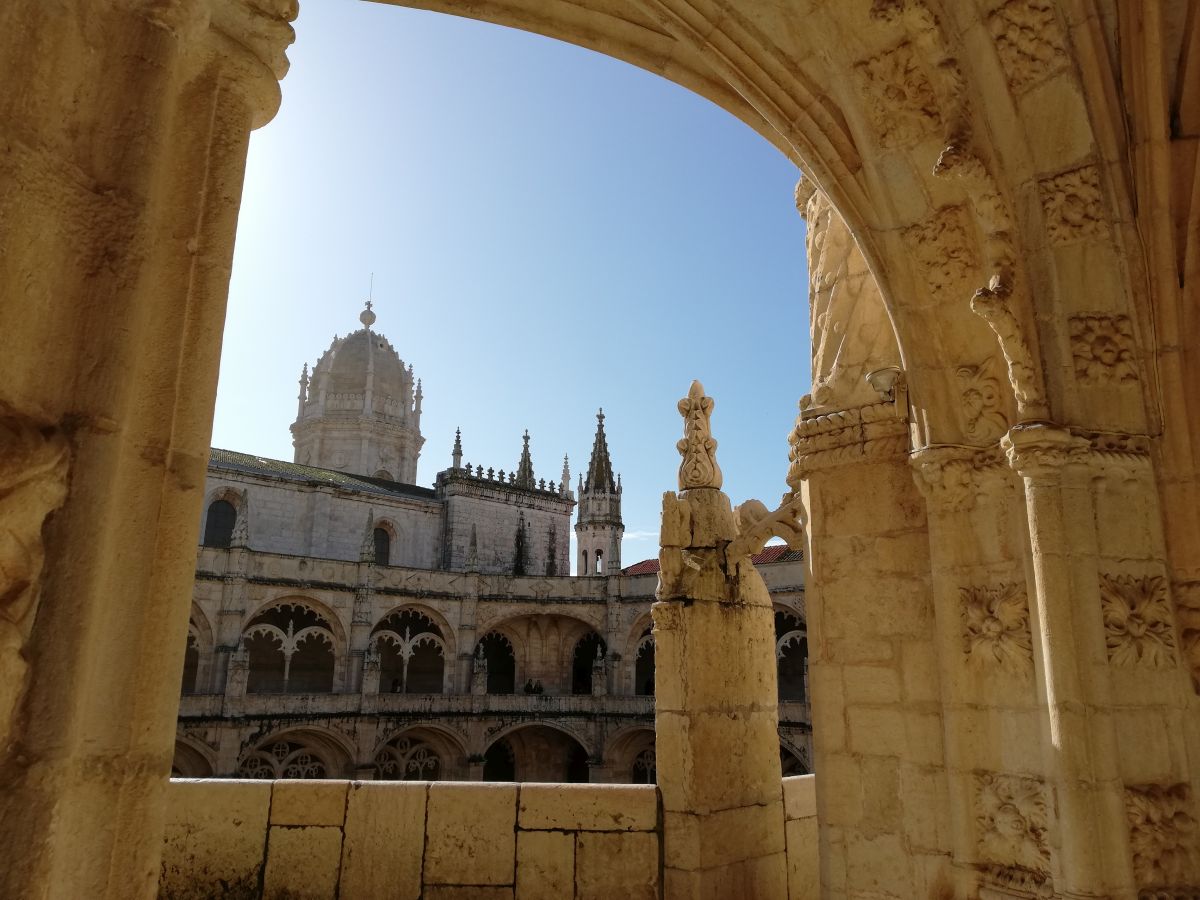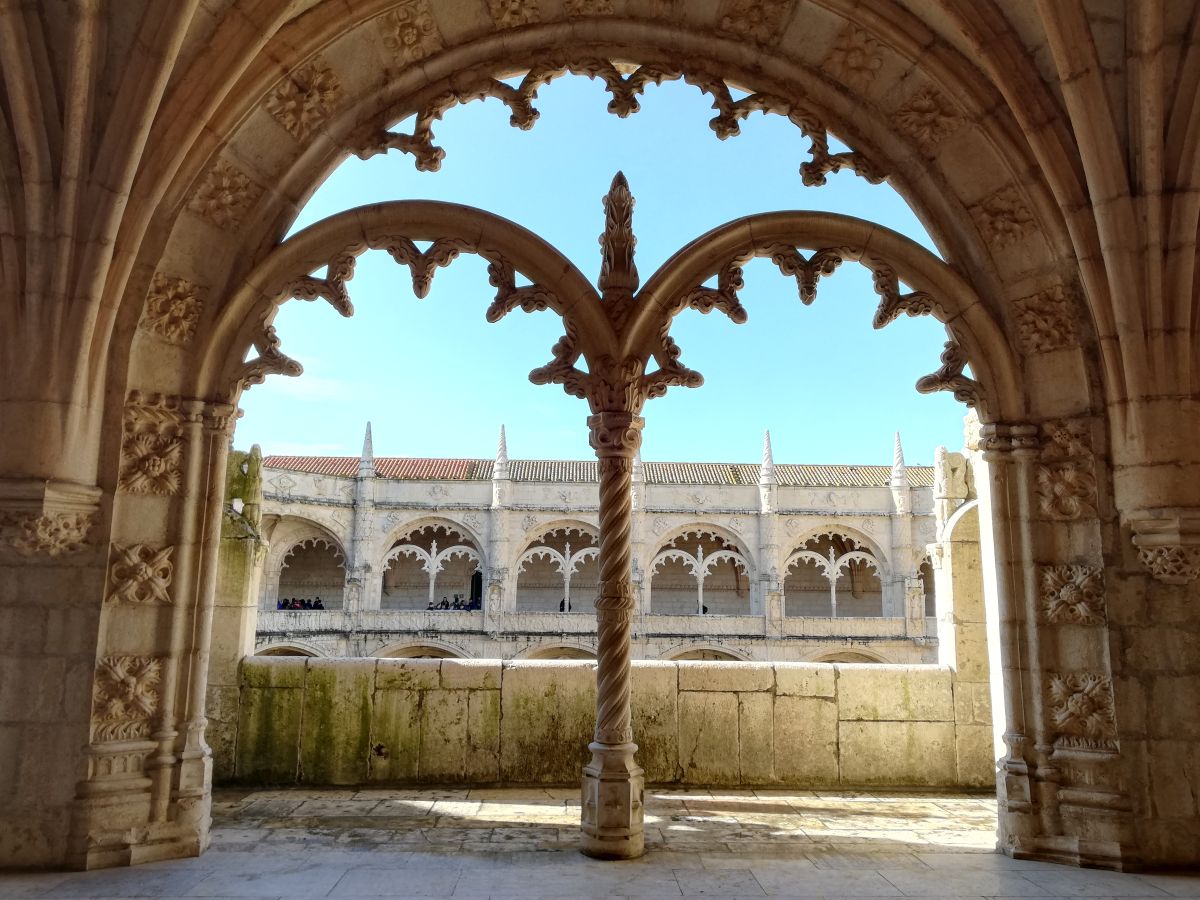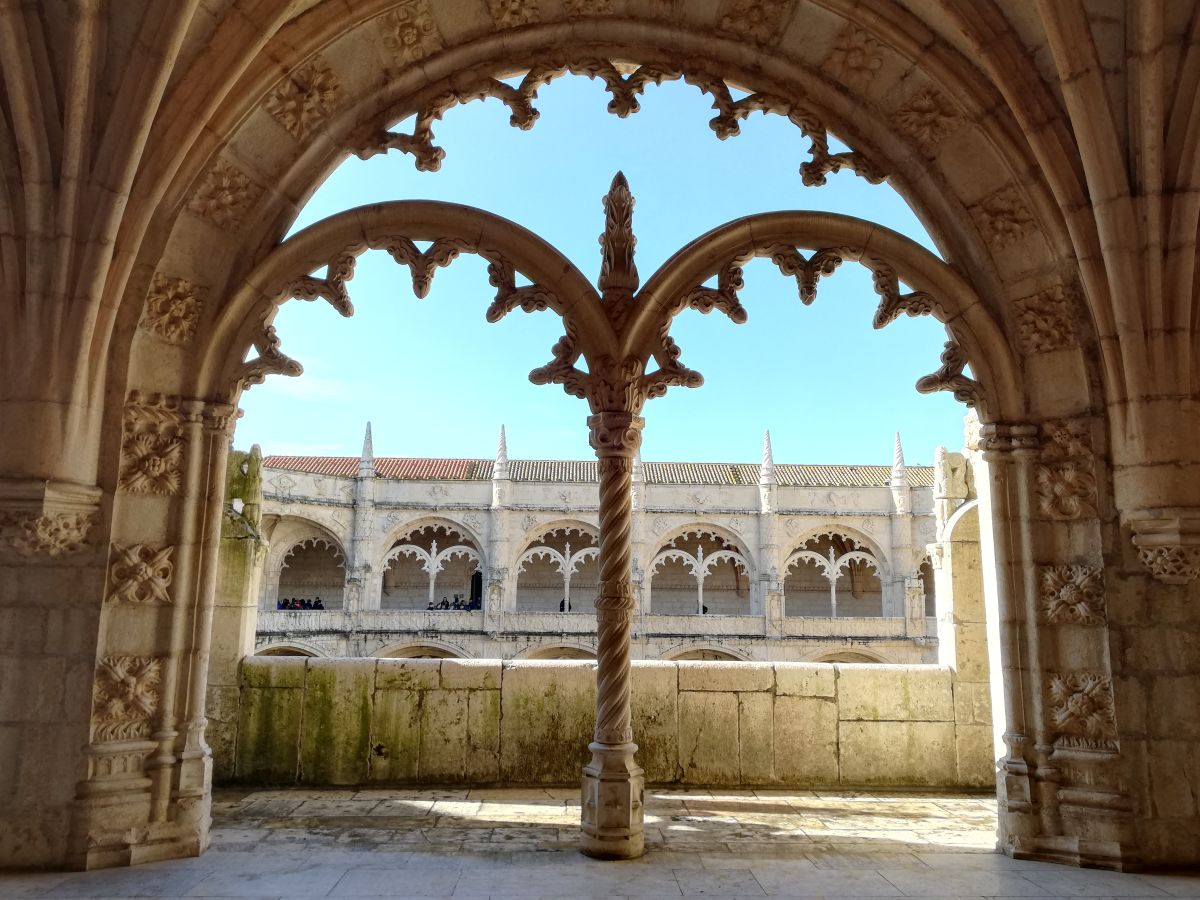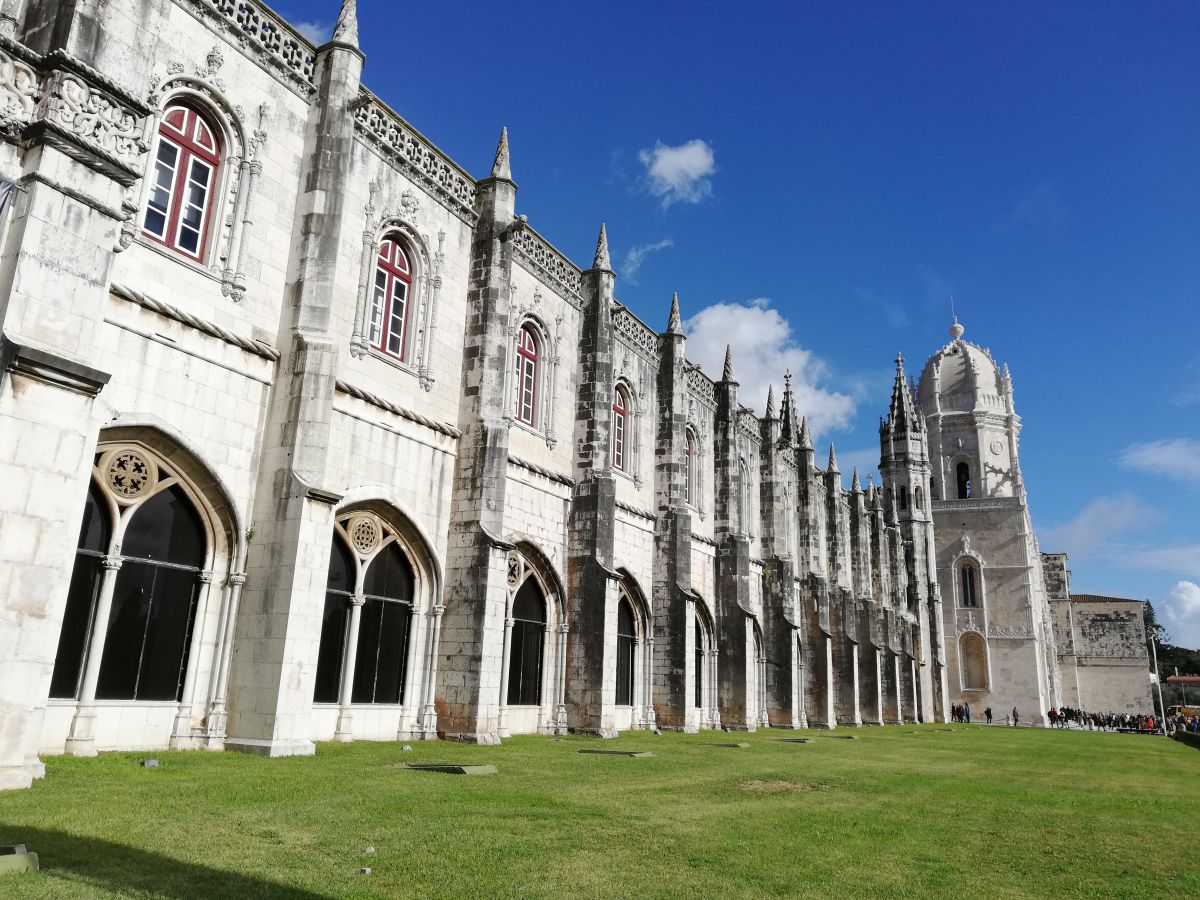 Please allow at least 1,5-2 hours for this monastery. You can snap some pictures and be done with it, but I advise you to put your phone away for 30 minutes after you're done with your Instagram or Facebook and simply admire the interior cloister and get a feel of how impressive the place really is. It's well worth your time, trust me.
Padrão dos Descobrimentos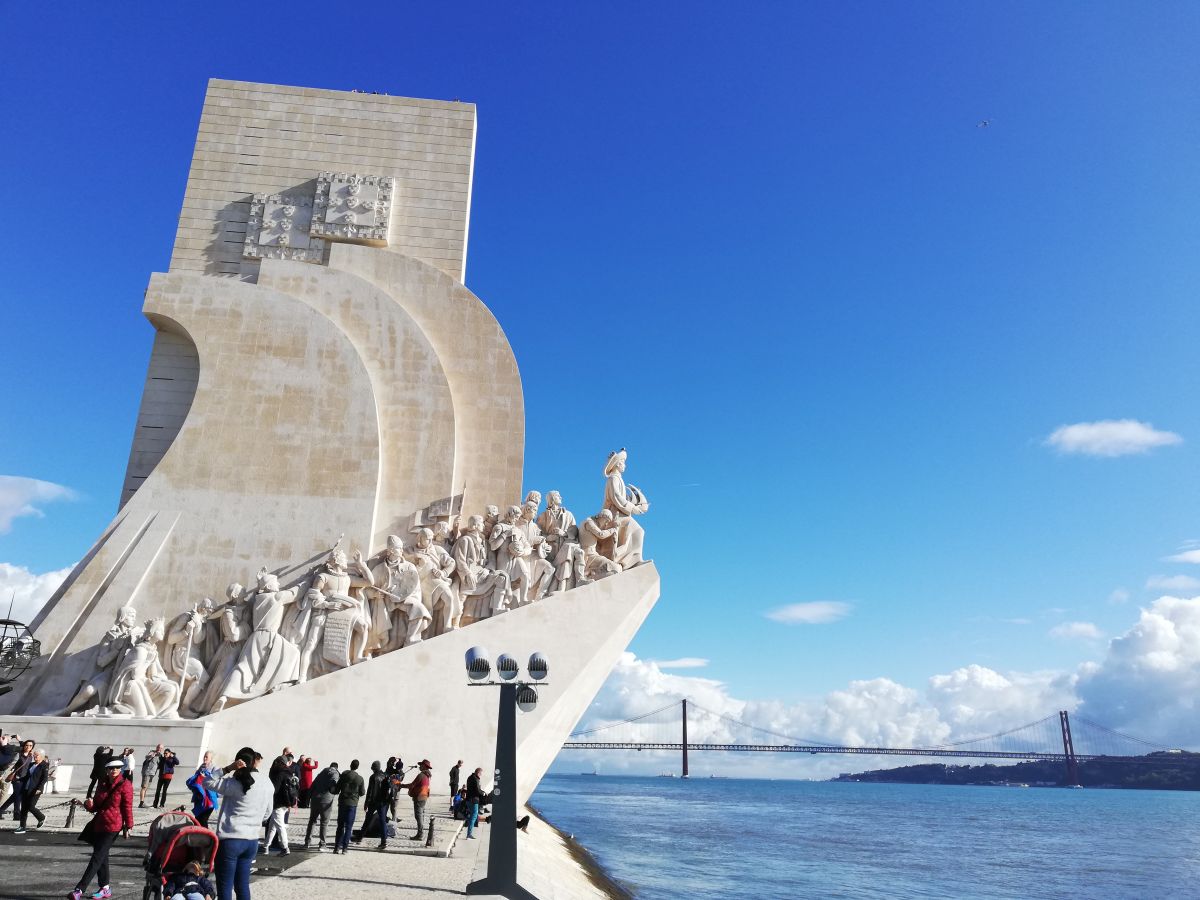 Address: Av. Brasília, 1400-038 – Website
After crossing some streets and going through an underground passageway, you'll get to the monument dedicated to all explorers of Lisbon. There is an elevator that can get you on top of the monument for 6 Euros. The view is as good on the ground though and it's absolutely free. The best thing about the monument is the lookout it offers towards the "replica" of the famous Golden Gate Bridge from San Francisco, or "25th of April" Bridge. You can enjoy the warmth of the sea while admiring the monument and the bridge in the distance.
Torre de Belém
Address: Av. Brasília, 1400-038 – Website
About 500 meters from the monument dedicated to the Portuguese explorers is Torre de Belém. One of the symbols of Lisbon, this small tower is picture-perfectly located on the seashore, is the ideal spot for some Instagramming or simply admiring the old architecture. For some reason though my phone simply died on me when I got to the tower, so I have no photos of it. It's free to go to the tower and admire it from the outside. If you want to get in and climb to the top, there's a 6 Euros entrance fee.
Church of Sao Roque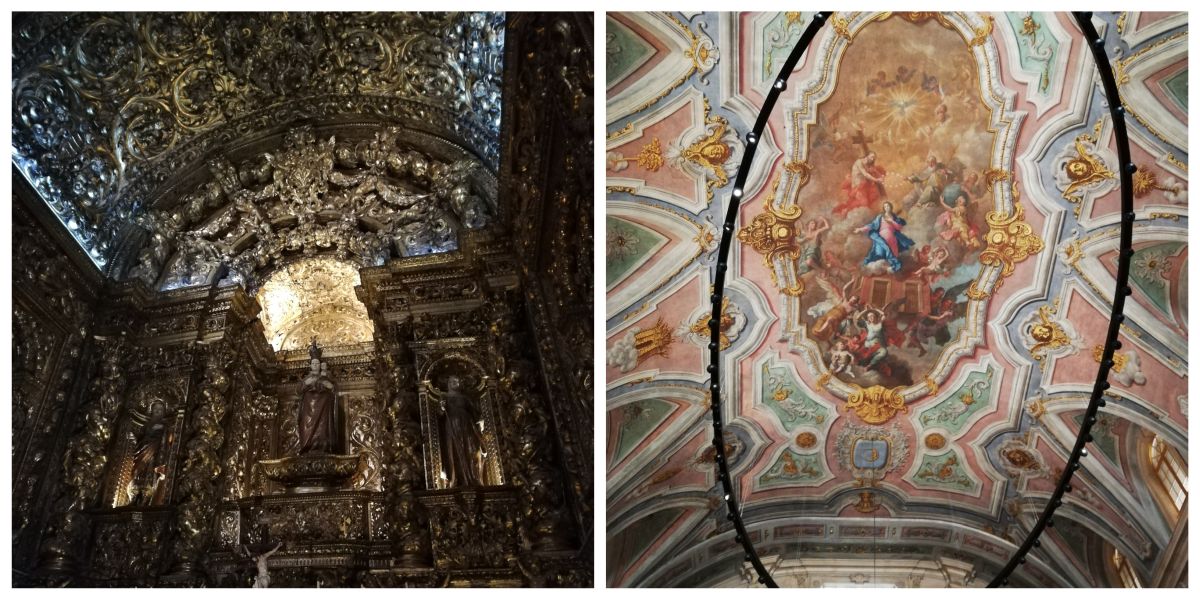 Address: Largo Trindade Coelho, 1200-470 – Website
Located in central Lisbon, this church looks nothing as impressive as the Jeronimos Monastery does from the outside. Once you get in though there's a whole different story awaiting the unexpecting traveller. This church hosts one of the most expensive chapels in the world. An entire chapel decorated in nothing but gold, silver and other expensive materials that strike the eye with its complexity and opulence. You cannot miss this place if you're in central Lisbon. It is also free and you can walk there from the beach in about 10 minutes.
Trams, lifts and squares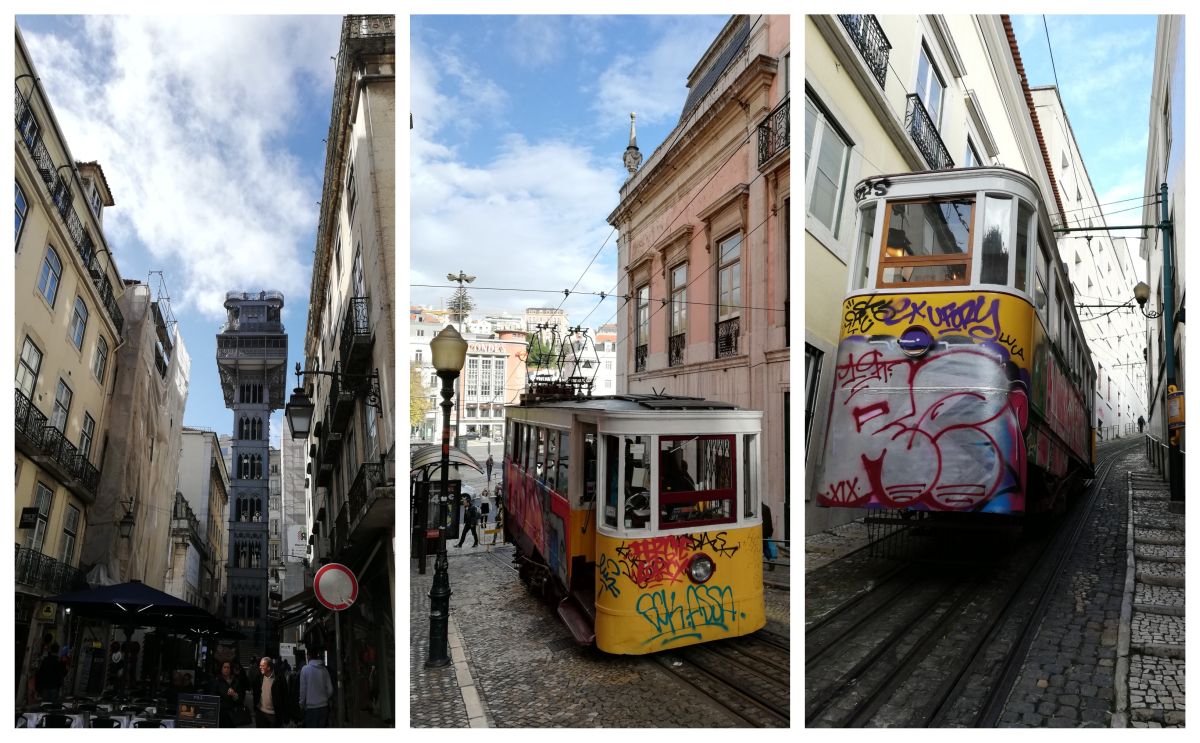 Address: all over Lisbon – Website
Lisbon is famous for its trams and elevators. Or lifts, depending on where in the world you're from. The trams that go up and down steep streets are all over the internet, which makes them a must-see and one of the symbols of the city. If you're into views, take the Elevador de Santa Justa up to the viewpoint and you'll have a great view over Lisbon in seconds. If you want to keep it on the low side, simply ride the trams around the hilly streets and enjoy the old feel of them as they barely make it to the top.
When it comes to squares, Lisbon has some amazing ones where you can do some people watching or have some delicious food at one of the many restaurants. The most famous one is Praça do Comércio, the square that's considered to be the heart of Lisbon.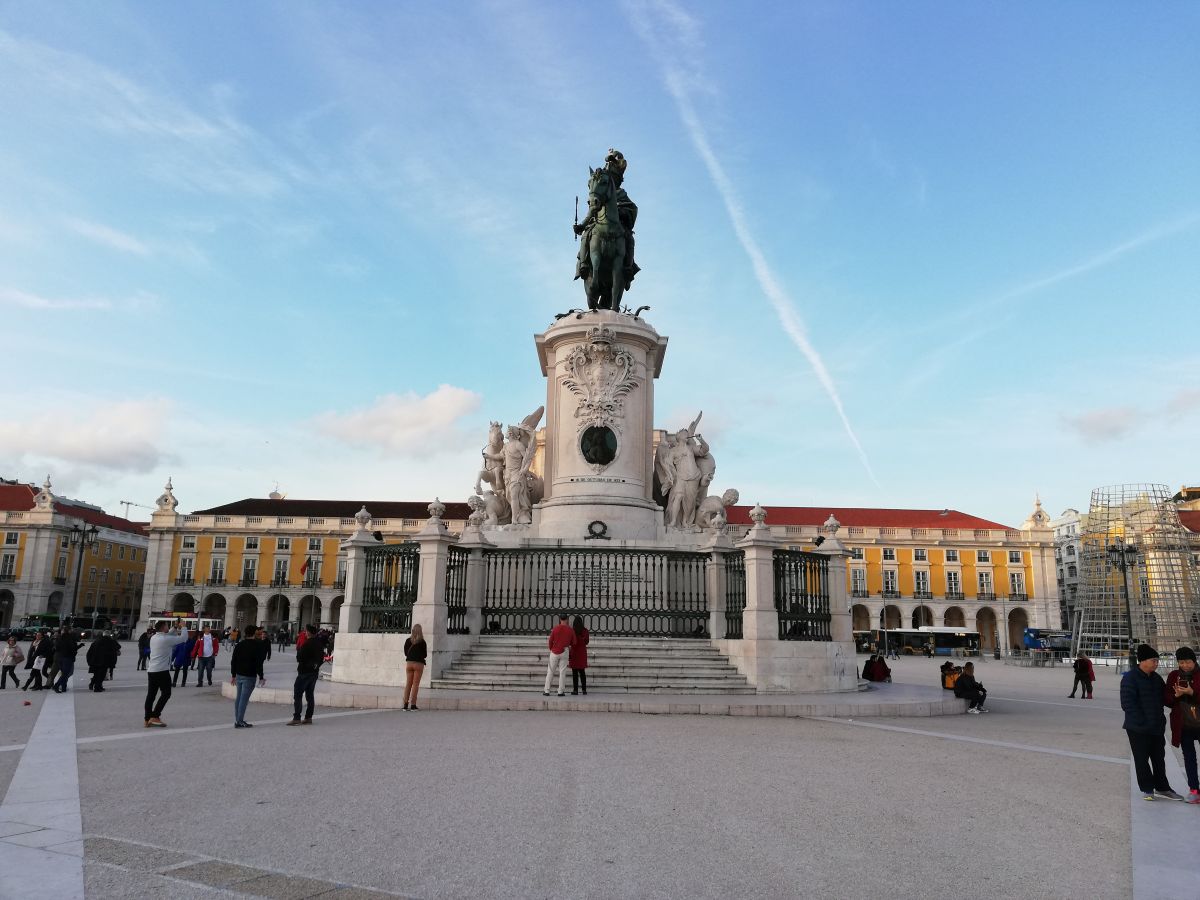 Enjoy a coffee or a pasteis de bacalhau, cod pastries from the many shops in the square. The other two squares that I liked were Praça da Figueira and Bandeira de Portugal.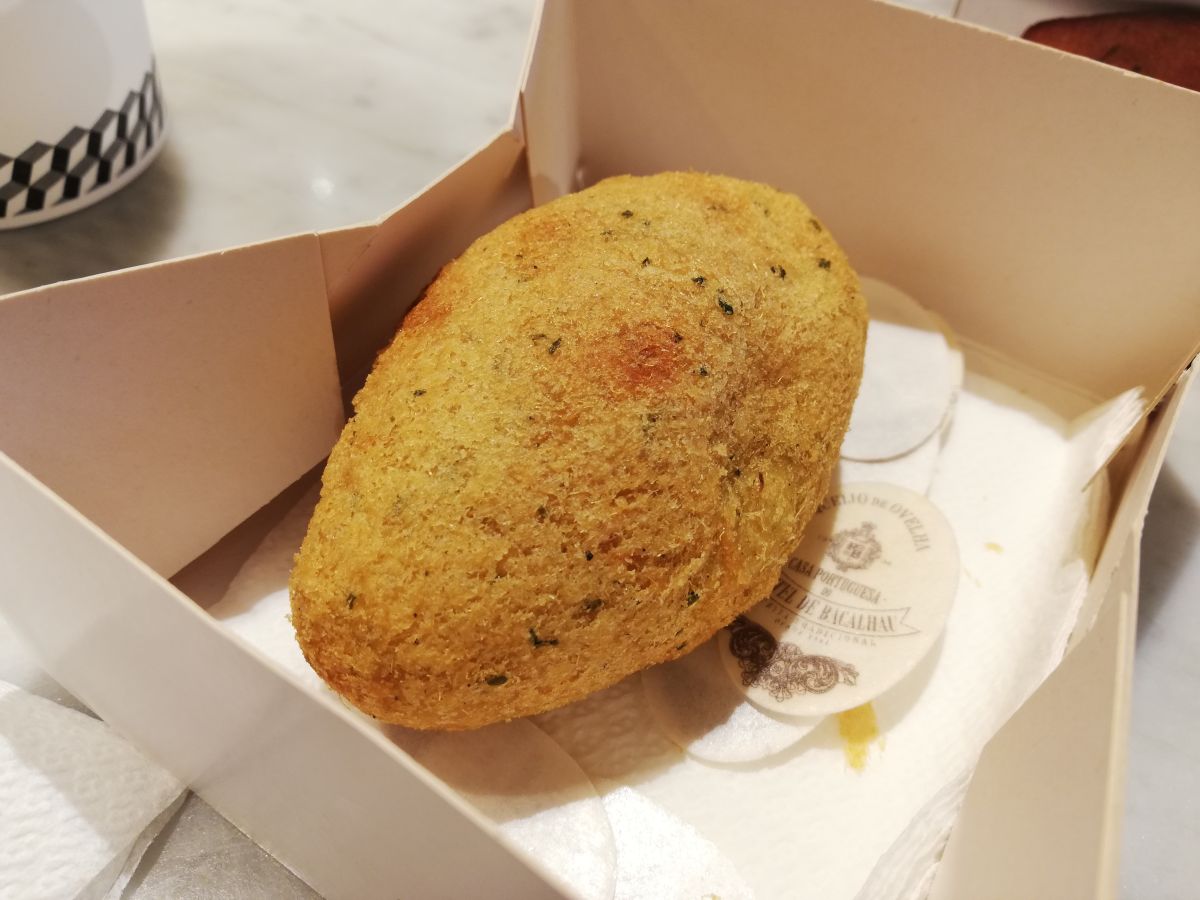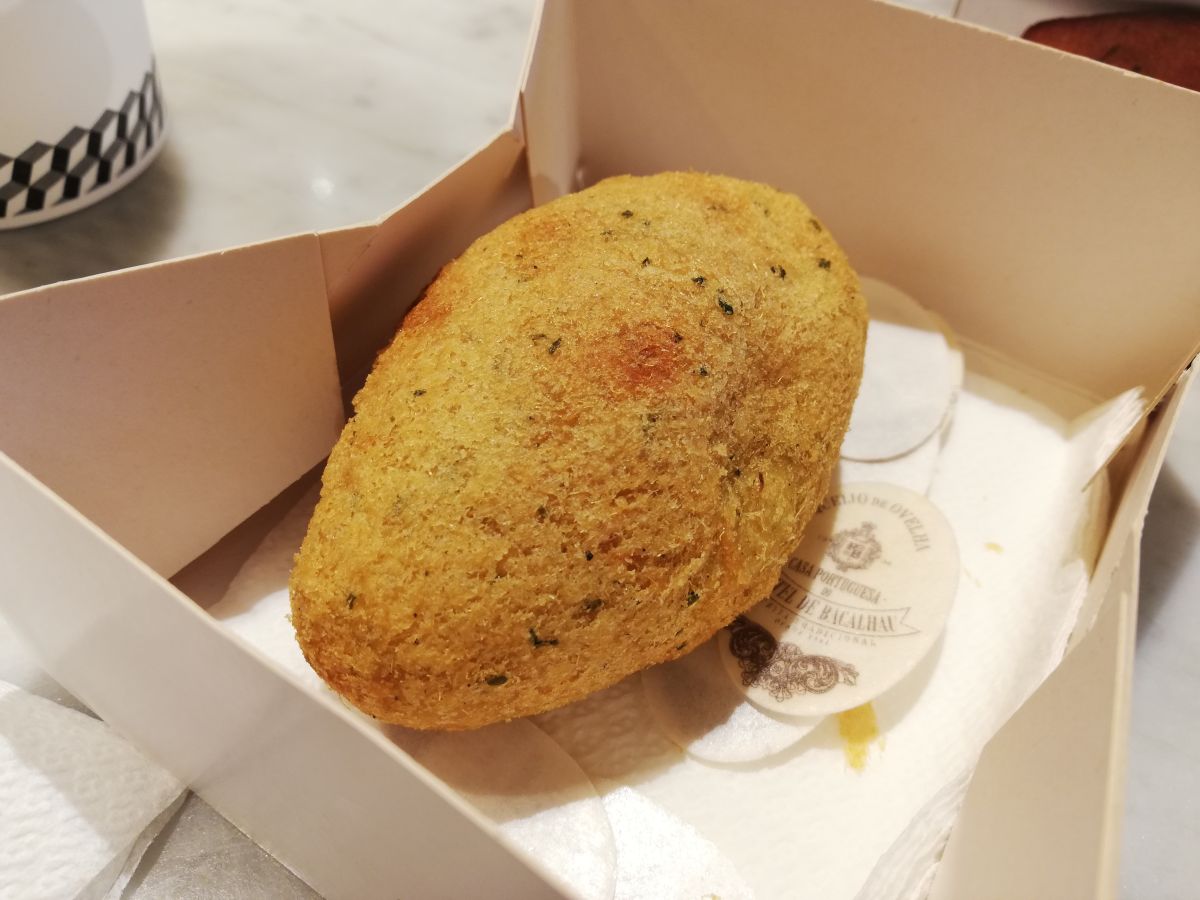 Outside Lisbon – Sintra and Cabo da Roca
Some explorers joke about how the best part about Lisbon is… Sintra! To be honest, there's a little truth in that joke, as it always is the case. Lisbon is not necessarily weaker but can feel a tad boring compared to Rome, Paris or London traveller who's been to those cities and then some more. Capital cities are usually filled with attractions at every corner. Lisbon has them too and it looks incredible, yet it does lack the numerous aspect of attractions.
Sintra – Quinta da Regaleira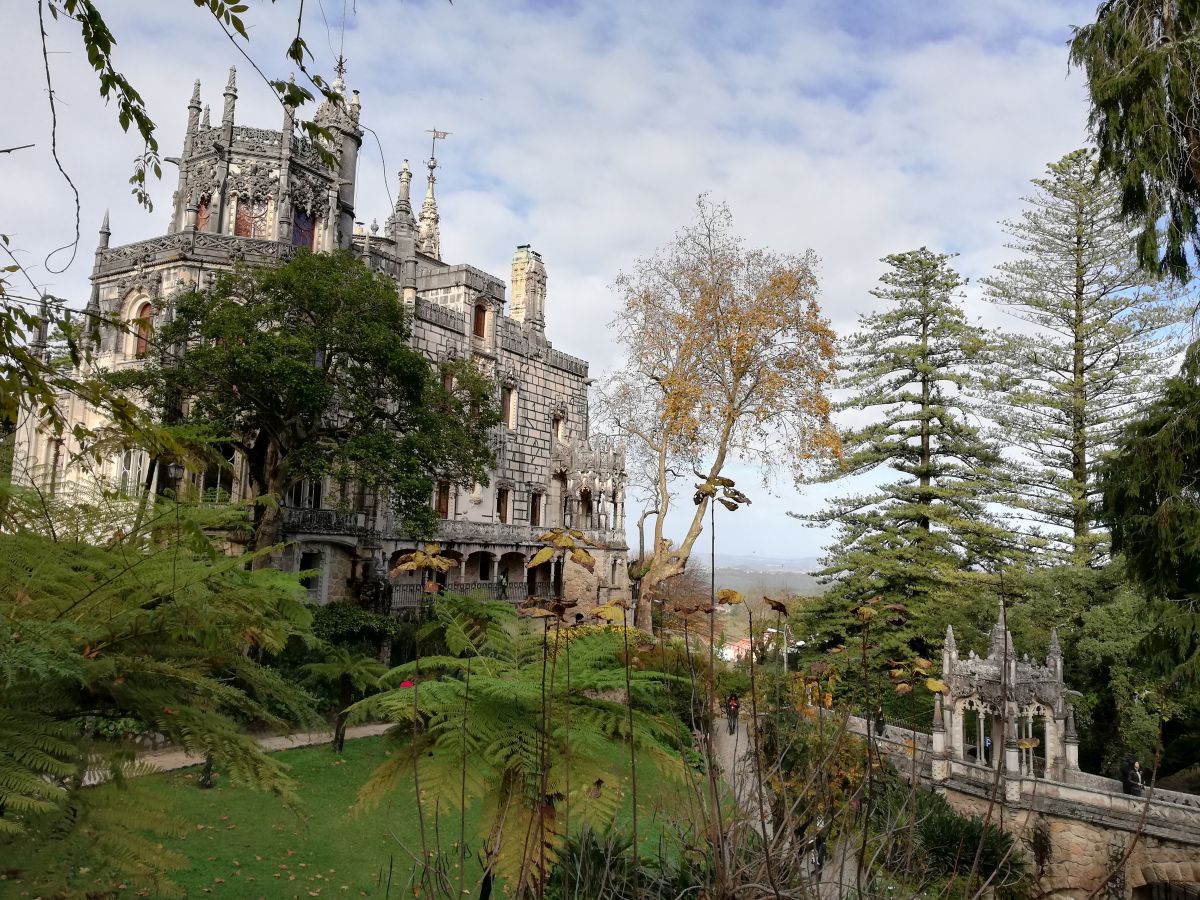 Address: R. Barbosa du Bocage 5, 2710-567 – Website
Sintra is a small city located just 40 minutes away to the West by train from central Lisbon. The ride costs 2.5 Euros and takes you from the middle of the city straight to the station in Sintra after about 7 or 8 stops. Once there, you have a handful of places you can visit. Some of the castles you are probably familiar with from Instagram.
My choice for my 2-hour window in Sintra was Quinta da Regaleira. Which is a place so mystical, occult and so weird and unique, it really is hard for me to describe it with words. And I write for a living! It is this huge complex with castles, towers, surreal-looking benches (have you ever looked at a park bench for more than 10 minutes and just be amazed by it? I did in this quinta!) wells that make your head spin and underground tunnels you can get lost in.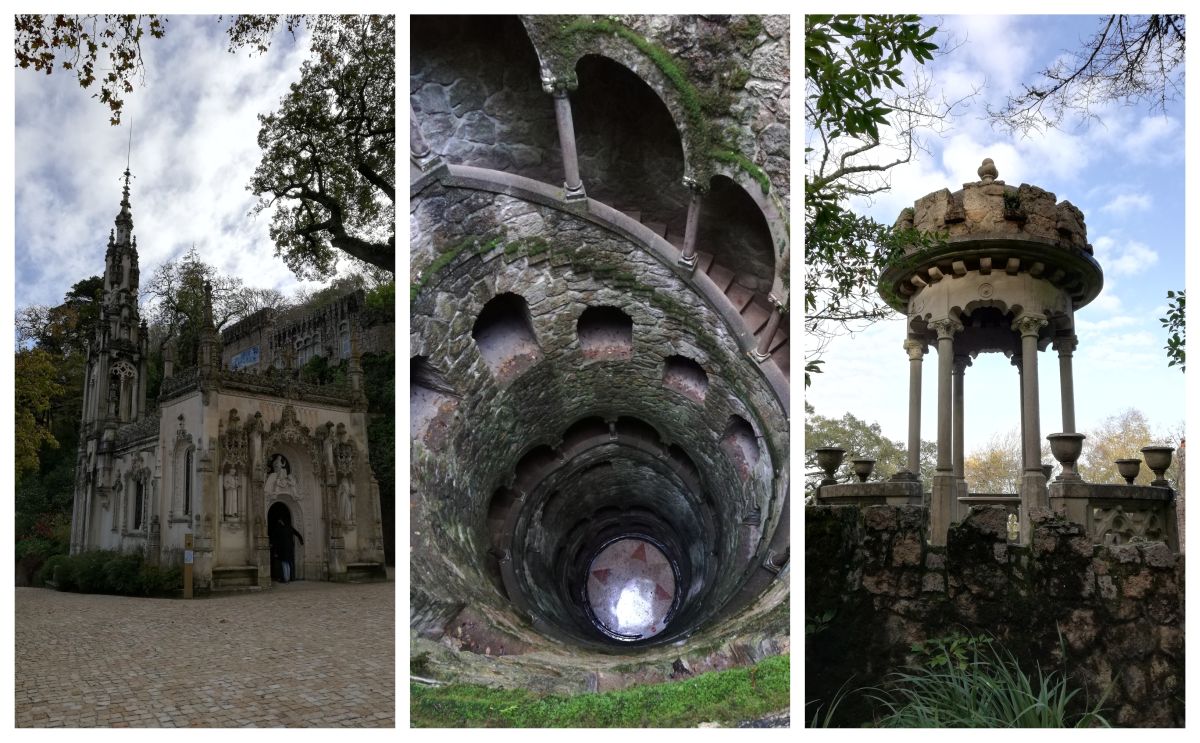 For 8 Euros, the price of the entrance ticket, you not only get to check another world wonder off your list. You get an experience like no other. If I were to describe it, I'd say Quinta da Regaleira, the home and domain of a freemason and one Italian artist and architect is the ultimate playground for adults. It's filled with magic, a sort of magic you can actually feel in every tile, every leaf, every tree and every tower. It is unmatchable.
Cabo da Roca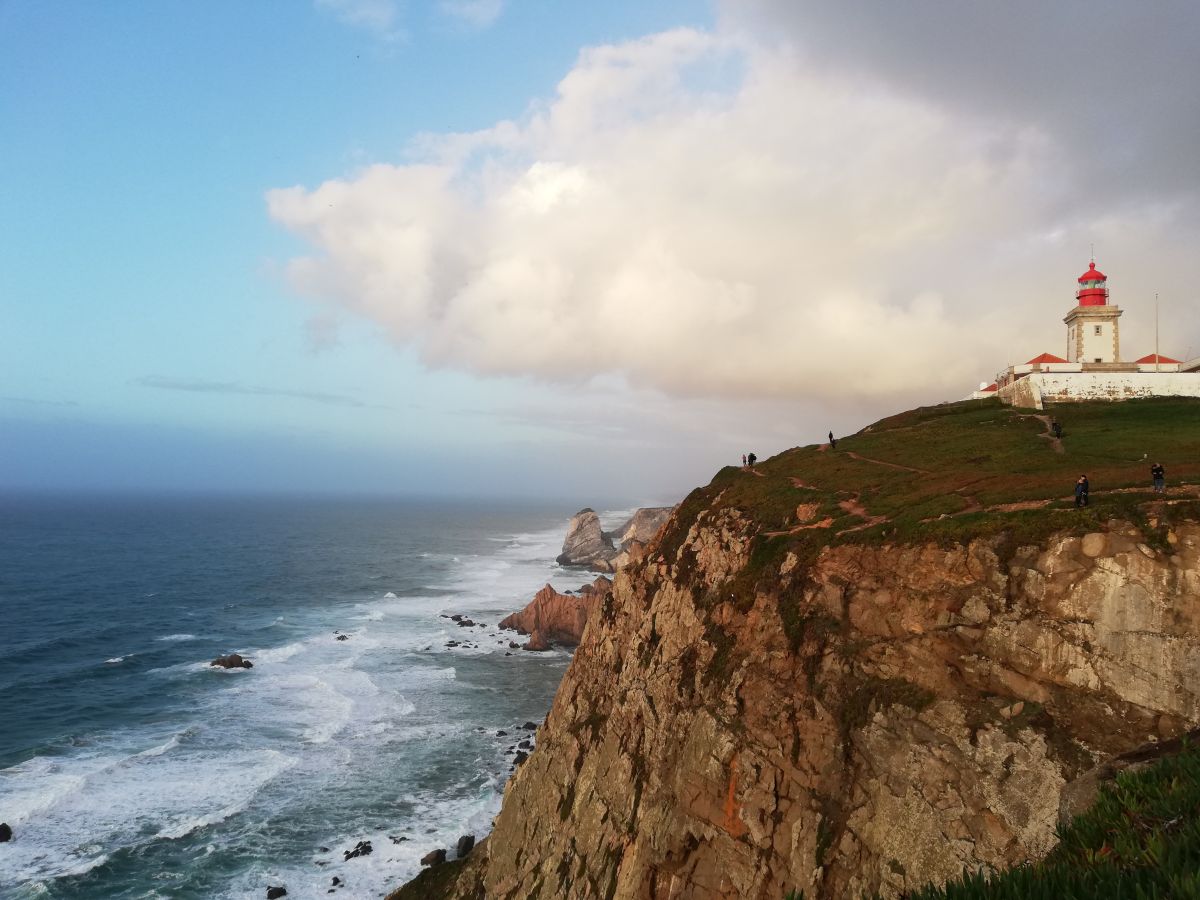 Address: Estrada do Cabo da Roca s/n, 2705-001 – Website
Do you know when your Geography teacher told you about the Westernmost point in Europe? And then you forgot about it by test time? And then he smashed the test book over your head? That last part might be specific to Romanian schools, but I digress. Cabo da Roca is the point on the map of Europe that's at the Westernmost location of the non-insular part of the continent.
After a 50-minute bus ride that costs 4,50 Euros from Sintra's central station (make sure you have cash and in small banknotes no larger than 10 Euros. The driver refused to sell me a ticket as he couldn't give me change from a 50 and made me go into town to ask for smaller currency. I was so mad… ) you get to the tourist centre which is right near the Cabo.
Once at the place, you will be done with it in at most 5 minutes. Why? Because the winds at Cabo da Roca are no joke. They're like you'd be standing behind an A380 Airbus aircraft in full blast at take-off. It's so windy, hats were simply flying all over the place like at a graduation ceremony. I took my photos with the help of some Japanese travellers (Arigatōgozaimashita!) admired the beaches and sublime rocks from where the Atlantic meets Europe and then I was off.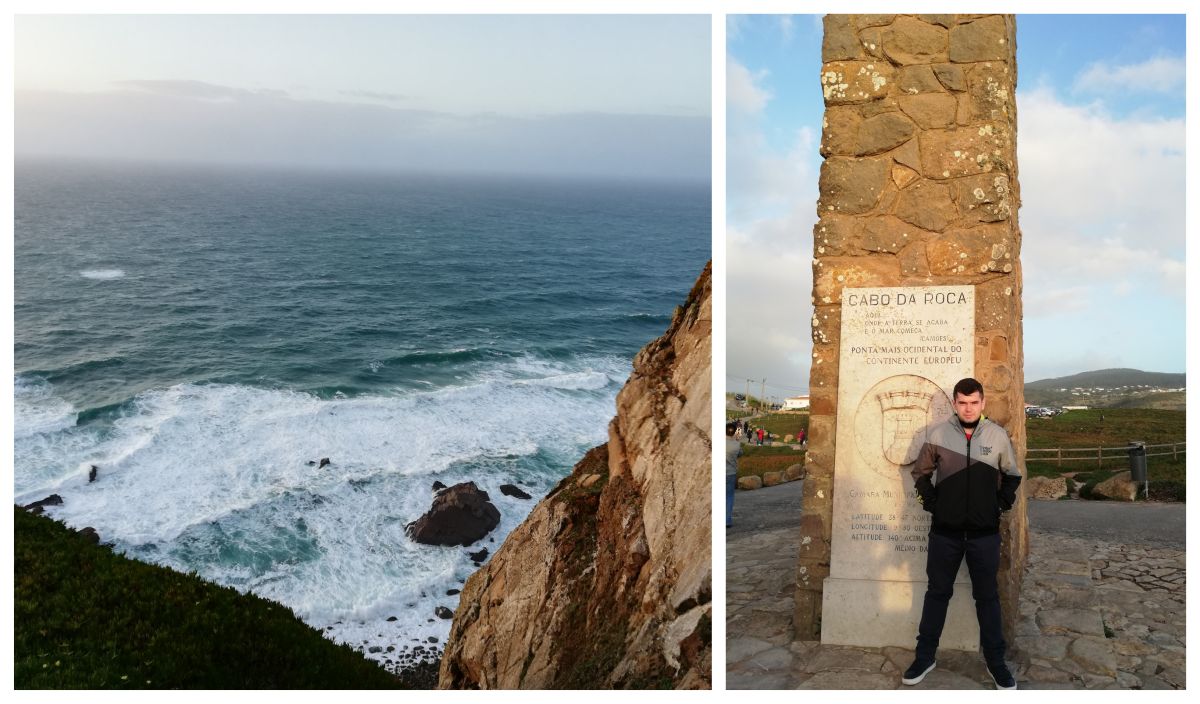 There's no fee to see the Roca besides the bus ride, which you'll have to take either back to Sintra or Cascais and then to Lisbon, but you have to have 50 cents to go to the toilet. Keep that in mind so that you don't have to keep your pee inside for 3 hours. It's painful.
Safety in Lisbon
Lisbon is a safe city despite having one of the more culturally diverse populations in Europe. You'll find all the people in this amazing city of explorers and first travellers, which is incredible. Unfortunately, many consider this diversity as being unsafe. If you are simply applying common sense and take care of your important belongings, you cannot be harmed. I happened to stay on a bad-famed street in the city, yet I've had no issues. And I've even talked with an addict on the street and helped him recover his keys from the ground. He thanked me and went on his way. People are people everywhere, with the good and the bad. Be cautious and kind, and you'll be fine anywhere.
Conclusion
Lisbon has made a great impression on me and it's one of the few cities that are on my "go back" list. It's such a vibrant city with amazing foods and sweets, great laid-back attractions, the best egg tarts on Earth and an amazingly diverse culture that's appealing to me. The people are friendly, the weather is almost always nice and the prices in Lisbon are great. You're really getting what you're paying for. In conclusion, I urge you to go to Lisbon and try all of the things described in this guide on your own. I promise you will love them all!