Before going into the 10 myths about Morocco I debunked during my trip to Marrakech, I have a little confession to make. Actually, two confessions. Number one, there is little to no truth on the internet. There is some truth, but most of the things you read on the web are rubbish. Number two, my trip to Marrakech was the very first trip about which I was SERIOUSLY doubtful. No just a little stressed, but completely ready to cancel it.
Why? Simply because I read some bad reviews online about the country, the services, people and so on. I got scared and my mind started working against me at some point. Three days before my departure, I was still not sure if I were to board the plane or not. I struggled with it and sure enough, Morocco proved itself to be nothing I read on the internet about it.
My Marrakech city-break was one of the very best trips I have ever taken in my life. I travel mostly solo, so I was able to immerse myself into the culture, food, sights and everything. Even though everything was just a small getaway, I enjoyed it like it was the best trip ever. And the myths about Morocco? They're plenty, but here are the most famous 10 I was able to debunk in about a day after landing in beautiful Marrakech, the heart of Morocco.
1. Airport security takes 3 hours minimum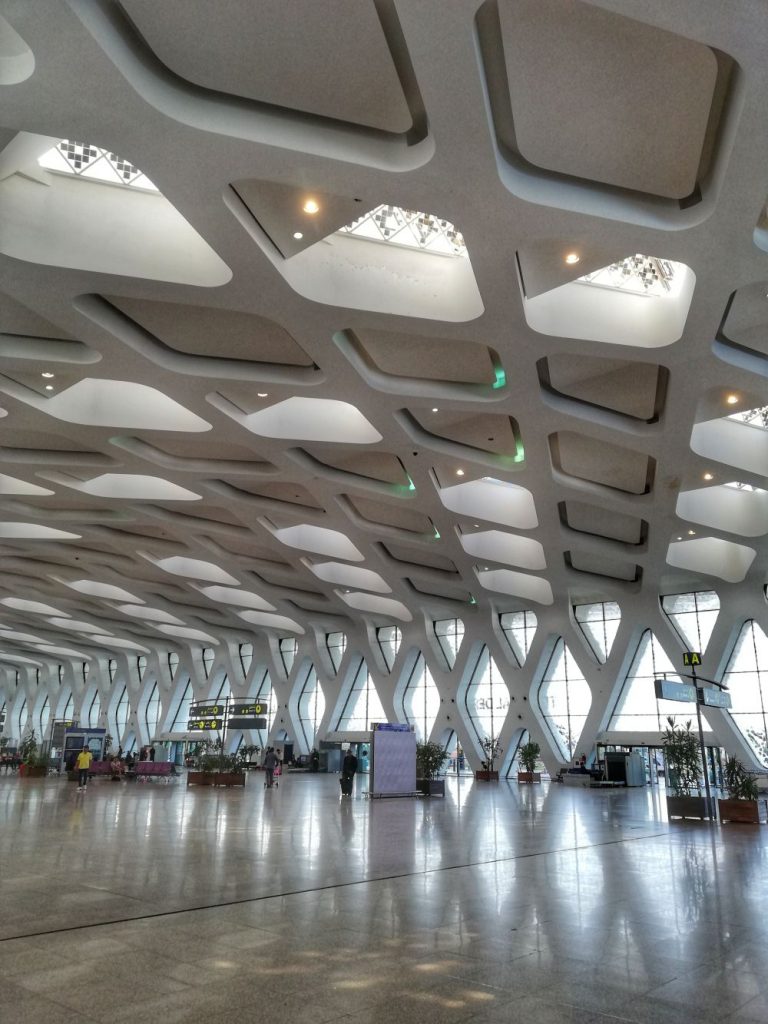 Myth: The moment you land at the Menara Airport in Marrakech, you'll be faced with the longest passport control lines in your life. You'll have to wait in a small space for hours on end just to get through immigration. The people at the counters are slow, unmotivated and rude. You will lose your transfer, your patience and possibly your freedom if you dare say anything to them.
Reality: I arrived at the airport at around 10 at night. The airport is one of the more modern I have been lucky to travel through recently. It's huge, perfectly functional and has air conditioning working on full blast. This was not the case in Egypt, where temperatures were even higher than in Morocco. It took me 15 minutes to clear passport control, and the process was easy and uneventful. The officer was nice, asked me where I was from and what's my job and stamped my entrance to the country right away. It was smooth and I was out of the Arrivals building in no time.
2. Taxis are going to scam you big time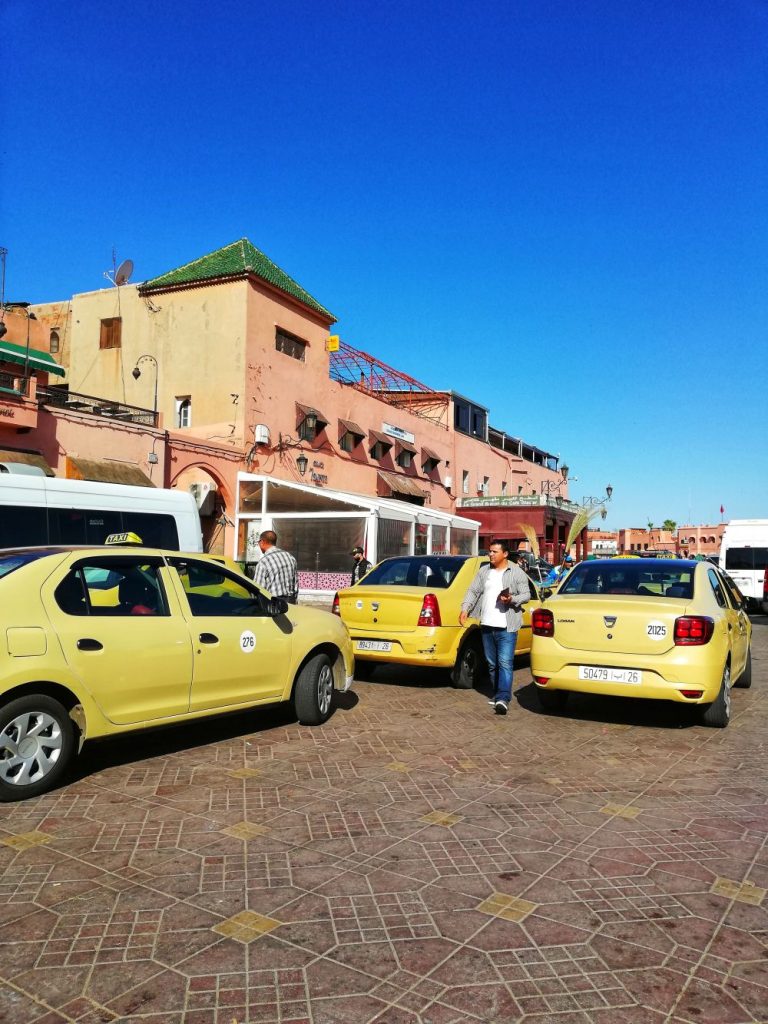 Myth: Taking a taxi from the airport to your hotel will cost you 200, 300, even 500 dirhams. That's 50 bucks for a 3 or 4 kilometres ride. If you want to get a transfer, fares are terribly high and you'll have to tip the driver, otherwise who knows where you might end up.
Reality: I booked my private transfer about 3 days before my arrival with Rideshare, a subsidiary of Booking.com. I paid exactly 22 USD for a return transfer. It was the best decision of my trip because, as soon as I got out of the airport, the driver was there waiting for me. $22 is about 200 dirhams, which means paying 100 dirhams is the right price regardless if you're taking a cab or a transfer. The car was a hybrid SUV with air conditioning, water bottles and perfect cleanliness. The driver spoke English and took me to my hotel in about 10 minutes because of some heavy traffic.
I took two taxis while in Marrakech. In the first case, the driver turned on the meter and the ride ended up costing about 8 dirhams, so not even 2 bucks. And we drove for some time to reach the Majorelle Gardens, one of the highlights of the city. I gave him 100 dirhams and asked for change. He said he has none, handed the bill back to me and said: "no problem, it's okay".
I was stunned and ashamed at the same time. Here I was, ready to cancel my trip to this country, just because some idiots on Facebook said it was this and that. I was amazed at the taxi driver's gesture, so I got out of the car to the nearest cafe, split the bill and paid him 20 dirhams, more than double, just because he was such a nice human being.
3. The hotel will charge you extra fees because you're a foreigner
Myth: The hotel you're staying at will charge you for extra fees and taxes right when you check-in. You'll have to pay city taxes, towel taxes, pool taxes and so on. You will get rude looks if you don't tip the front staff well. Beware, you're not going to have a good time if you don't pay everything or start making a fuss about it.
Reality: I booked my stay through Booking.com, like usual. One thing I always do before going anywhere is, a day before my first night, I call the hotel and make sure everything is fine. I tried doing this with my first hotel and, for some reason, nobody picked up the phone. Then I decided to cancel my booking and looked for another hotel. My luck was that I found a room at Le Grand Imilchil Hotel in the new part of the city. I booked a room and confirmed everything on the phone in a minute or so.
I got to the hotel late at night, so the room was ready and very pretty for the price that I've paid for it. There were no extra fees, taxes or anything else. I paid exactly the sum of money the receptionist told me about over the phone a day earlier. I tipped the guy at the reception with a few dirhams and he was very happy, turned chatty and asked me about everything.
4. You will not be able to handle Jemaa El Fna
Myth: The central square of the city is not for the faint-hearted. You'll get lost and have to pay people to help you get around. Snake charmers will put cobras all over you, monkeys will bite you and the food will be too much for your stomach. Avoid at all costs.
Reality: Not going to Jemaa El Fna while in Marrakech is like not visiting the Eiffel Tower while in Paris, the Colosseum while in Rome or the Sagrada Familia while in Barcelona. It's stupid people assume you're not going to have a great time in this square. Yes, maybe if you're an introvert, you'll feel suffocated at times, but even so, you'll have a blast.
Don't worry, nobody will put snakes around your neck if you don't want to take a picture with them. The snake charmers are just doing their job in the higher scheme of things. That is, maintaining a permanent state of craziness and magic in the square. Oh yes, that place has some magic in it especially as the sunset happens and the food carts are pulled in. The entire place comes alive, the people start having fun and the overall chaos starts to make total sense.
5. You will get run over by cars
Myth: The traffic in the city is chaotic. You will be run over by a car the minute you get out of your hotel.
Reality: Rome is a pretty modern city if you don't mind the ancient sights. Still, traffic in Rome is absolutely crazy. They have traffic lights and pedestrian crossing, yet nobody seems to be taking them seriously. If you can survive Rome, and I did a couple of times, then Marrakech is like a walk in the park. People wait at the red light, they wait for older people to cross the street, and when they don't, they simply know how to avoid them without running anybody over. It's like a perfect choreography for which you don't need any training. And it's better than in Rome…
6. Vendors will assault/beat you for bargaining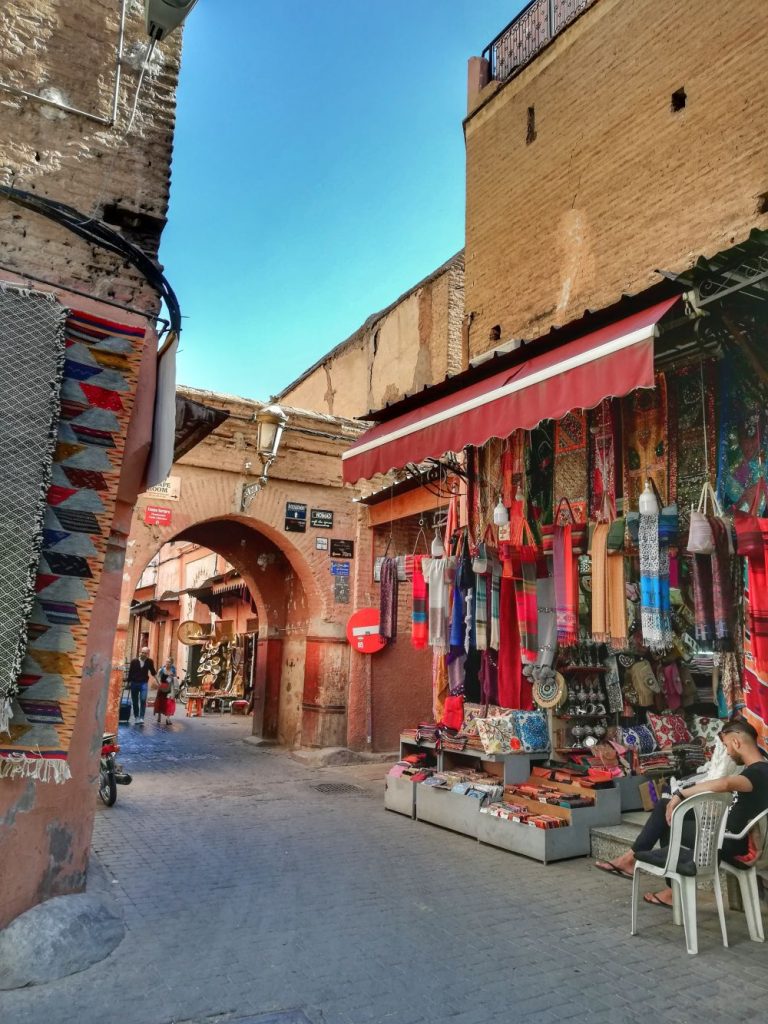 Myth: In the souks of the city, while the atmosphere is all like in Agrabah and quite magical, vendors will assault you into buying from them. Regardless if you want anything or not, you'll have to stop by, bargain and get something. If you don't, you might end up beaten.
Reality: The vendors anywhere in the city are just trying to make a living. Life in Morocco, as is anywhere on the planet, is not really easy. This is an African country with a tumultuous recent past in which people are still trying to find their ways. So they do what they know better, which is bargaining for each and every dirham they can. Although from your perspective it might look like you're getting ripped off, those 10 or 20 dirhams the seller is making extra from you will turn into bread for the whole family at the end of the day.
So stop being so judgemental, pay the extra few dirhams and enjoy the experience. You are in a Moroccan market, so if this is what you were afraid off, why are you even there? Nobody will assault or beat you if you don't want to buy. Shake the seller's hand, thank him and start walking. If he wants to sell at your price, he will say so. If he doesn't, move on to the next. Be polite about it and you will be fine. Smile. It's that simple.
7. Food in the central area is expensive and bad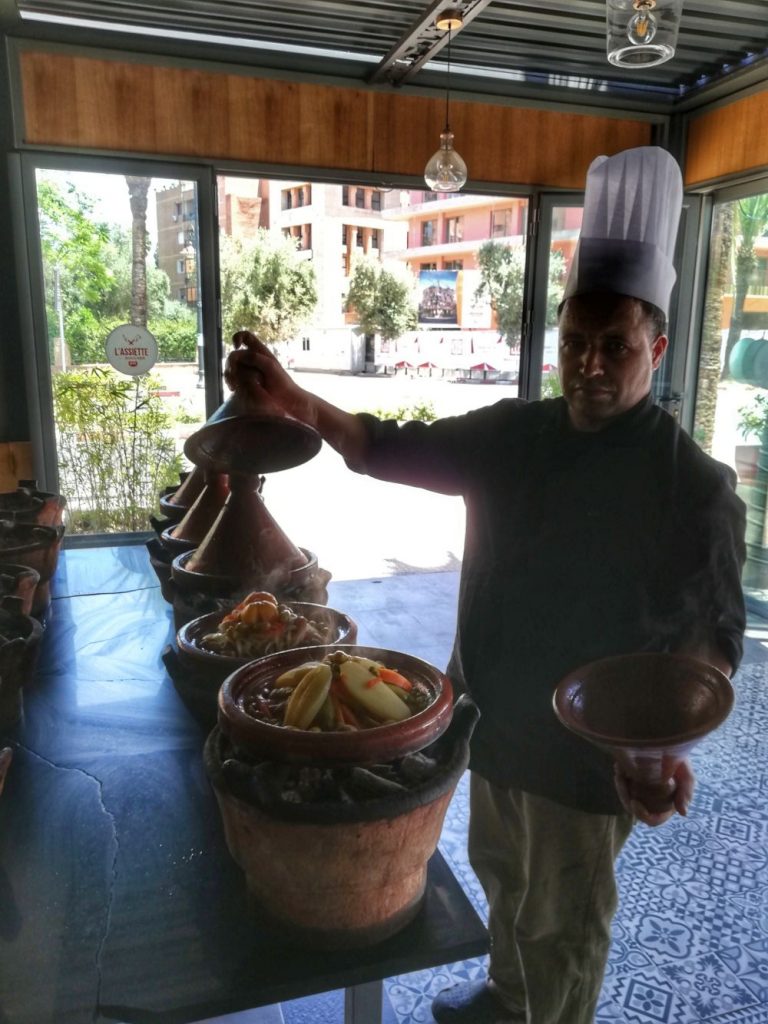 Myth: Moroccan food is great, but because of all of the tourists, even the smaller shops in town are raising their prices every day. You will pay a lot for a good meal, which is odd considering you're in Marrakech, not in a European city.
Reality: Food is an important part of any culture and trip, so if you're going somewhere and eating just packaged foods from Carrefour, you're doing it wrong. I'm not saying you should eat at only the best, most expensive restaurants. What I'm saying is yes, you should splurge at least a couple of times during your trip.
I tried both the fancy and the regular stalls in Marrakech. The first where a little on the expensive side, but the food was absolutely delicious. My first tajine was at this gorgeous place right in the middle of the new town. It was splendid, although I ended up paying 20 bucks for my meal, which is a lot for Morocco.
At the food stalls, food is delicious and cheap, so if you're into that, you will have a blast there. Meat skewers, snails, fruits, falafel sandwiches, bread and dips, you can get them all for a few bucks and be full in no time. Nothing is really expensive here, but just fairly price in my opinion. You simply get what you pay for, which is the norm all over the world.
8. There's nothing else to see except the central square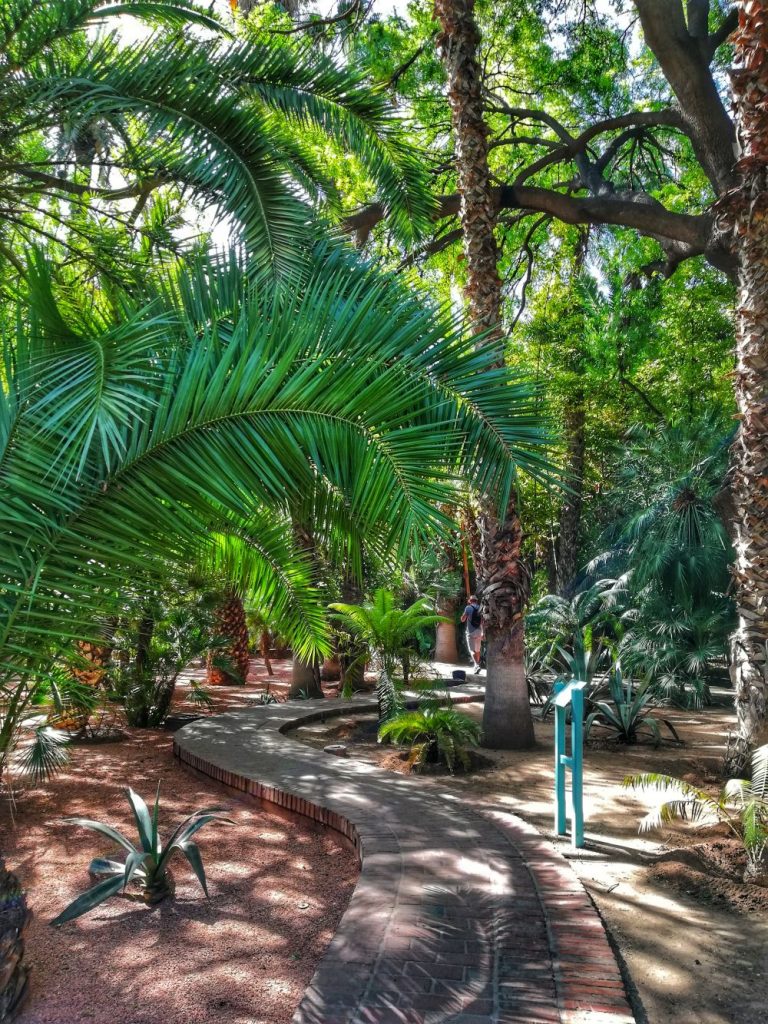 Myth: Marrakech is nothing but a huge square with a large minaret and some snake charmers. You're wasting your time if you're visiting just this city in Morocco.
Reality: I visited the Majorelle Gardens one morning. I then got lost in the medina in the afternoon, genuinely feeling like I was in a scene from Aladdin. Then I took a stroll around the new town, admiring all of the new fancy places, buildings and fountains. Also, I enjoyed spending some time in the shed of some amazing trees in one of the many parks. I then visited the Bahia Palace, a wonderful masterpiece of Moroccan architecture and style.
So yeah, there's nothing to see here but some cobras raising their hoods up by a guy with a flute…
9. The heat is unbearable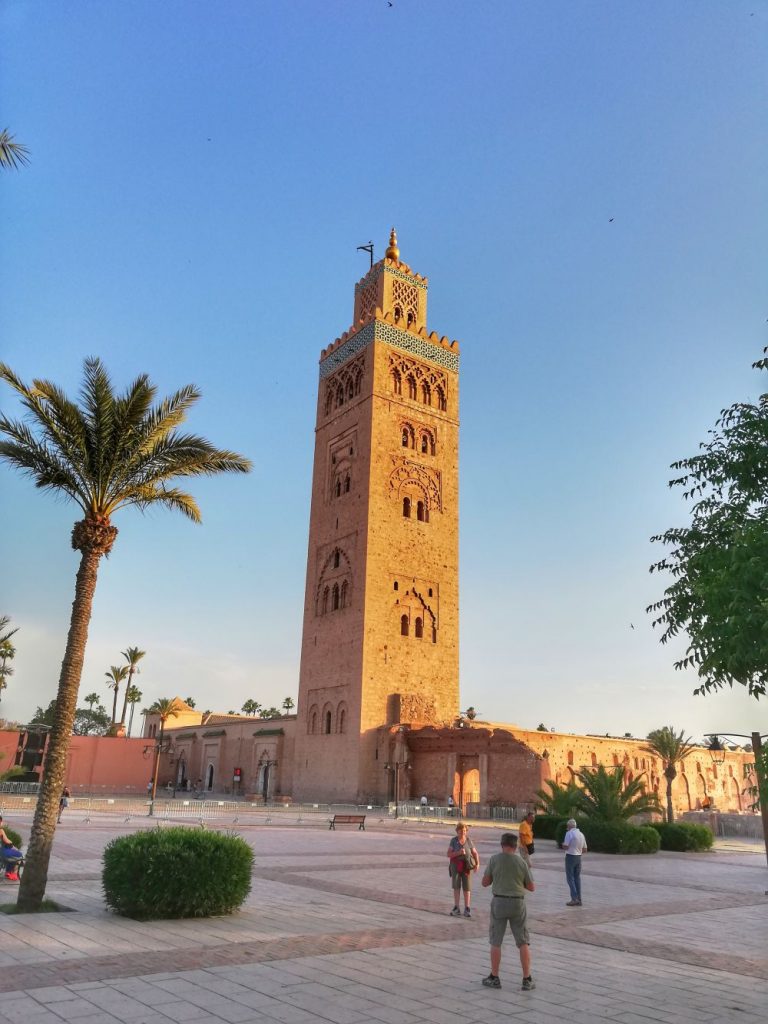 Myth: The heat in Morocco is unbearable. It's like 40 degrees at 11 in the morning.
Reality: This is Africa. What would you expect? -5 degrees and some frozen rain in the afternoon? Of course, it's hot, of course, you'll have perspiration running down your everything. But this is part of the experience. Like the song says, "And the heat is intense! / It's barbaric, but hey, it's home…"
You will be able to handle the heat, don't worry. Hotels have air conditioning, and so do most terraces and restaurants. If you're carrying a bottle of water with you and stay hydrated, take some cover from the sun when it's becoming too much and avoid going out after lunch time for 2 or 3 hours, you will be absolutely fine.
10. Moroccans are rude
Myth: The Moroccan people are rude. They aren't friendly, they look with stinky eyes towards the foreigners, they simply don't like you there.
Reality: I have never been more pleased by the general politeness and welcoming of any people than Moroccans. It was lovely the way people treat you, from the chef at the tajine restaurant showing me around his kitchen, to the taxi driver who won't charge me for the ride, the hotel staff who were nothing but helpful, every single person that I've interacted with was delightful.
Moroccans are nice people, trying to make ends meet in a country that's not the best in the world, but which has so much potential, it's simply encouraging and inspirational. And it's all thanks to the people who, despite all harsh realities of day to day life, always keep a smile on their faces and welcome visitors around the world with open hearts.