Japanese A5 Wagyu is the rarest, most expensive, tastiest beef you can eat. For me, the best thing that I can do in my spare time is to experience new things. I don't buy material stuff if there's not a complete, undeniable need for it. Like for example with this laptop that I'm using right now, I got it when my 5-year-old laptop got unusable. In terms of experiences, I love to travel and eat. I know, it's so common it's boring. But what I've had this Christmas Eve in terms of a food experience is far from being boring. Or normal. Or even rare.
How I got it
For the Christmas Eve dinner, I managed to get my hands on a piece of meat so rare, so exquisite, and so expensive, my mom nearly beat me up because of it. With a rolling pin. Old school. And I can't blame her. Who pays around $100 for a small piece of meat bought from the internet? I got my Japanese A5 Wagyu steak, the A5 kind with a 10 grade on marbling, aka the fattiest, most flavourful one, from a respectable source, so I'm 100% sure it was the real deal.
Cooking the Japanese A5 Wagyu steak
In terms of cooking the Japanese A5 Wagyu, all it took was a little salt and pepper, a nice blackened skillet and no oil. Instead of oil, I cut out a little piece of extra fat from the steak itself and greased the bottom of the pan with it. I knew from that point on that the Japanese beef was going to be amazing, just by the mere smell of the fat burning away and melting into a pool of butter. I cooked the meat for 90 seconds on each side, then let it rest for 5 minutes on the clock, my heart pounding in my chest with excitement.
Texture, taste and flavours
Cutting into the steak after the longest five minutes of my life, I was intimidated at first by the perfect pink in the middle but also the amount of fat that I could see. Fat is where the flavour is but with Wagyu, it's a tad too much for your regular steak experience. Texture-wise, the A5 Wagyu beef is just melting in your mouth, literally. You don't have to chew at all, just leave it on your tongue and it will simply melt away with your saliva.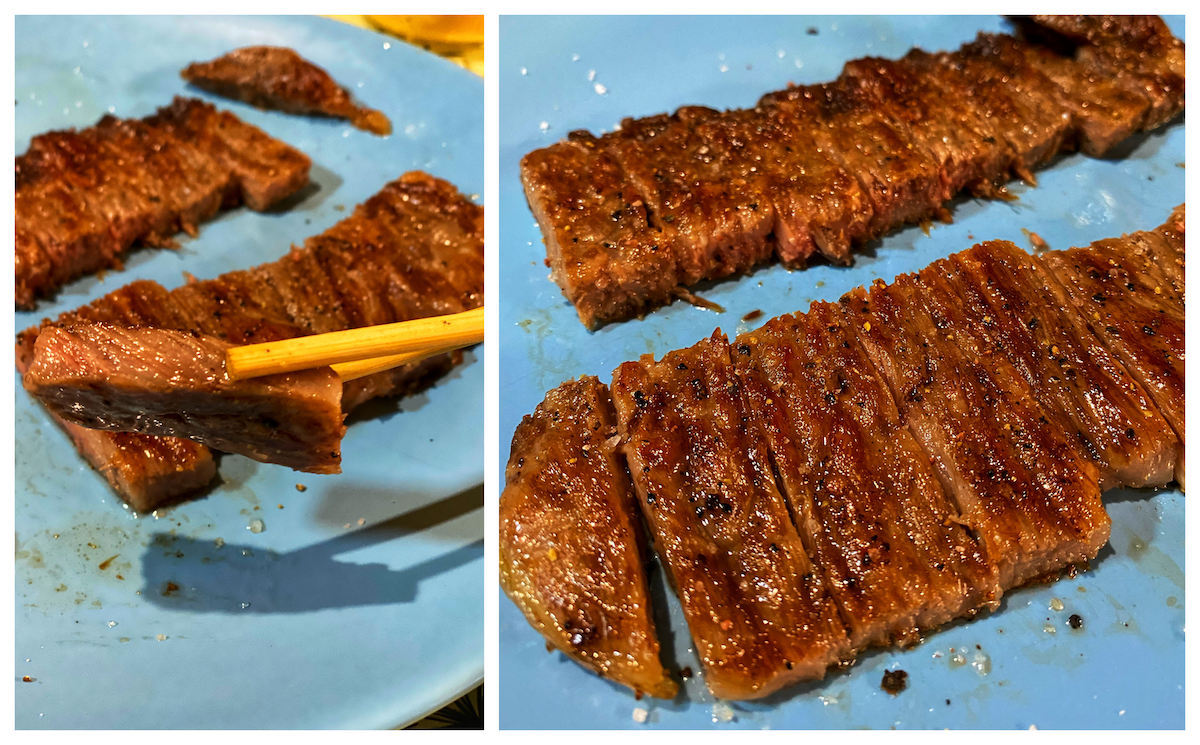 So the big question: what does the Japanese A5 Wagyu taste like? In a word, umami. It tastes like the best mushroom, cheese, bread, butter and meat combo you've ever had, all into one. All while there's a ton of juice and fat, but not the overwhelming kind, in your mouth. The meat is almost sweet, fruity, with a hint of burnt from the bottom of the skillet it's been cooked in. Flavours are rich, powerful, which makes the $100 steak enough for 2 or even 3 people.
I only added salt on the steak and a little freshly grounded black pepper, nothing else. I also decided, me and my dad actually, the two beef fanatics in the family, to have the Wagyu with no other sides but half a toast slice per person. And a little Dijon mustard for some bites. You can't, it's just illegal to spoil the taste of this most incredible beef with fries or salads. Don't do that.
Aftermath
As I grow older, I am noticing my stomach is not as permissive as it once was. Nowadays I just can't down a bag of chips, two beers, three KitKats and a ham and cheese and not feel like I'm about to die an hour later. This is why I was a little worried that all of that fat would create a small storm inside of me after having the extremely rich piece of meat. No. The Wagyu went down extremely well and uneventful. Even made it easier for me to "get things moving" if you know what I mean. Eat with no regrets, nor aftermath fears!
Would you buy the Japanese A5 Wagyu again?
The short answer is, heck yeah! The long answer is, not very soon because even if my freelance writing is going very well right now, I just can't afford to eat $100 pieces of steak every Sunday night. But for Christmas or my birthday? Yes, I will definitely get it again and cook it over charcoal, as well as pair it with some soy sauce, horseradish or some exquisite vinegar.
And some wine, hello?
—
Hi! Just a quick thing before you leave:
First, nice of you to read thus far, it means that you've enjoyed my writing!
I'm not here to ask you for any likes, shares, or comments, although that would be cool of you! Instead, I'm offering you a chance to have an even better piece, sort of like this one, but better, written for you by a content creator. That would be me!
Check out my Services, Portfolio and Testimonials pages for details. And then shoot me an email at the address you'll find on the Contact page.