I've been to Italy almost 30 times but this trip, I did it a bit differently as I trekked the entire Cinque Terre hike in Italy over two days. Why? Because I got into sports recently, lost some weight and was feeling ready. The feeling faded immediately after the first of the infinite flights of stairs. Then came back. And flew away. Came back. You get the gist. It was a rollercoaster, this hike.
Literally.
In this article, I'll take you with me on a virtual tour of the entire trek, from Riomaggiore to Monterosso. I'll detail everything I know and experienced, from the hikes to the towns and from where to eat to the tickets you need for the trains and the actual trails. Although very hard, this trek was one of the best things I've ever done over my decade-long travel adventures. 
Andiamo!
Getting to Cinque Terre
I knew this was going to be hard. Sure, I was packing in three very intense working out months but still, hiking the entirety of the trail is no easy feat. Don't believe them when they tell you the hikes are average. They're like the Stairway to Heaven song but you're going to hell. The effort is all worth it but trust me, this is no easy task and you need a great physical form to do it.
In fact, I knew this was going to be hard, so I booked myself one night in Venice and two in Asti, the world capital of white wine and especially Moscato, as a pre-reward. I stuffed my face with pastry, pasta, and a ton of delicious wine before beginning on the hikes. And it was the right decision! Asti was so boring, I kind of wanted to challenge myself by the end of my stay there.
Be careful what you wish for!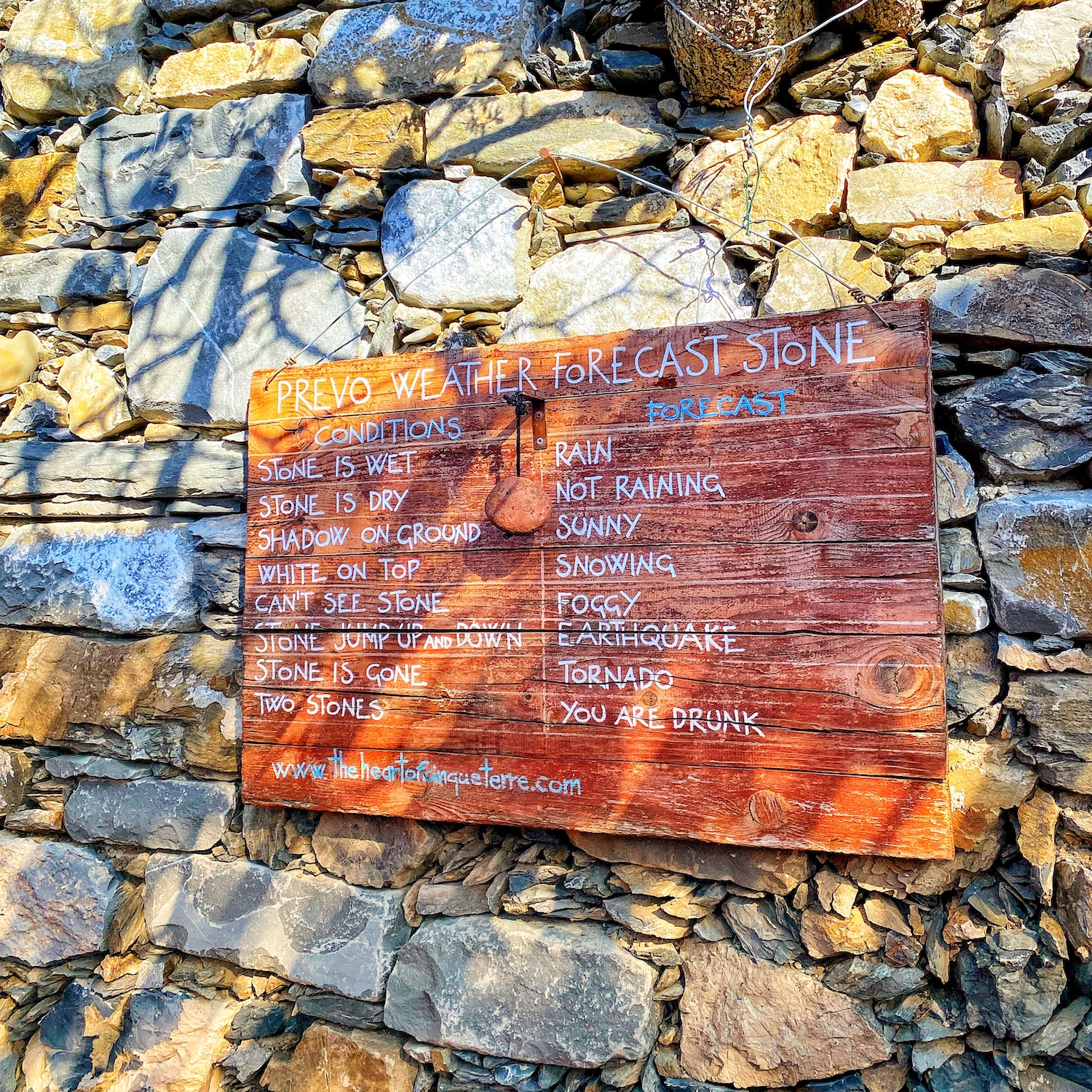 Accommodation
Stay in any of the five villages of Cinque Terre and you'll end up paying with your good kidney for accommodation. It's expensive! So instead, you can stay in one of the cities by the end of the train line, be it La Spezia or Livorno. I went for La Spezia and from there, it was a 7-minute train ride to Riomaggiore, the first village of the Cinque Terre. The city was calm and relaxing.
I paid a lot even there, as three nights in the town set me back 280 Euros, which is more than 300 bucks US. Compared to $25 per night in Asti, or even $75 in Venice, that's a lot of money for an Italian stay. Yet the accommodation was really nice, offering a coffee maker with pods, a fridge, great soundproofing and brand new everything. I loved it there and would stay again.
The Train and Trail Tickets
I'm not saying you shouldn't buy a train ticket for when you travel between the five villages. I'm just saying nobody is ever going to check on them. Seriously. I took the train about 4 times and absolutely nobody checked on my ticket, for which I paid $33 as it included access to the trails for two days and unlimited train rides between the villages and the two cities at the end of them.
Speaking of the trails, only two of the four are locked under ticket access. For which you can pay 7,5 Euros each at the entrance. Yes, I paid 33 bucks for nothing, as the first day I walked on free trails and the second I could've easily done with just 15 Euros. And use the rest for pasta! Again, not encouraging you to travel without a ticket. I'm just saying you totally can.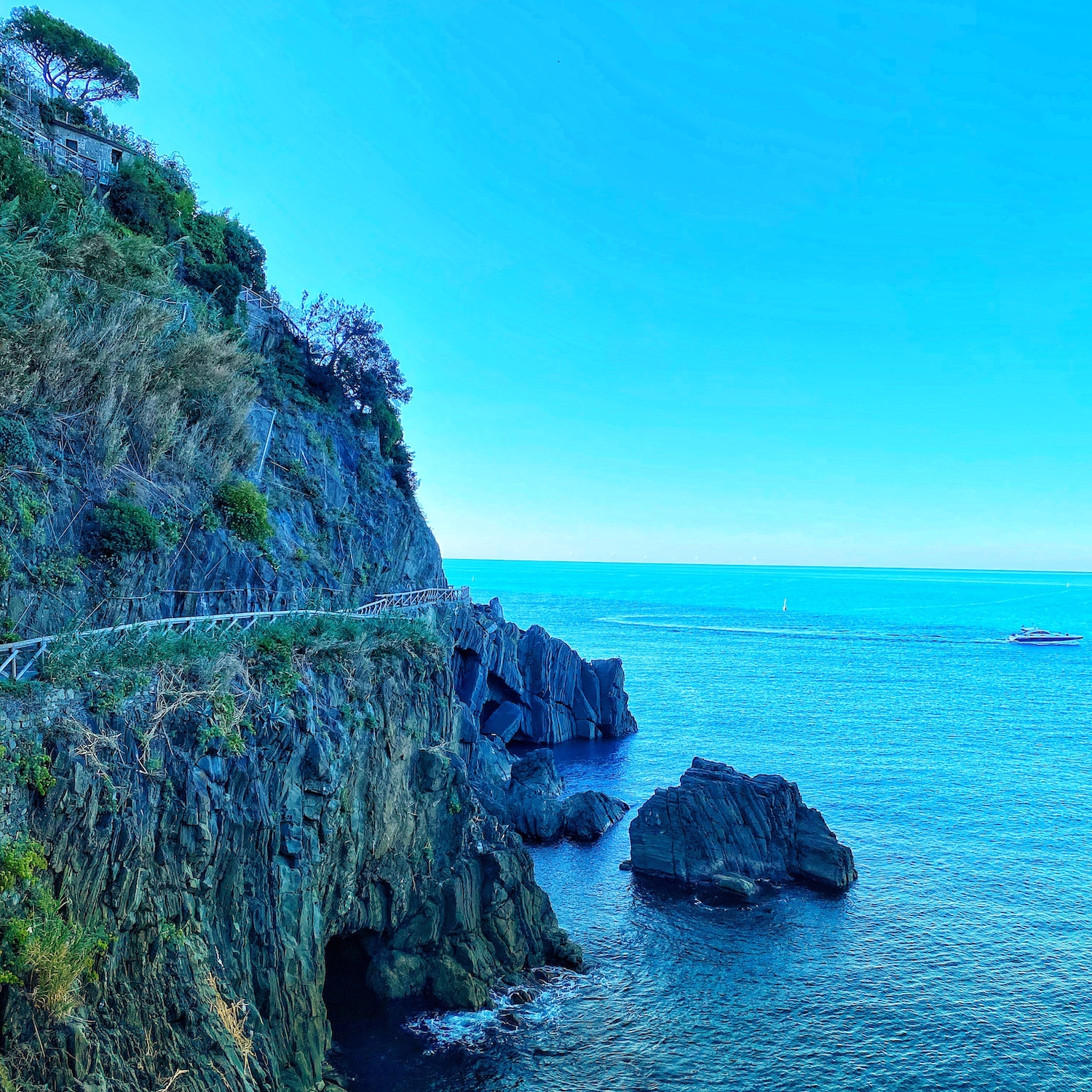 Riomaggiore to Manarola
I boarded the very full 8:55 train from La Spezia to Riomaggiore. By the way, I'm in love with Italian trains. I could sit in a big train station and listen to the guy announcing the trains for hours and I wouldn't need anything but a cappuccino. In a few minutes I was in the first village and after a short hike up and down some stairs, I was in and out of the place after some photos.
What came next was a trail. I was David, an unprepared guy from the countryside with Tommy Hilfiger office shoes on my feet, a litre of water in my backpack and some grapes for a snack. The trail was Goliath, a mammoth hike up and then down hundreds if not thousands of neverending, broken and dangerous stone steps, going on forever and ever over the hills.
I can't recount the number of times I was ready to give up. Especially during the very first part of the hike to Manarola. So what kept me going? My goal. I am a very stubborn individual. I set a goal and I stick to it, no matter what. This is actually one of the very few good things about me! I'm not pretty, or athletic, not tall, I have no fancy anything, I'm your average Joe. From Romania!
But I make up for it in stubbornness. And the more I walked up those stairs, the more my determination was put to the test. The more I climbed, the more stairs appeared after the next corner, the more sweat and fear. The more intense the trial, the more I went up, and then a little flat, and then straight down over some seriously steep steps. Try saying that three times fast!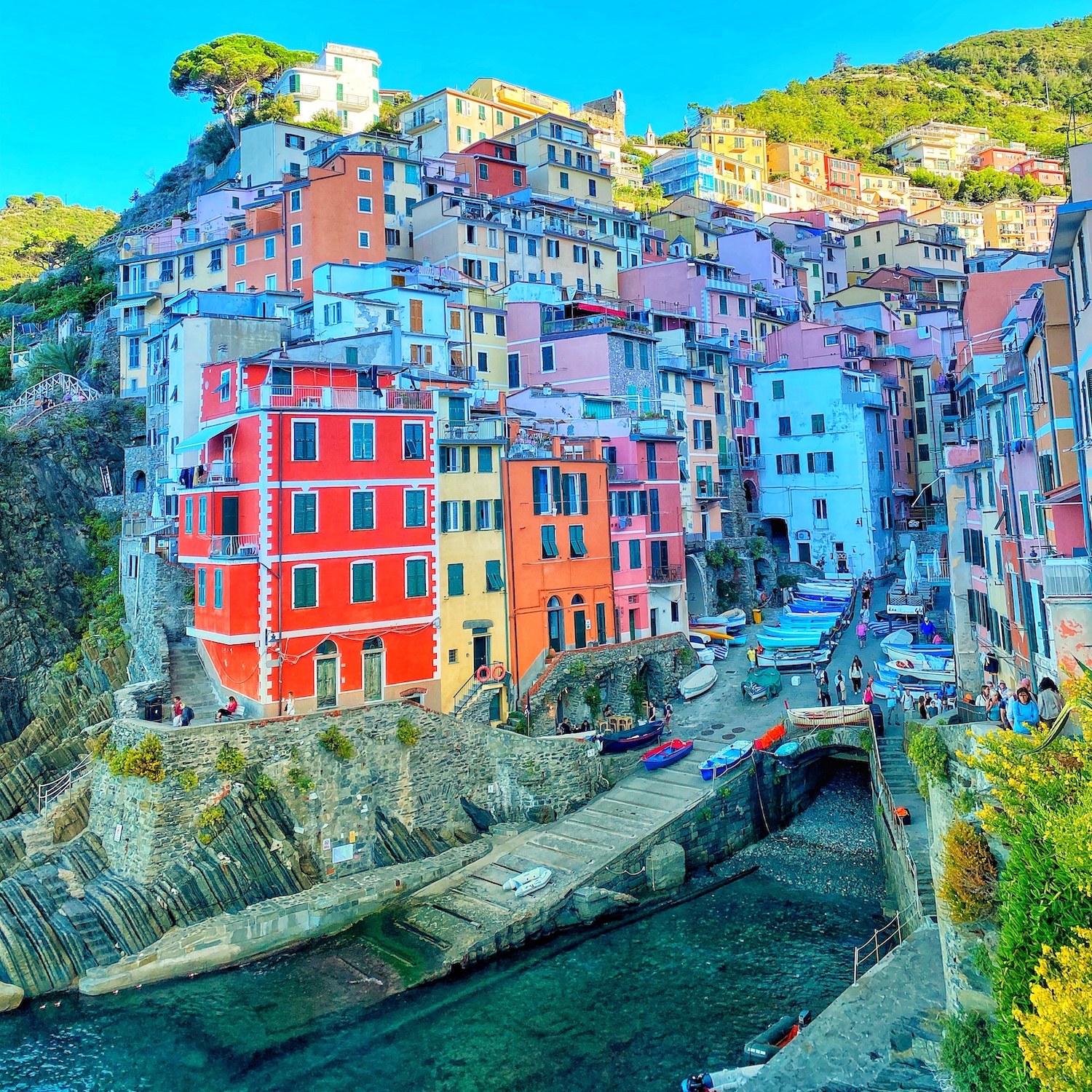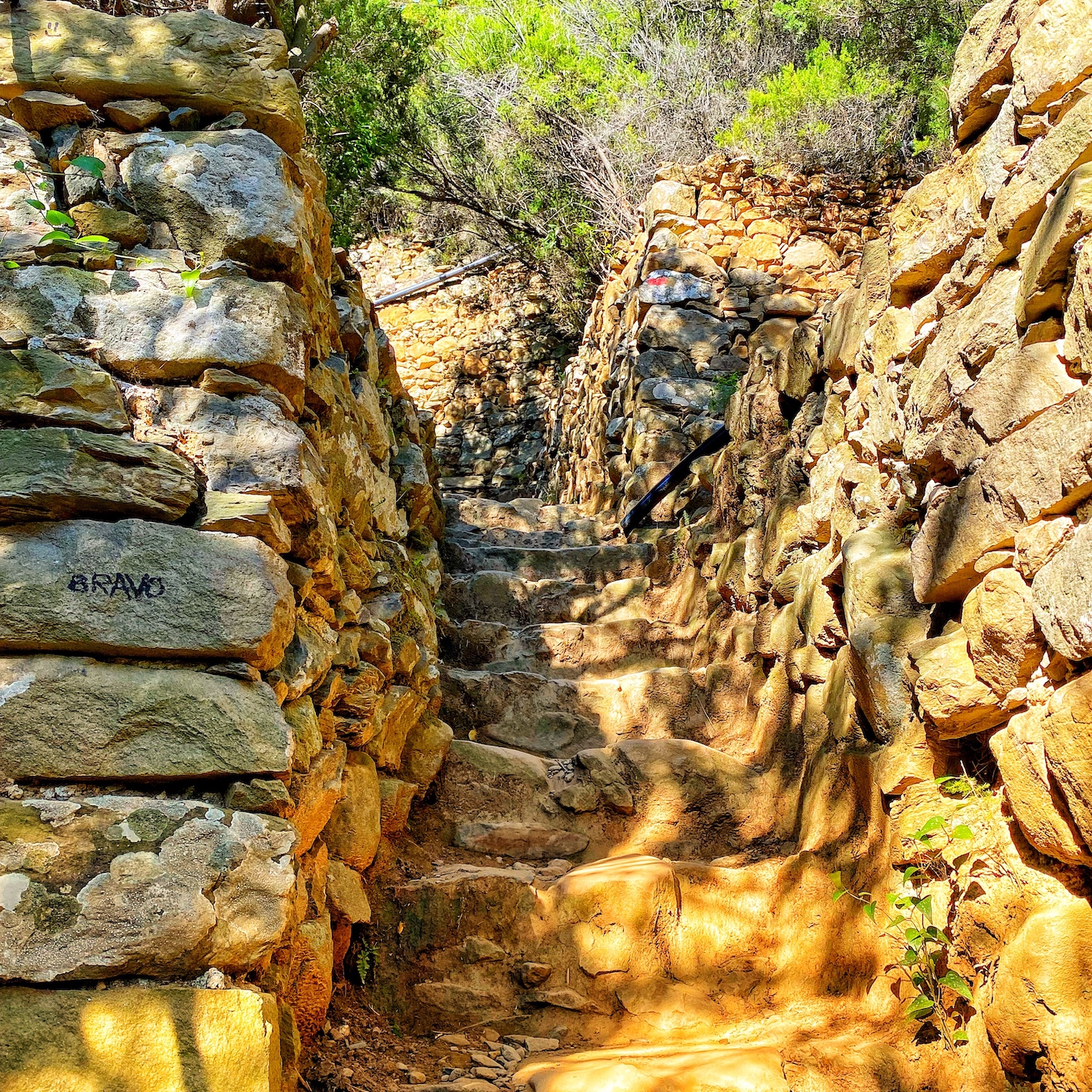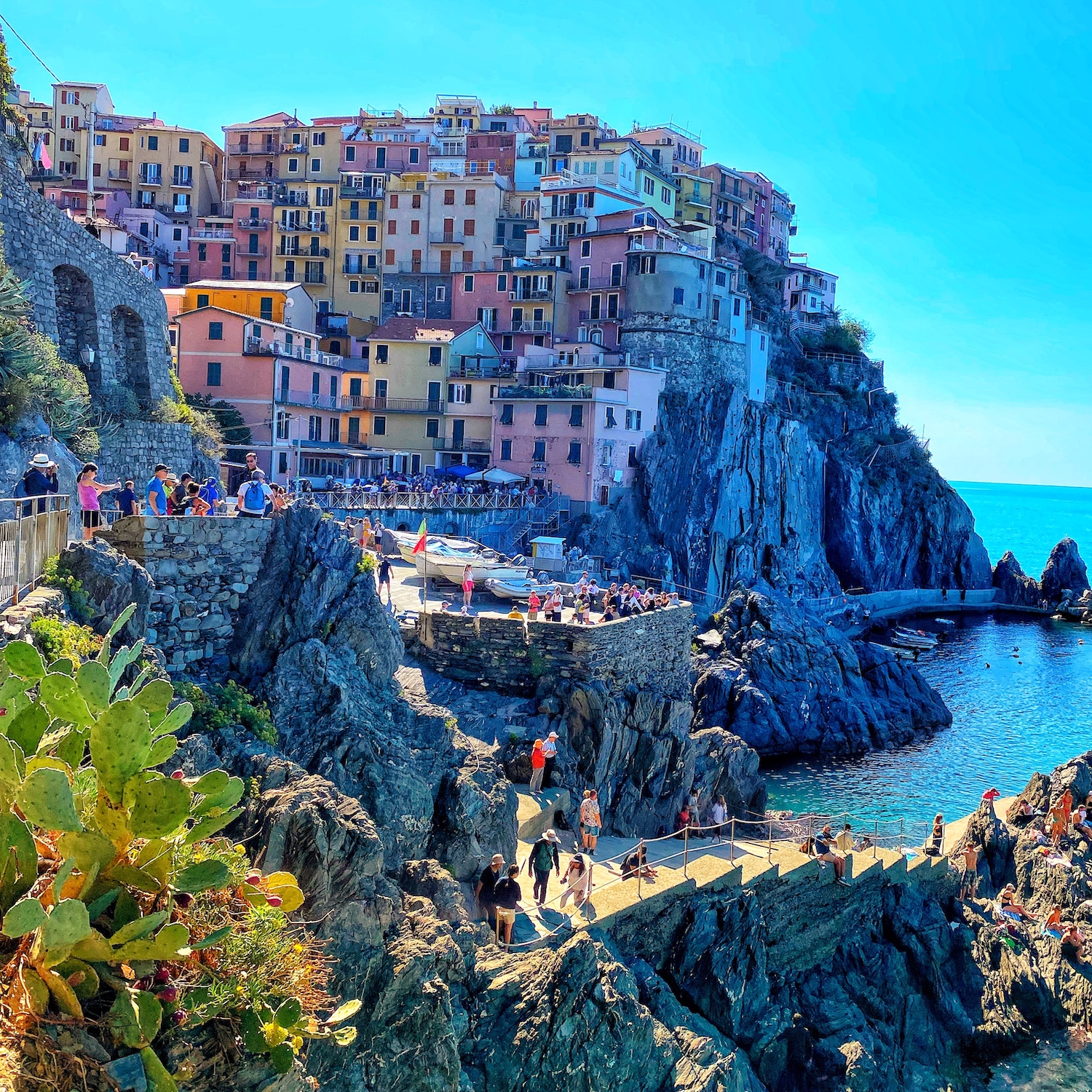 Manarola to Corniglia
Manarola was incredible. It was my second favourite village out of the five. This is where I took my first break, enjoying some delicious green pasta with local mushrooms. And white wine. Wine in Italy is to die for. And although you shouldn't have it while on trails, it's that one thing that will keep you going. Mentally. And the tiramisu, of course. That was spectacular as well.
From Manarola, it was another hour and something to Corniglia, the final stop of the day and the city that I'd seen the least. Simply because I was so drenched in sweat and tired by that point, after the neverending Riomaggiore-to-Maranola trail, I just boarded the train back home and then spent the afternoon with my legs over a pillow, waiting to die peacefully. And then had a Spritz. One of many.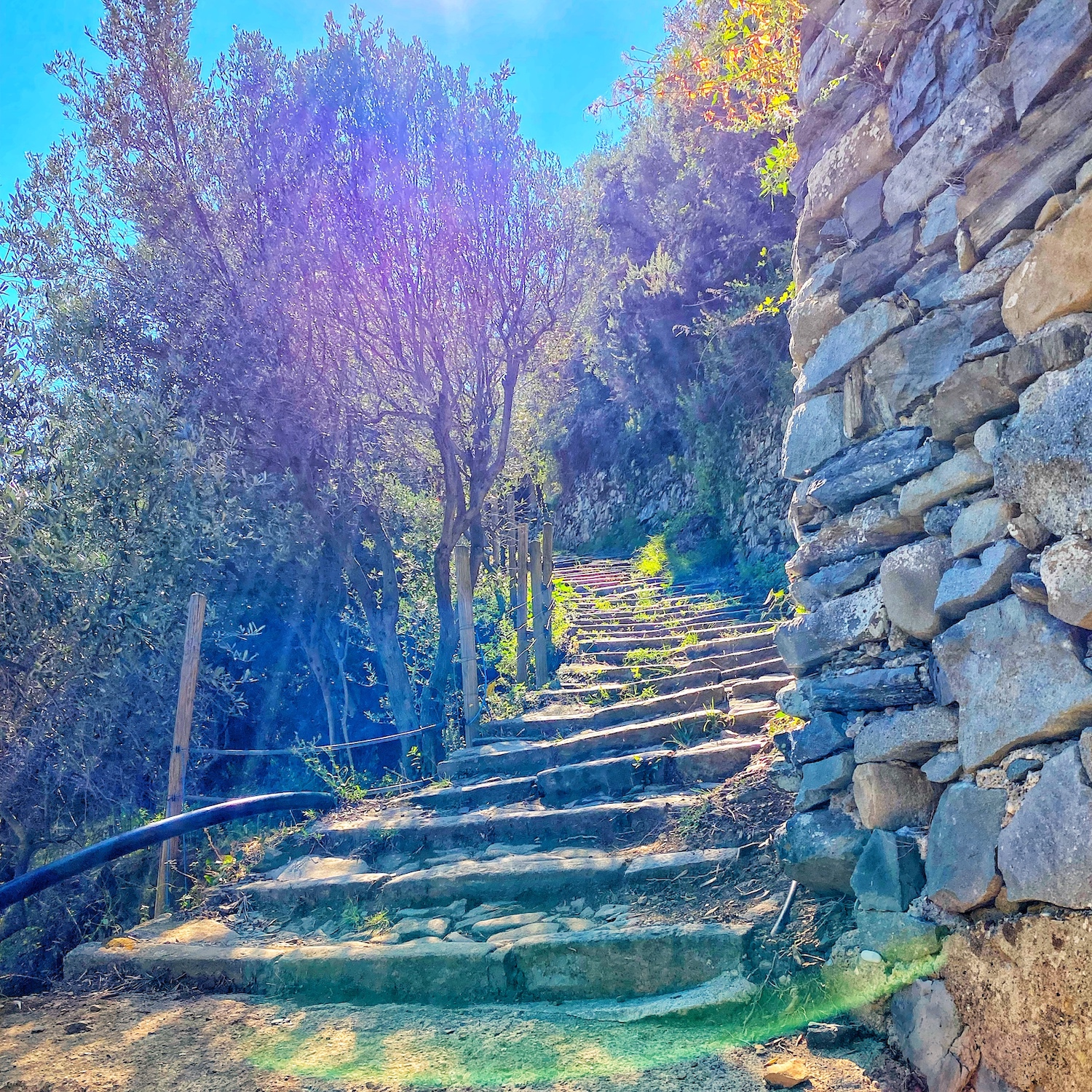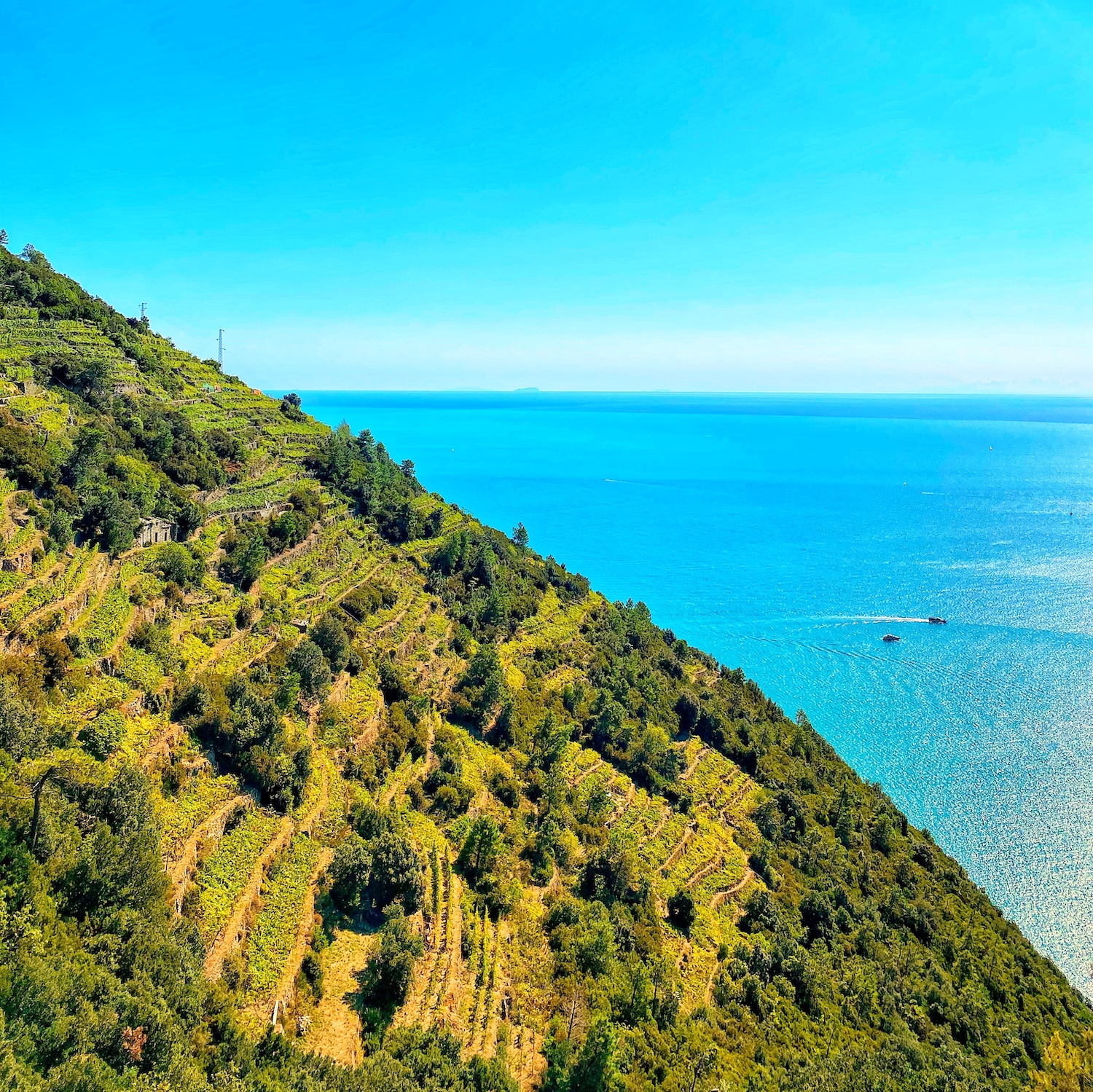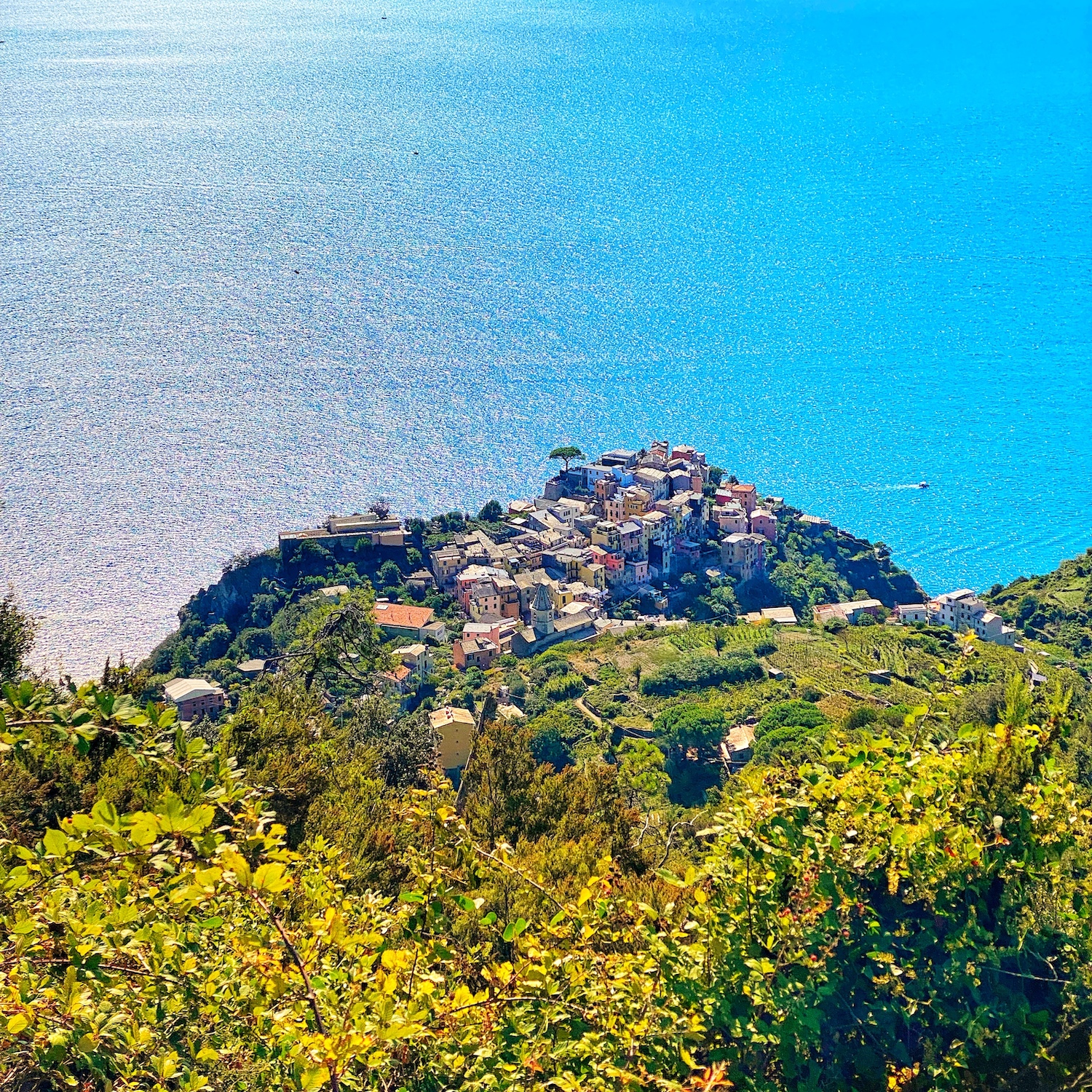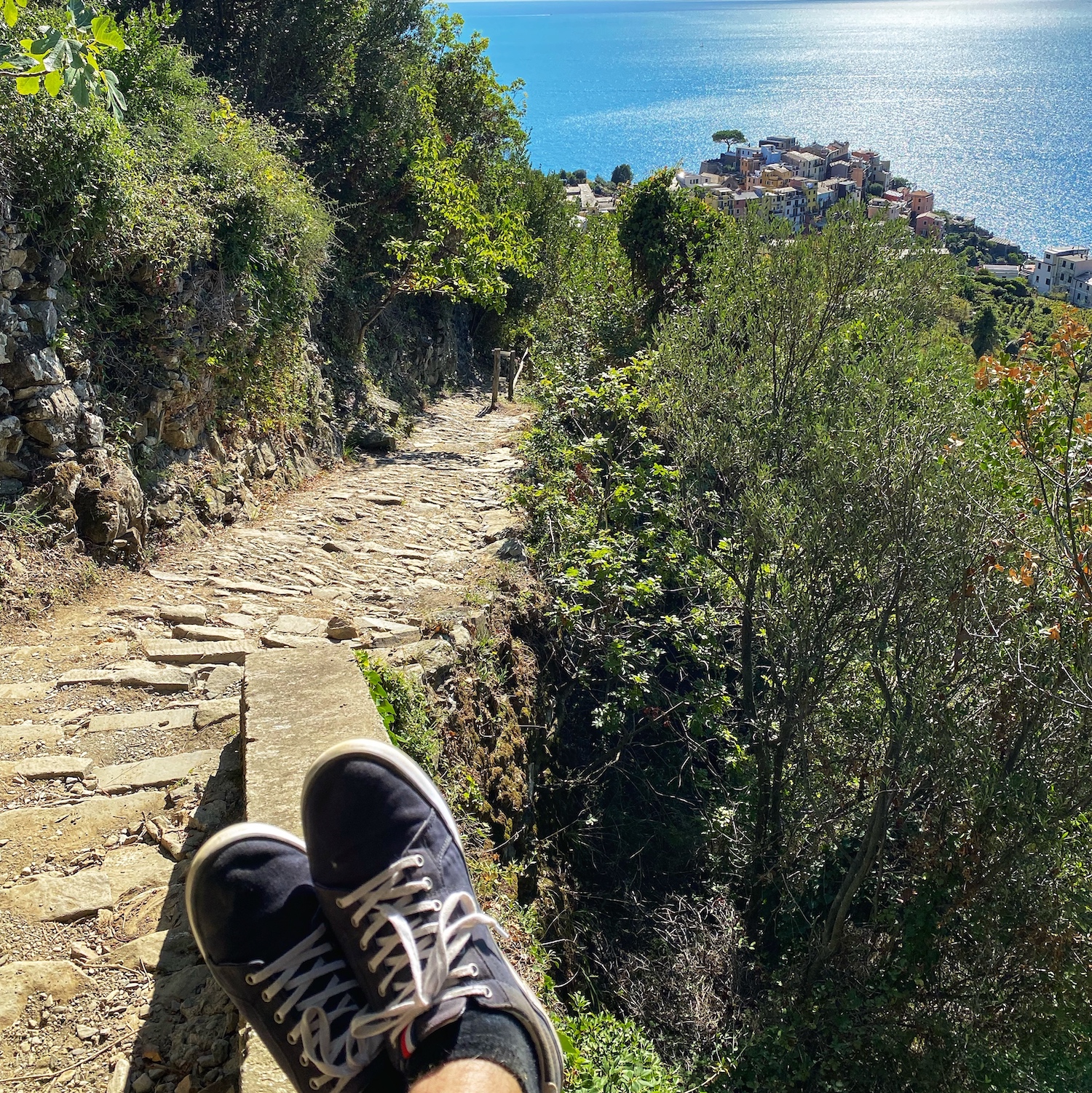 Corniglia to Vernazza
The next morning, I took the train straight to Corniglia and resumed the hike, not before a strong cappuccino in the middle of the village. The two hikes of the day were supposed to be easier, and better in terms of quality of steps. Boy, Italians can be assholes sometimes! Those hikes were still SERIOUSLY hard, with neverending steps, no water sources and exposed foothills. 
Right in the middle of the hike to Vernazza, there was this bar offering granitas made out of lemons and oranges growing over the hills. Every single person who stopped at the bar would pay the 4.5 Euros for a glass. It's all about the location when it comes to restaurants and man, that bar was PERFECTLY located. And offered the best views in the world as far as bars go.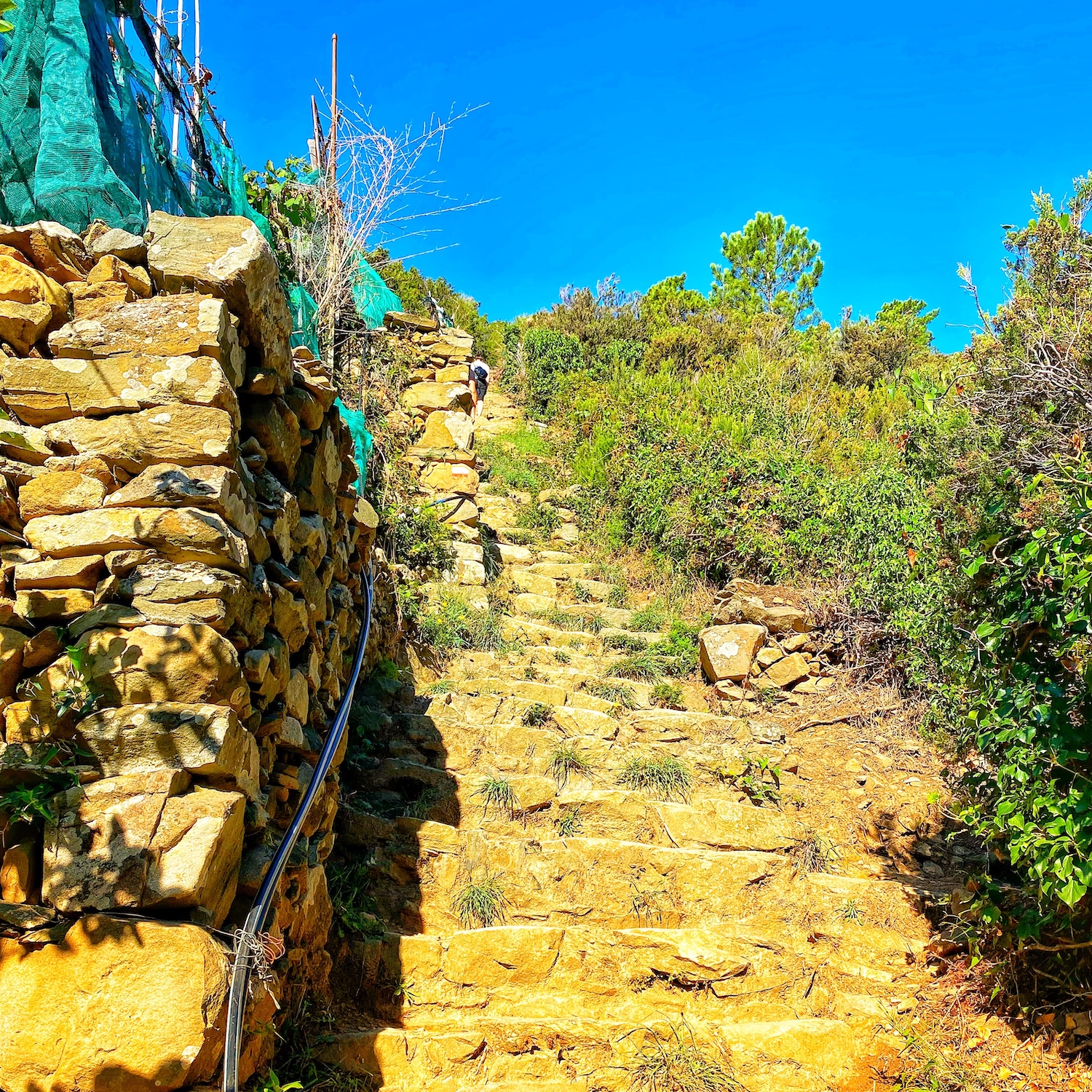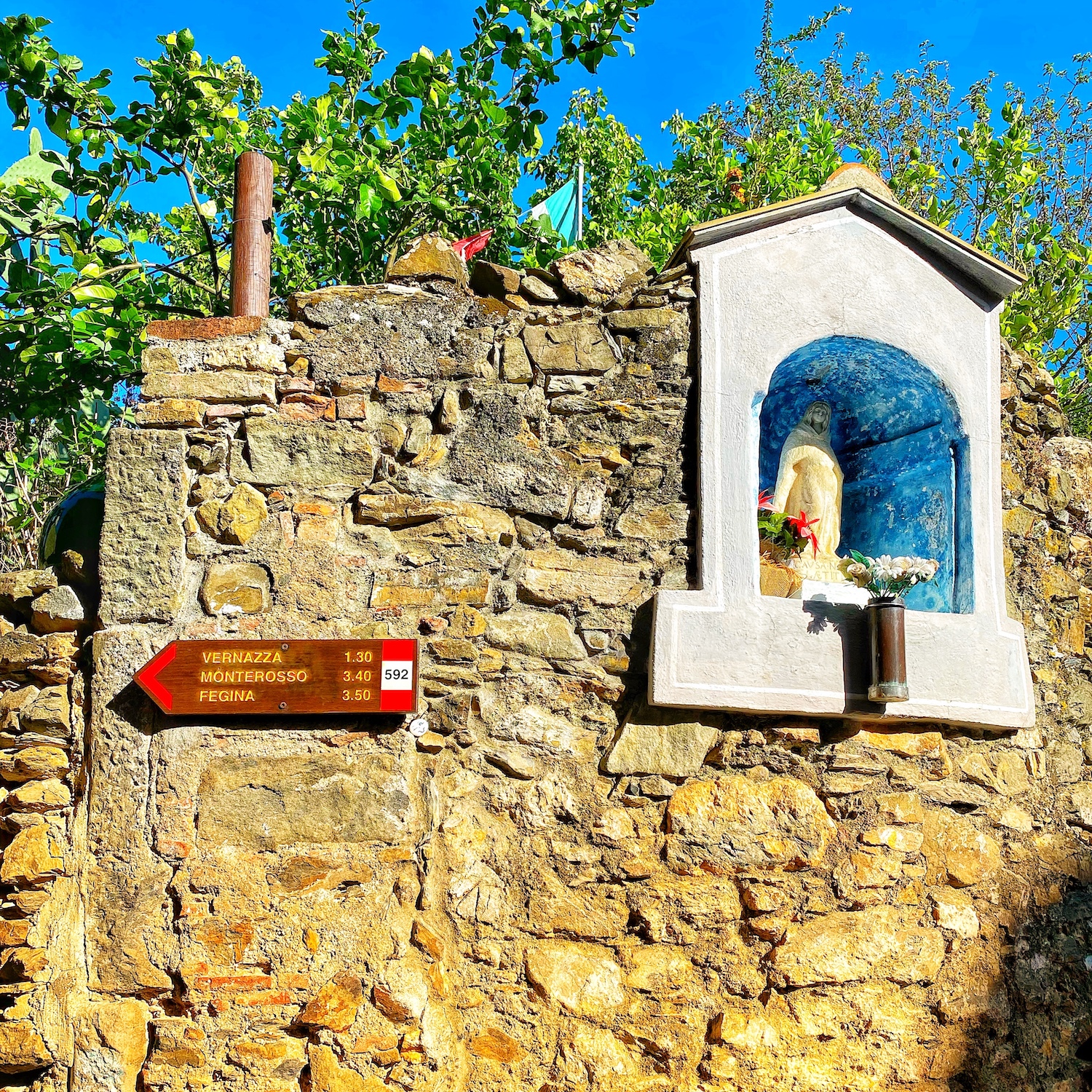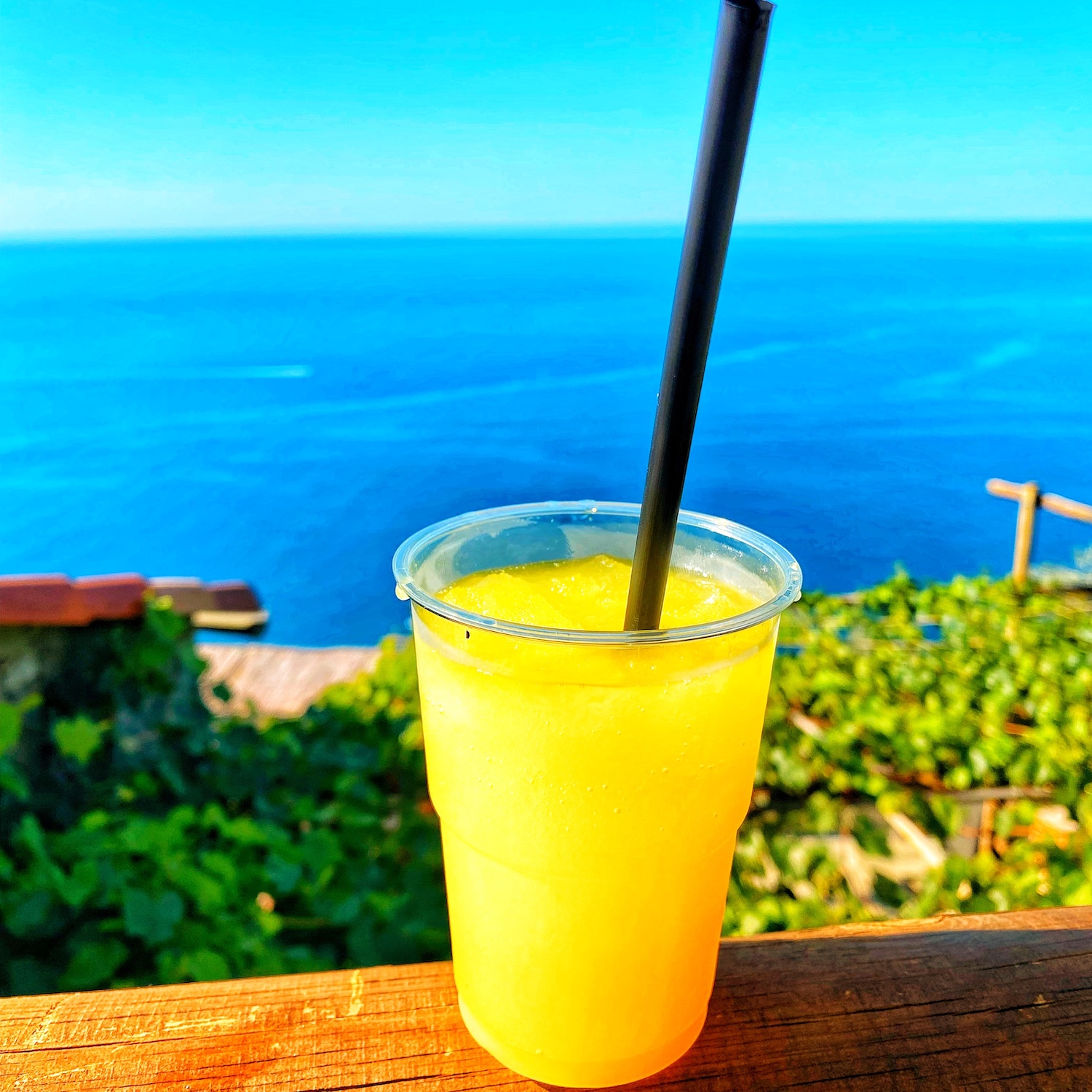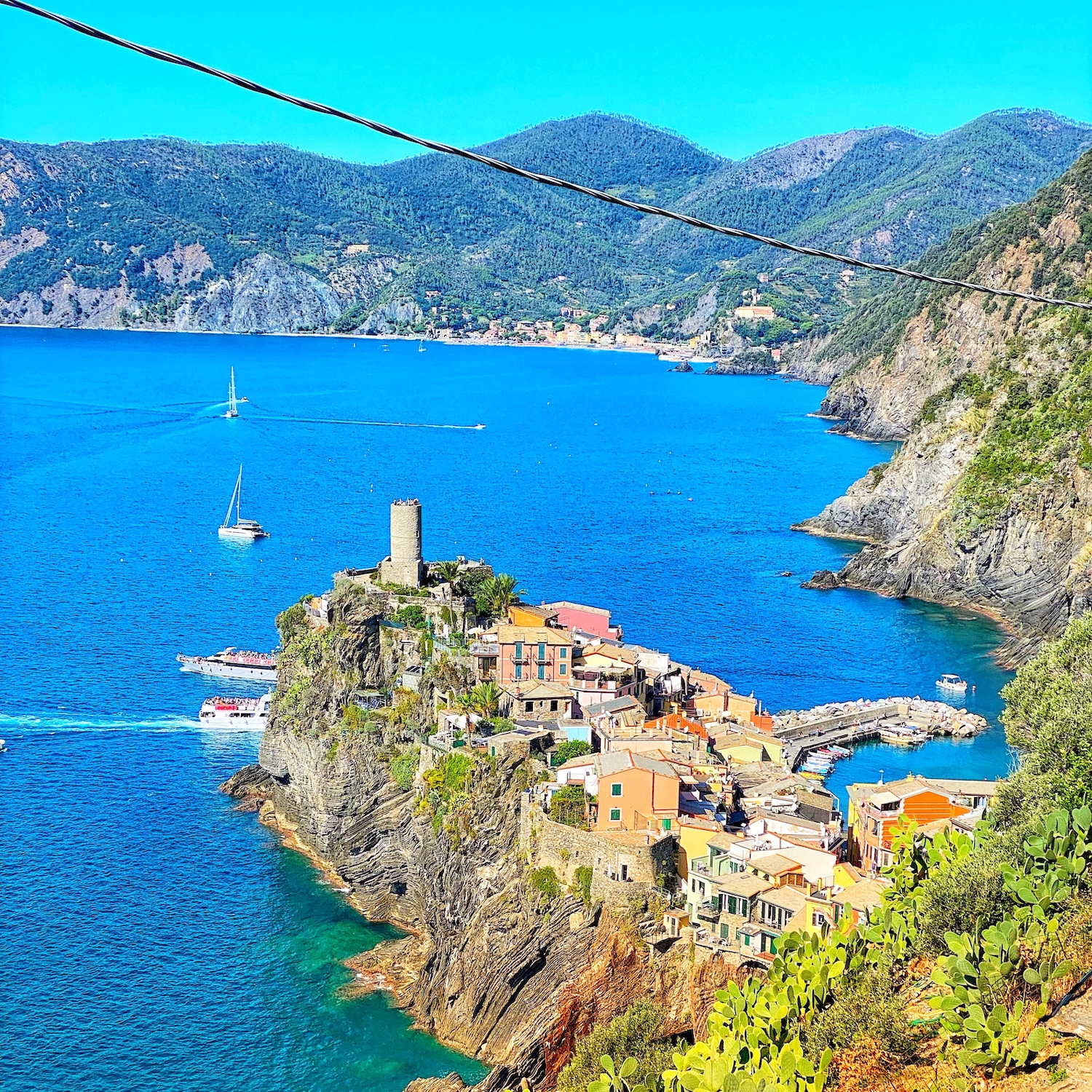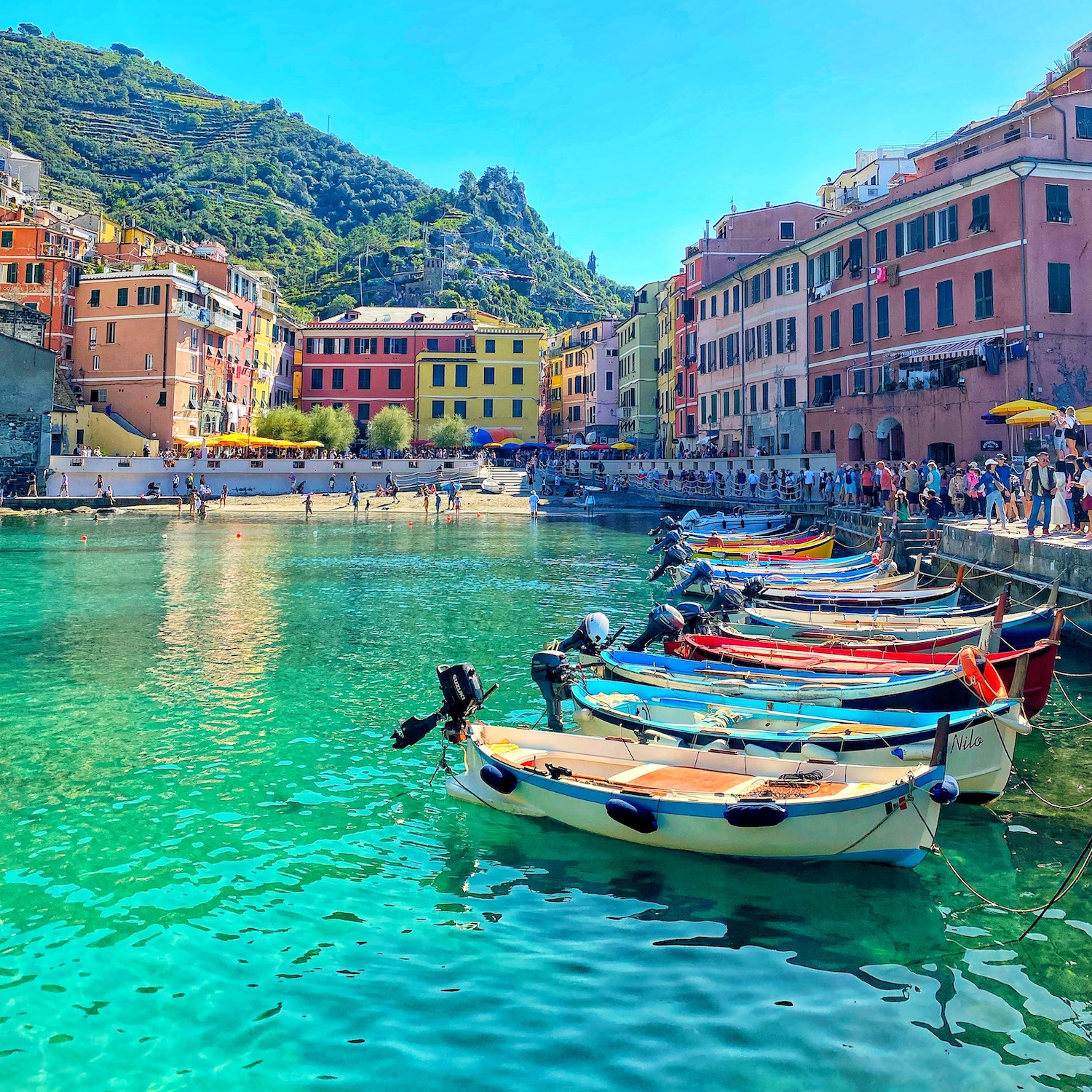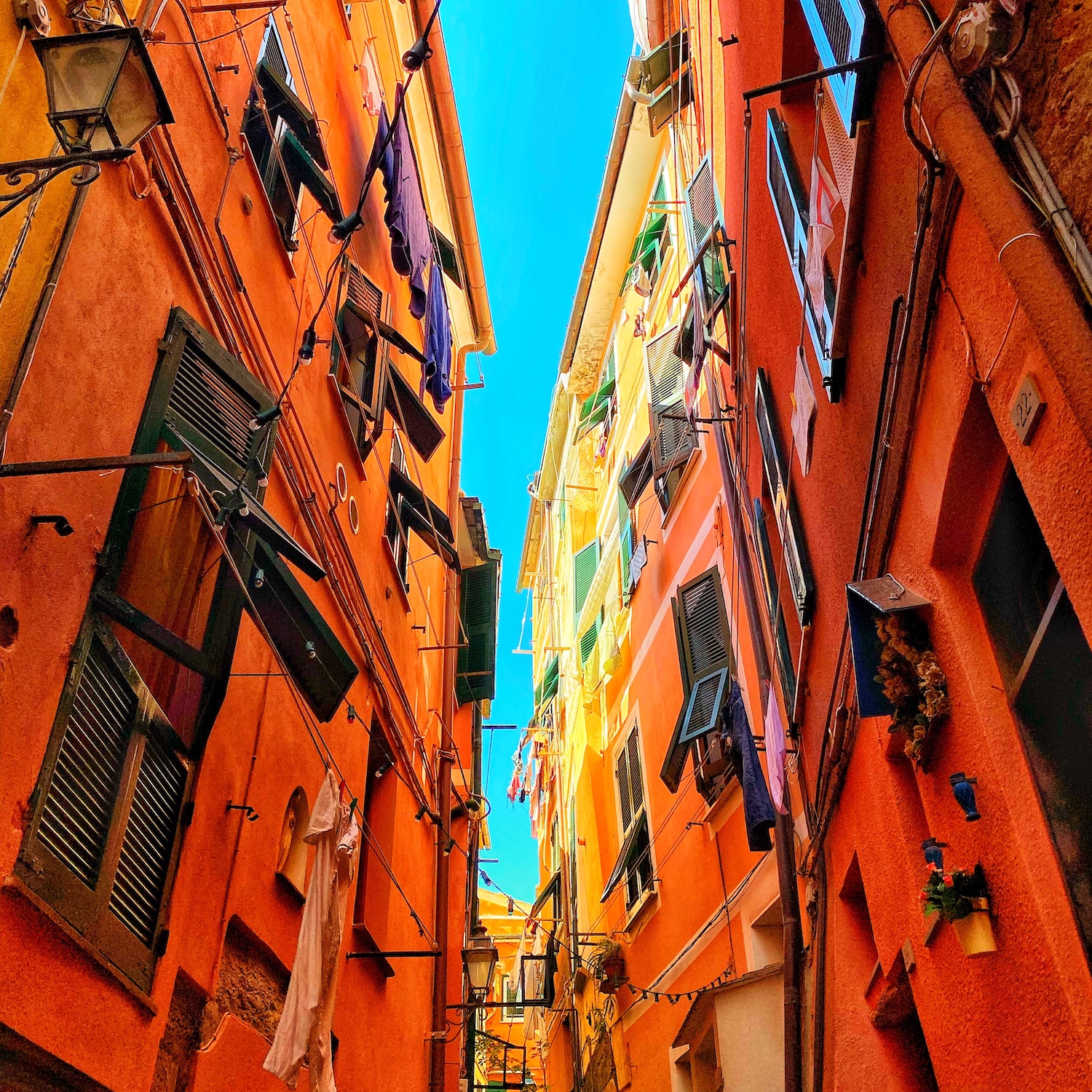 Vernazza to Monterosso 
Vernazza was my favourite village of the lot. The boats at the end of the pier, the houses, heck, I even liked the buzzing of the hundreds of tourists flocking around the small streets that were surely not built for them. It was special. And after another flight of stairs, I ended up in front of a restaurant that was supposed to be open but wasn't. Hangry, I went to the next one just a few stairs up.
I hated stairs more than all of my exes combined by this point.
I ended up at the La Torre Ristorante in Vernazza, an ideally located place right on top of the village, overlooking the incredible blue sea. As the rescue helicopter was trying to rescue a poor hiker on the trail that I was going to climb after lunch, I was enjoying what was soon evident to be the very best bowl of pasta of my life. Life… always fun. The fresh shrimp, the zucchini, the perfectly cooked spaghetti, and the sauce… I have no words for how good that pasta was!
The hike to Monterosso took another 2 hours, including me having to ration my water as I began to run out of it by the halfway mark. This being an official, ticket-level hike, it's a bit shocking there are no watering points anywhere on the long, treacherous, ridiculously hot hike. No wonder people called for helicopter rescue, as if you get in trouble up there, the only rescue you can get is by air. Please, bring water with you, double the amount you think you need!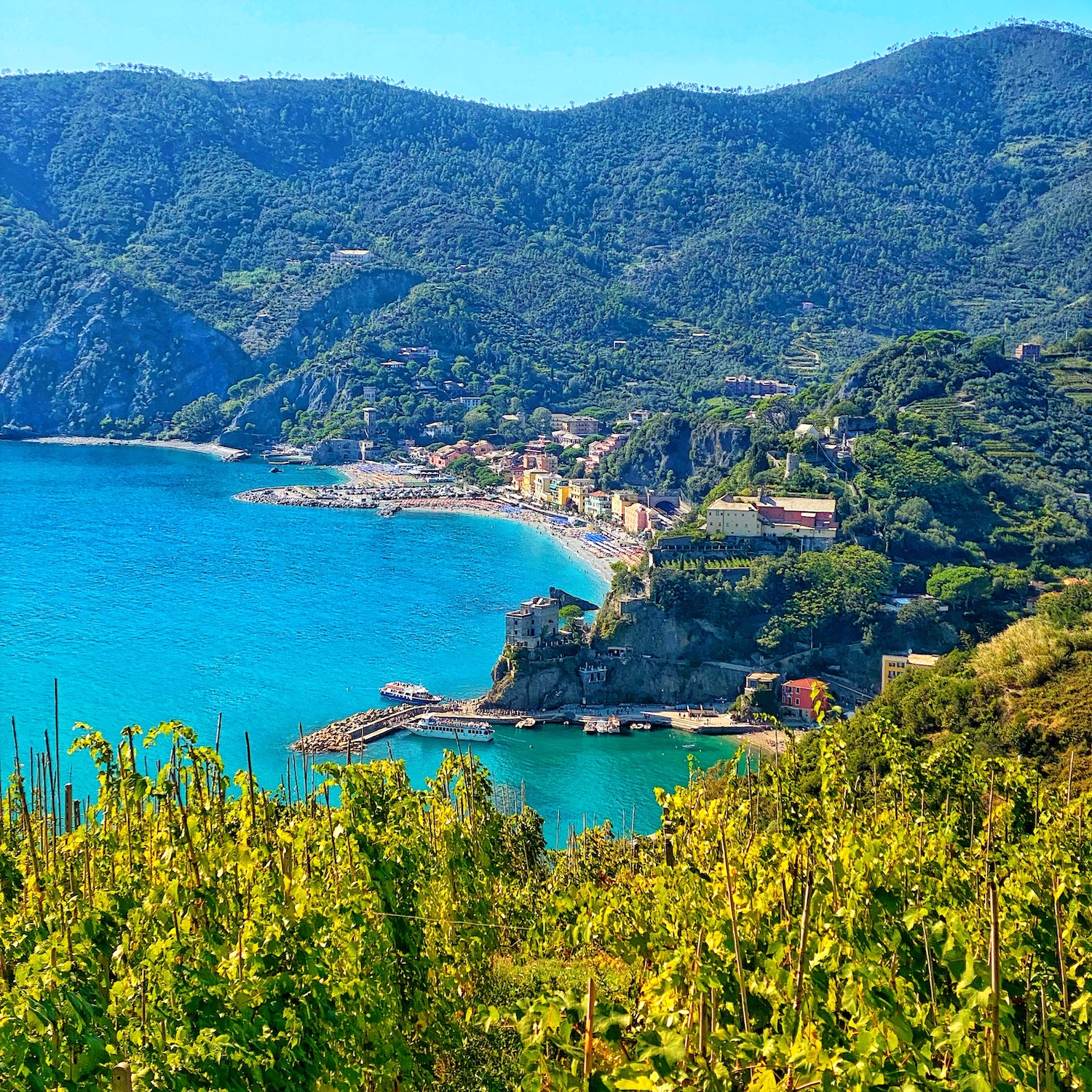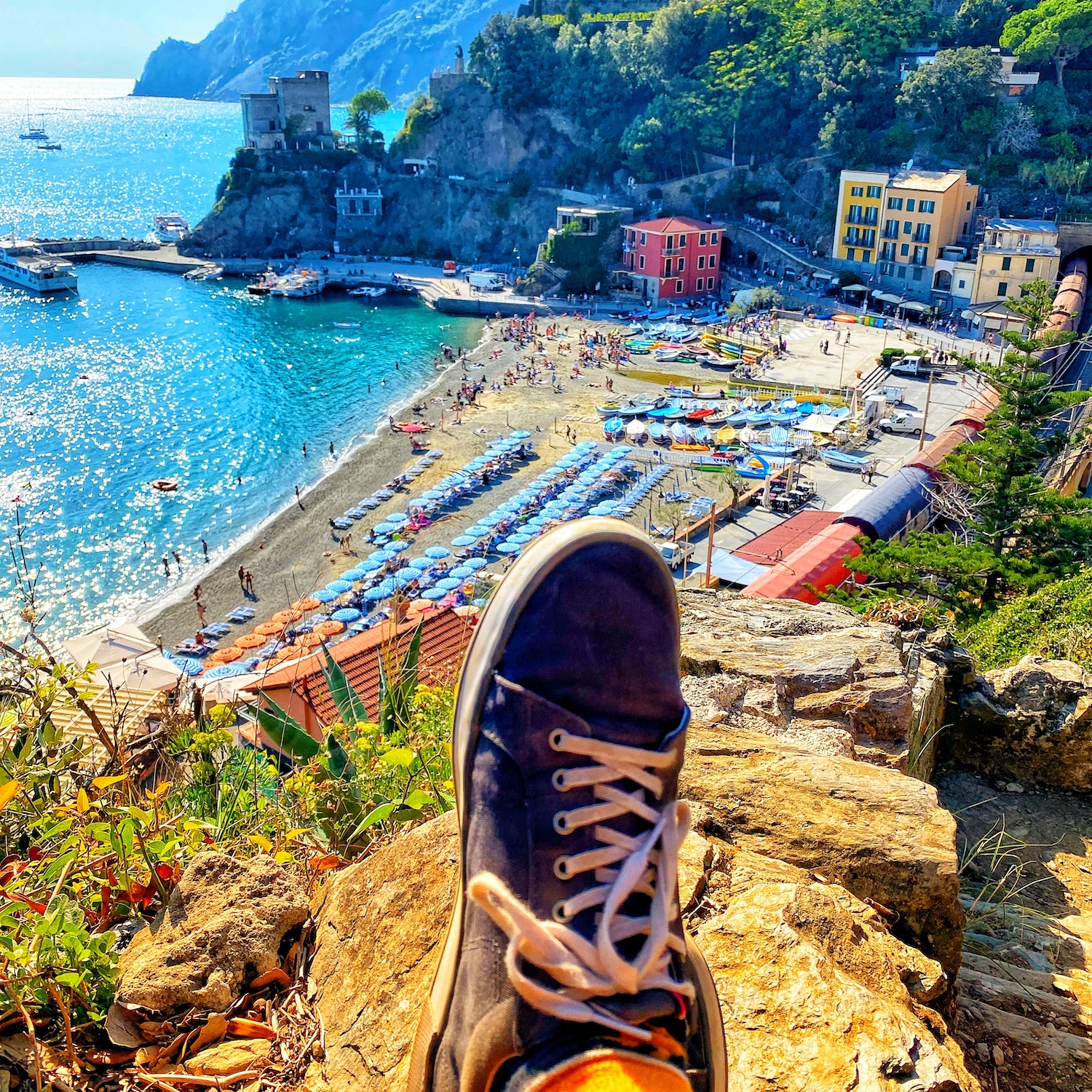 Physical condition and equipment
One month before my hike, I did an almost daily, hour-long bike ride on my spin bike. Apart from this, I had no sugar and no bread for the same period of time. I did some weightlifting and even during my office days, I put in the steps. I was in fairly good physical condition before the hike. Yet, this hike snapped me right back to reality. It was HARD. Challenging. Really… something!
My first mistake was not bringing good shoes. The soles of my Tommy shoes were almost like ice underneath. Which combined with overworked stone stairs and my natural inability to walk slowly quickly turned into a life-or-death hazard. One that lasted 2 days, over 12 kilometres on the hikes, 5,000 stairs or 500 flights of them, as well as over 50,000 steps. Bring good shoes!
There's not much else you need in terms of equipment but water, snacks and a backpack. And surely, bring breathable shorts and T-shirts. Sunscreen and sunglasses. Your wallet. And a lot, but a lot of stubbornness and resilience. Don't forget even a gram of those back at the hotel. If you do, you'll turn around the first time you hit a bump. Ignore the sweat. Keep pushing.
Should you do the hike?
No! Well, yes, but no. If you're not in at least fair to good fitness condition, don't do it. I don't care how powerful you are, you will get your ass whooped by this trail. Or at least do it over 3 or four days. If you're in good form and want to do something that you will cherish and remember for the rest of your days, the Cinque Terre hike in Italy is going to make you into a better human.
It surely did me. I've now added a new and improved weapon to my mental arsenal, for those days in which I feel scared for whatever "big" or "intimidating" thing I have to do. I survived this incredible climb of neverending stairways to the heavens with merely office shoes, some water and a few grapes. I did it. I pushed through it. And that's a victory I'll keep with me forever.
Do the hike, even if you think you can't. I think that's my final advice. After all, we're put on this planet to either succumb to our limitations or do what we can't. Impossible just takes a little longer, be it an extra phone call, a few more reps at the gym or, in this case, one more corner until the very last stair down to Monterosso. Enjoying the best Sprite of my life at the end of the legendary Cinque Terre hike in Italy.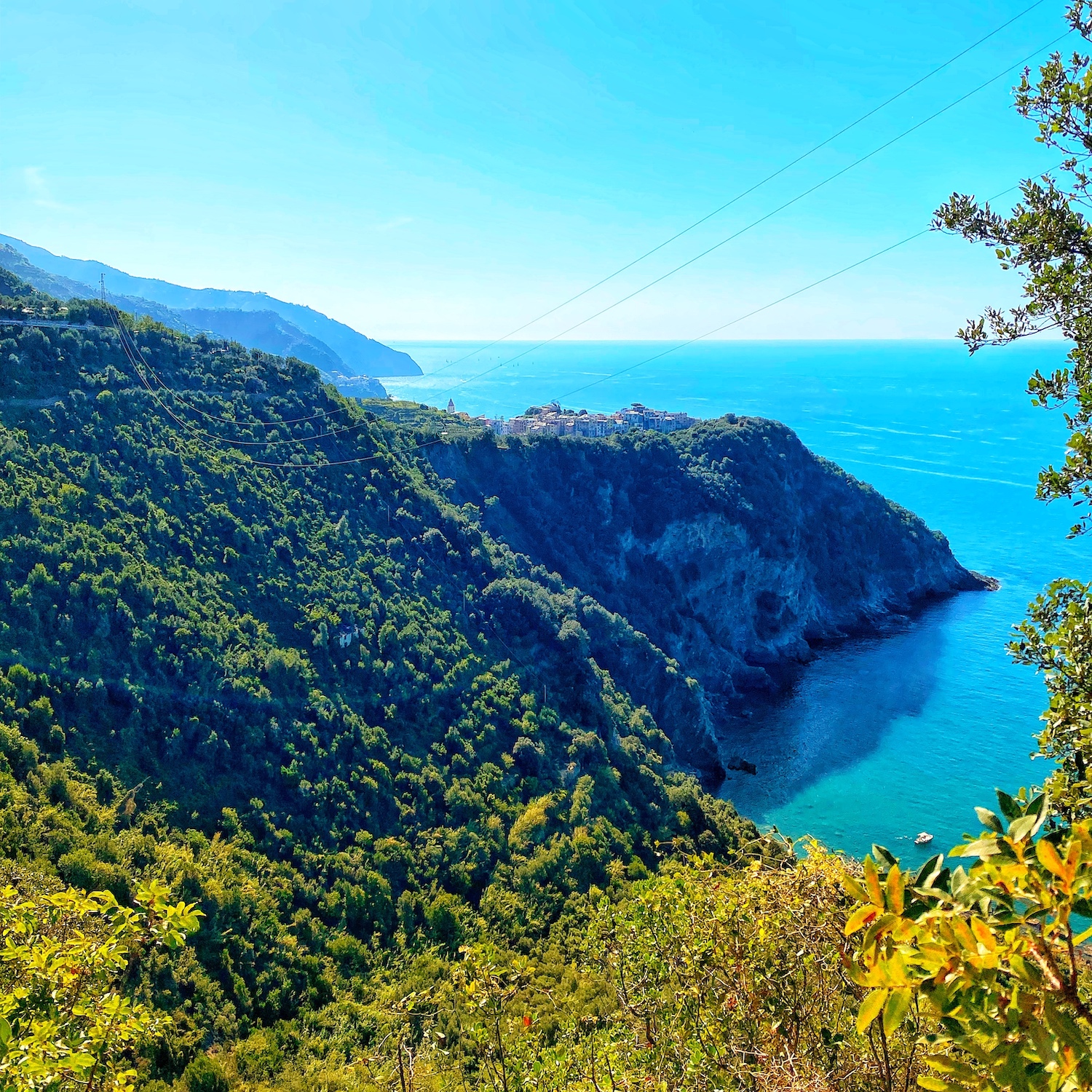 Ciao!