Traveling to Italy during a pandemic might sound hard, and it is for most people, but if you're Romanian, and vaccinated for the you-know-by-now-which virus, you can go without much fuss. Just board the plane and in just under one hour and 30 minutes, you're in Venice. It's not that easy, actually, but this is why you're here! This is my experience of traveling to Italy in 2021.
My trip this year came after two other international trips, also during the pandemic, one to Barcelona, Spain, and the other to Santorini, Greece. Both trips went great and without noticeable mishaps. Italy is my dream country, and in 2020 I'd missed the chance to see it, which was extremely hard for me. This trip was like a rebirth for my travel soul. Here's that story.
Getting to Italy by plane
I left Romania by plane from Sibiu, which is now my second home, a superb city in the heart of Transylvania. At the check-in, we were asked about documents like proof of vaccination or negative tests, as well as the PLF, a form that you fill online the day before your departure. That was all of it. Everything else including security check, border control, and the actual flight was the same as any other time. 
The flight took around 90 minutes, with some rounds over Treviso airport until our plane was FINALLY allowed to land. From the airport, you take bus 6 to Treviso Centrale for 3 euros (pay for it at the bus driver) and from there, you'll get whichever train goes to Venezia Santa Lucia first, for another 3,6 Euros. You'll be in Venice in around 40 to 60 minutes.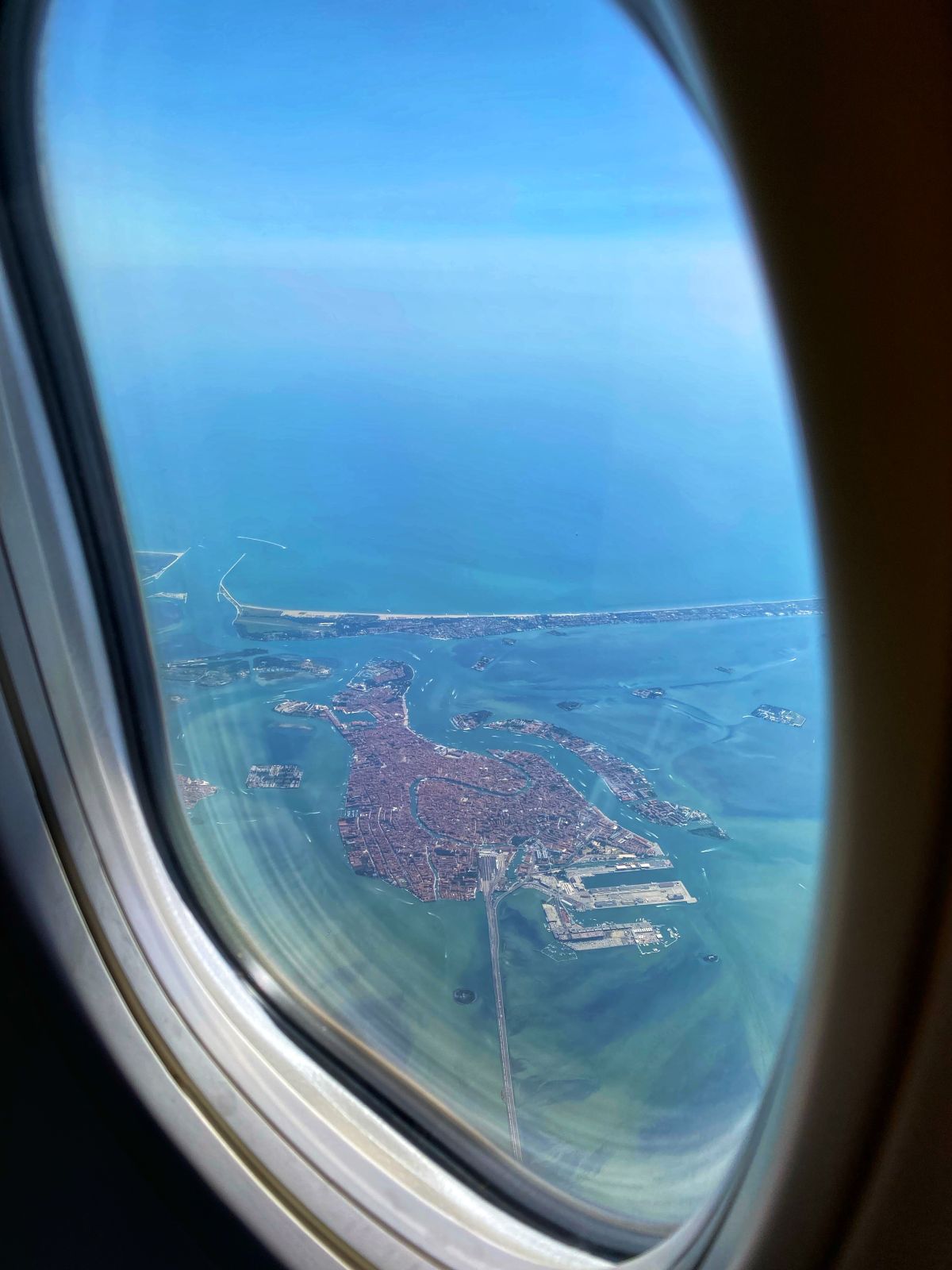 My first stay in Venice
While visiting Venice, don't sleep in Venice if you can. That's because the hotels are very pricey, and also there's Mestre, a city that's close and has rooms at 1/5th the price of the ones in the lagoon. Getting to Venice from the mainland costs 1,35 Euros per trip by train, which leaves every 15 minutes or so both ways. Still, I got myself a hotel in Venice this time, just because.
The hotel was called Club or Star, I sincerely have no idea right now and I'm not going to bother looking into it. It was around 35 Euros per night, a steal for Venice for a room with a private bathroom. People often call me rich and wonder about how I can travel this much. This is how, by spending dirt cheap money on a Venice hotel and eating outside the city, among other things.
The best lasagna of my life 
Hostaria Vite Rossa is a small restaurant in the city of Mestre, which is 10 minutes away by train from Venice. Mestre is the land part of Venice, basically. And while Venice is surely the most beautiful city ever made by human beings, you're often trapped with good or mediocre food while in the lagoon. You really need to dig deep to find the true hidden gems and afford them.
In Mestre, there's this hostaria called Vite Rossa, meaning "red vine". A hostaria is a small restaurant, a whole-in-the-wall but with a few tables, where they serve local foods made by a daily menu. This was my third time at Vite Rossa, and I ordered the seafood lasagna. It contained no actual pasta but the layers were made out of vegetables like eggplant and potato.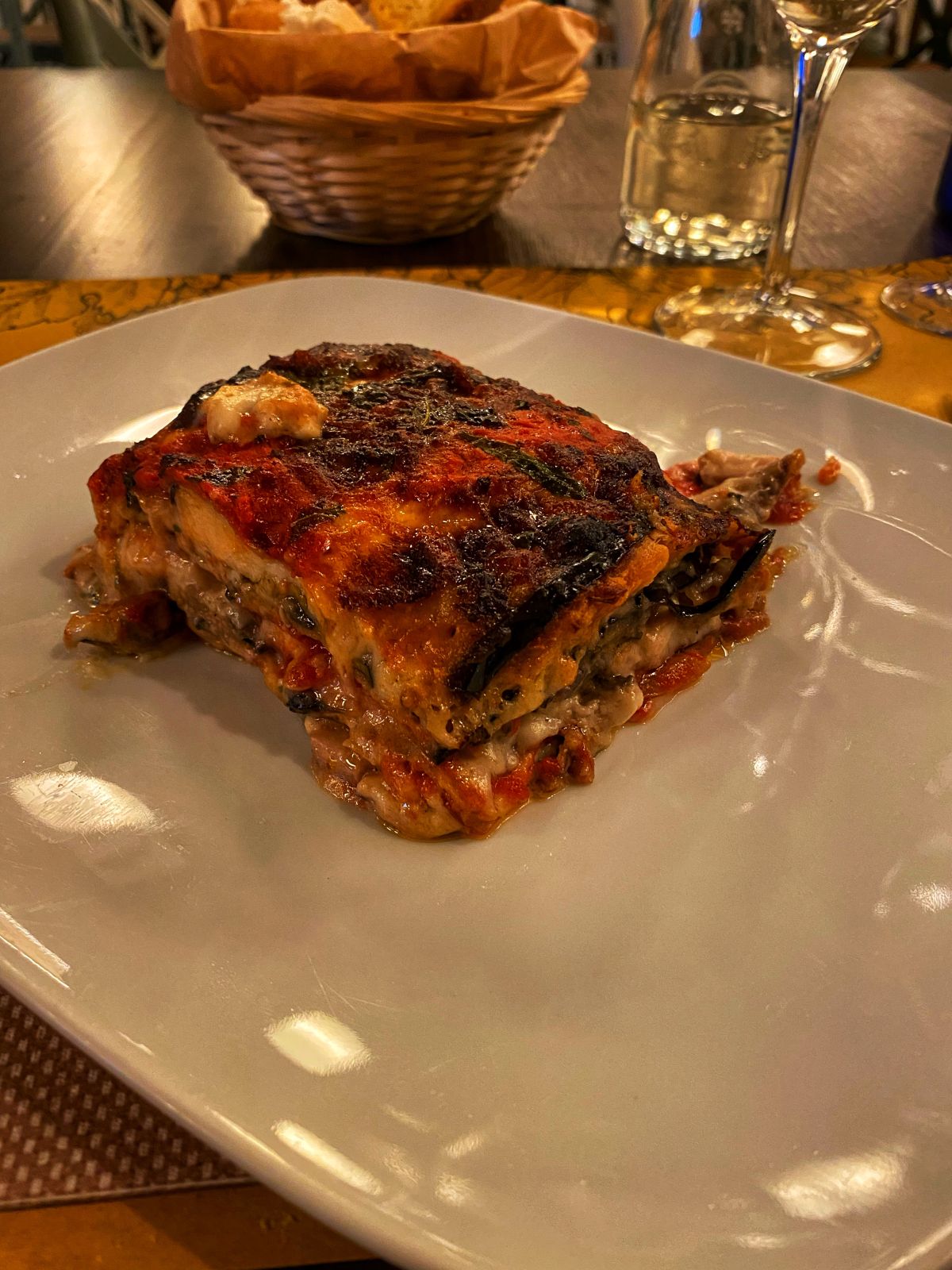 The taste? It was BY FAR the best lasagna I have ever had in my life, and top 3 best things I've ever eaten in my existence. The seafood was crazy fresh, including the salmon, mussels, crayfish, shrimp and other bits in there. The sauce was divine, perfectly blending the fish and veggies, and the portion was, as always in Italy, just perfect but not overly large. It was perfect!
What to see in Venice
Right, now that you've traveled with me to my destination (such a cliche to write, but sometimes it's fun to do so, especially today for me since I'm basically just writing from 8 AM, and it's 15:34 right now) I'll let you in some top spots you cannot miss while in the city of Venice. I could sum them up in one phrase, and that would be, everywhere you look in Venice there's something to see!
I'm not kidding. The moment you exit the Santa Lucia train station, you're right on the Canal Grande and tripping over the first out of many bridges you're about to walk upon for the day. You'll be overthrown with excitement as all of your senses will load up with sights, smells, sounds and feelings from all sides. The water, the buildings, the gondolas and water buses.
The ambulances and police, the taxis and the firefighters, all in boat form. The many roofs and colourful palaces, all on the shores of the blue, turquoise and green waters. The smells of the fried fish, the salty sea, the warm sun and the picture-perfect clouds. The pizza by the slice, ice cream by the bucket, and Aperol spritz on every table. The romance. The magic. The people.
View this post on Instagram
Libreria Acqua Alta
I've been to Venice three times before this pandemic visit. All of the time while in the city, I had no plans. I just went about my day, exploring on foot, taking 10.321 photos a day, and then chilling somewhere quiet with some Aperol spritz and fried calamari. This time, I had but one objective where I wanted to go without fail, and it was this bookstore, out of all things!
Libreria Acqua Alta is located by the far northeast of the lagoon not far from the main square, just a few bridges away from San Marco. Google Maps will eventually take you there, after a few wrong streets. Or canals. Once there though, you'll discover a crowded (yes, it's crowded, and I don't like crowds, but you should still go!) little bookstore that's just out of this world completely.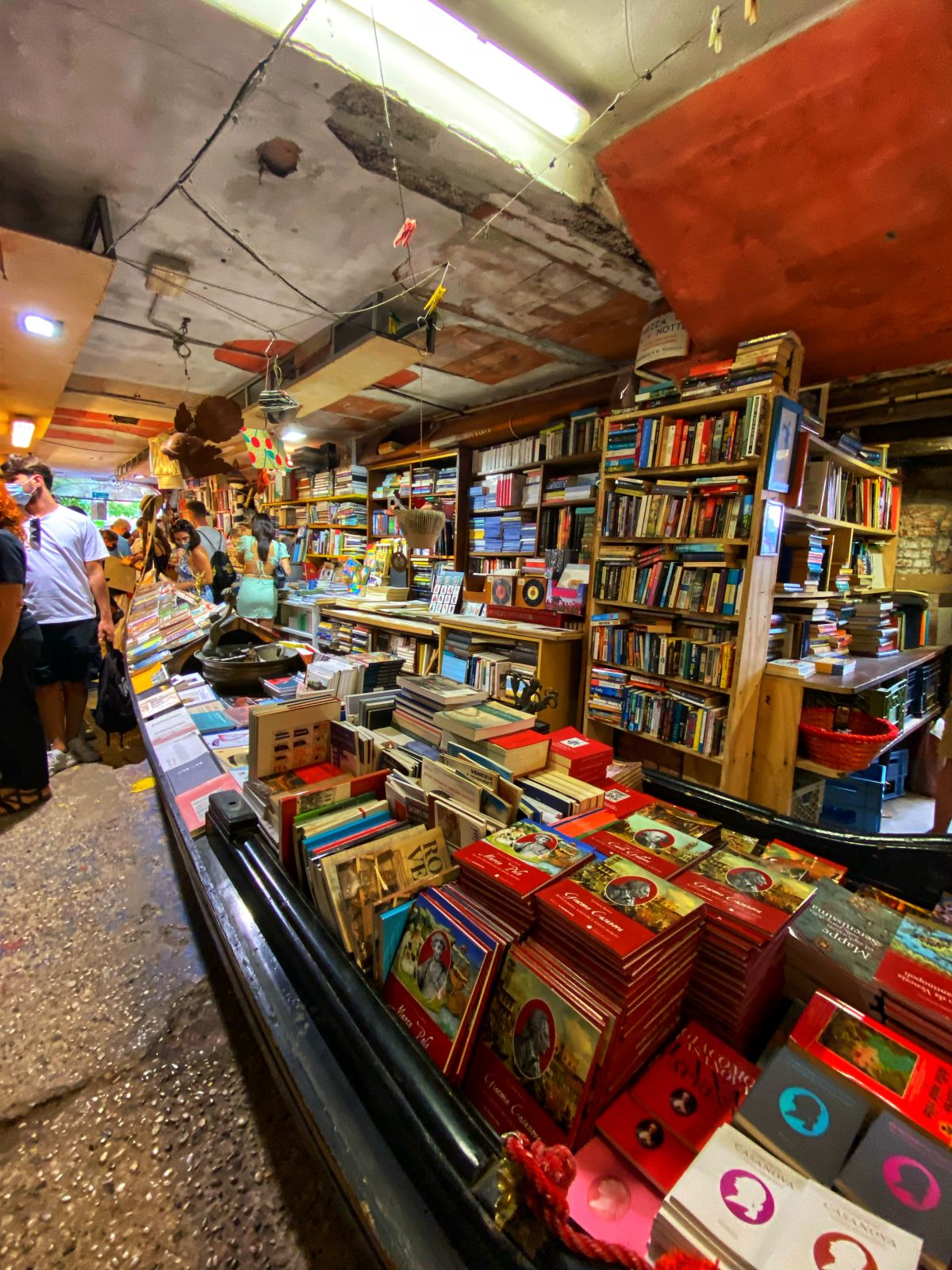 Imagine entering a bookstore and finding a gondola filled with books. Having cats running around the books and shelves that are hundreds of years old, making for the perfect setting for bookselling. And an outdoor space made out of old books, perfect for some photos or simply reading. This is Libreria Acqua Alta, one of the most famous bookstores in the world.
Piazza San Marco
There's no way you're going to Venice without visiting Piazza San Marco, the main attraction of Venice. It's crowded, yes, but this is Venice, one of the most visited places on Earth. It's like you'd go to Paris and not see the Eiffel Tower. In the square, there are many things you can do, like drinking a $20 coffee at Florian, the oldest coffee shop in Venice, while listening to their live music.
Or, and this is my style of doing things, you can get a to-go cappuccino for $3 from outside the square, and then find a little spot of your own near the tables, sit down and enjoy the scenery, the Campanile tower, the St. Mark's Basilica with the four horses sculptures, the Doge's Palace, the view over the San Giorgio Maggiore island and the many gondolas awaiting their lovers, willing to spend 80 Euros for 30 minutes of sailing through the canals.
Ponte di Rialto
I'd be an idiot if I were to say this place is not as great as it sounds. Again, it is crowded, but find yourself on a smaller street right next to this largest bridge in Venice, and you'll have some incredible views overlooking the superb structure just for you to enjoy. Take some pictures and, if you've got the money, buy some Murano jewellery right from the little shops situated on the bridge. Or at 50% cheaper on some backstreets, up to you!
View this post on Instagram
Mercato di Rialto
Right next to the famous white bridge there's the mercato, or the market, where you can find fresh produce like fish, fruits and vegetables, as well as other Italian delicacies, pastries, cheese, pasta and so on. The market is open every day except Sundays and Mondays, and it's one of the few places in Venice that still happens the way it used to decades ago.
Santa Croce
In the Santa Croce district, I managed to take some great photos while exploring this part of the city. The neighbourhood is filled with both fancy hotels and boutique stays, high end and family-run restaurants, many hole-in-the-wall wine and cheese places, as well as some great spots for Instagramming your trip to Venice. Take it one bridge at a time and you'll love it.
Day trip to Rome by bullet train
I am crazy about the travel part of travel, you know? I love getting to my destination safe and ready to explore but that's not all that travel is to me. For me, the getting somewhere part is as important. I love to take off and land while on a flight, boarding a train somewhere, or even a bus ride from time to time. This is why I decided to go to Rome, the capital of Italy, for a day while on this trip.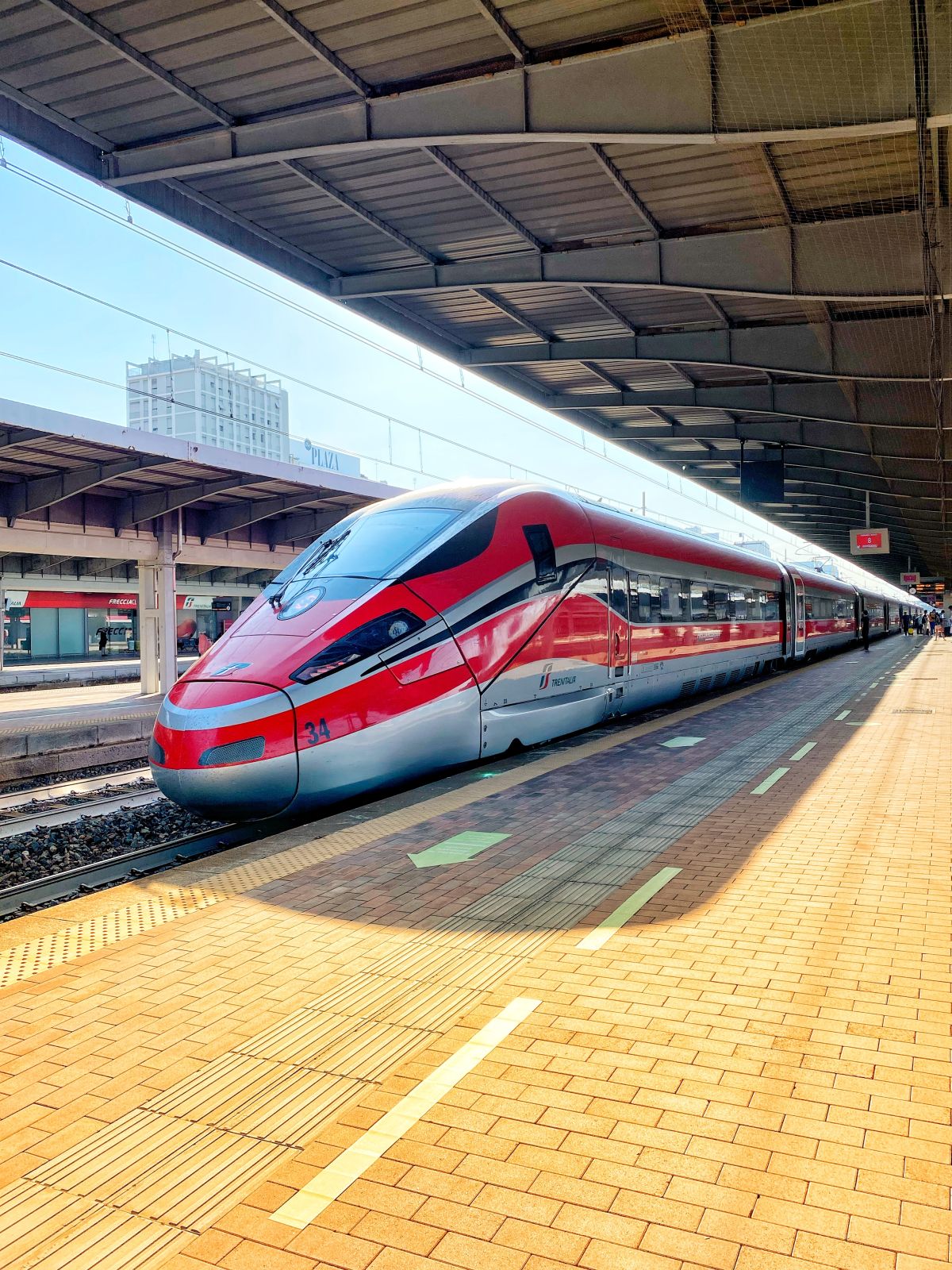 I took the Frecciarossa 1000 train, the fastest train in Italy and one of the fastest in Europe, traveling at around 300km/h between Venice and Rome. The entire journey took around 3 hours and 40 minutes, which for me is simply crazy coming from a country where the fastest train would take me to the capital city, about the same distance, in 10 hours if I'm lucky enough.
The bullet train is not cheap, that's for sure, but the quality of service, the timely departure and arrival, the comfortable seats, free internet, and air conditioning are making it so worth the price. Also, you get a little welcome pack when boarding, with some water, a mask, and some disinfectant. You know nothing about train travel until you've boarded the Frecciarossa!
How to see Rome in one day
I have my own personalised tour while in Rome, a tour that gets you through the entire city in 4-6 hours and requires no metro or other modes of transportation. You just use your feet and loads of water, which is free at the hundreds of fountains in Rome, to keep yourself going. Start with a little lunch made out of pasta, any pasta, at the Elettra restaurant near the Termini station.
From there, your first stop is the Santa Maria Maggiore basilica, where you will not just get some shade but also admire some incredible art. Trust me on this, when you go into any church in Rome, no matter how uninteresting it might look from the outside, once inside you're surrounded by priceless art from Michelangelo, Bernini, Da Vinci, and tons of other artists.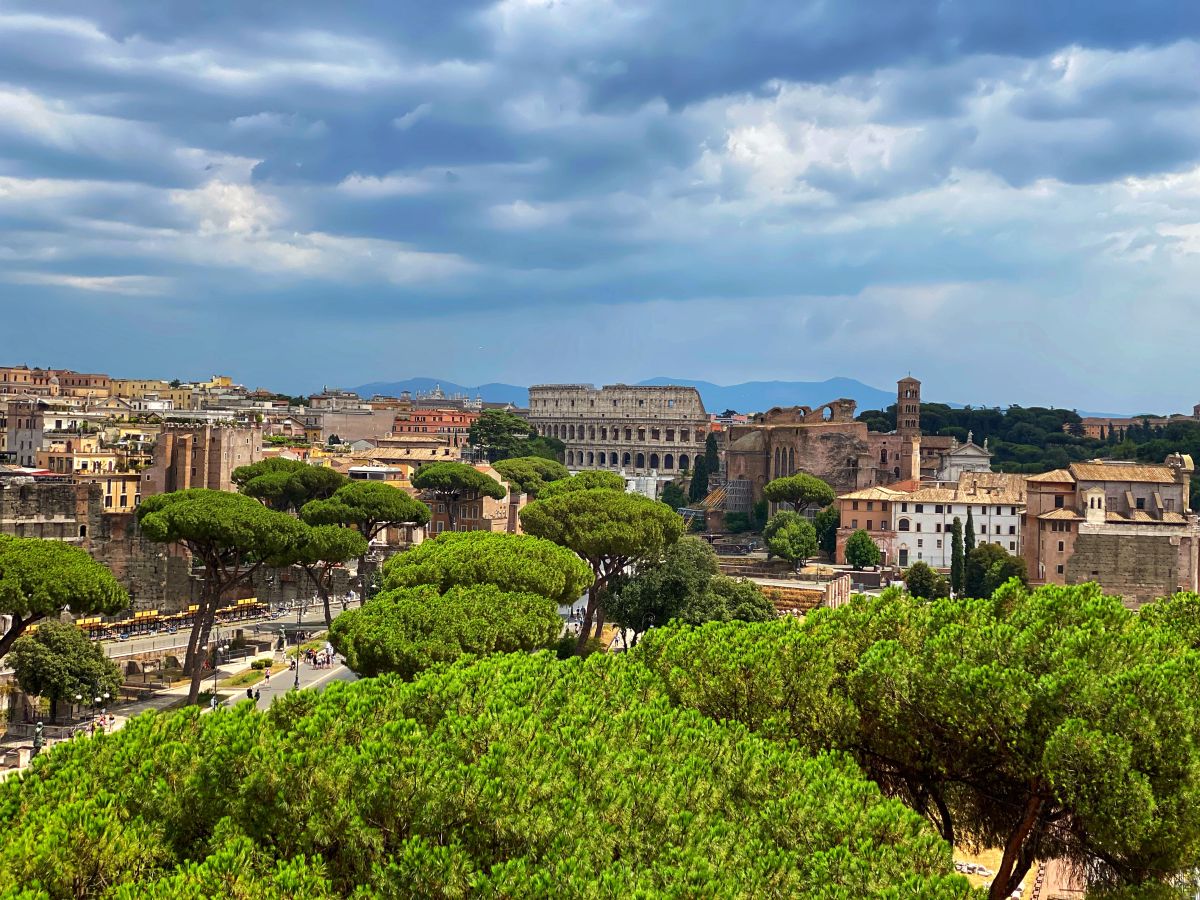 Next, follow Google Maps to the Colosseum, the one arena in which I'd accept going to a rock concert. You can't go to Italy and not see this legendary place. I'd missed the chance of going in again, but that's my fault. Get your tickets online and have at it, or admire from the outside as I did. The same you can do with the Roman Forum that's nearby. Next comes the Altare Della Patria, where you can climb a few steps for a great view.
Leaving the altar of the nation behind, the Pantheon is next, coming up after a few narrow streets right in the middle of Rome. This is why I love Rome, a bustling city with such an amazing centre that's peaceful and filled with history. Piazza Navona comes next, after which you go for the Tiber river and the Castel Sant'Angelo, with its amazing bridge of angels.
The last stop will naturally be the Vatican, a country within Rome and Italy but with its own laws. And because it wasn't that hot out, I decided to wait in line and visit the St. Peters Basilica, for the first time since my first visit back in 2015. And it was worth it seeing the Pieta once more, as well as the many, incredible pieces of art from the inside, the immense church itself, and the sublime chapels. A place that speaks peace, and faith.
Coming back home by plane
Coming back home was as easy as going to Italy, regardless of the pandemic. When you arrive in Romania from Italy, there's no screening or quarantine if you're coming from most of the European Union countries. You just get out of the plane, go through customs, they look at your ID and you're all good to go home. In fact, only one time did someone look at my vaccination thing.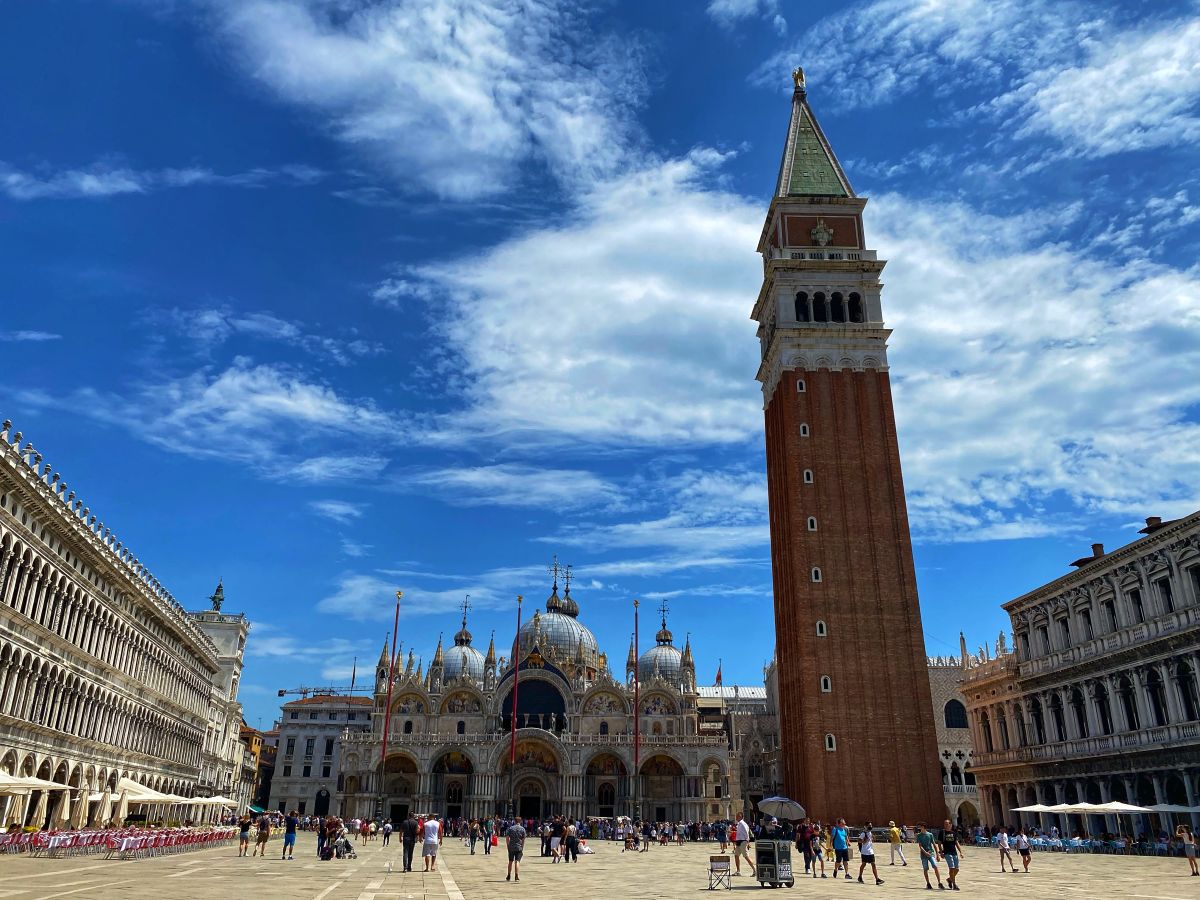 It happened when I'd left for Italy, at the check-in desk in Sibiu Airport. It was a quick glance and nothing more, it took less than 10 seconds for me to get my boarding pass. I cannot understand why it took SO LONG for the people in front of me but I'm used to staying in lines so, I blasted my Mattafix until it was my turn. Either way, nobody asked for anything, anywhere.
So there you have it, this is how I've traveled to Italy during the 2020-2021 coronavirus pandemic. I have another story about my trip to Santorini, Greece, which you can read about here. If you're vaccinated or have a negative test with you, I'd say go for whichever trip you've postponed for the last two years. It's worth it, and so rewarding when you finally get there!
—
Hei, just a quick thing before you leave:
First, nice of you to read thus far, it means that you've enjoyed my writing!
I'm not here to ask you for any likes, shares, or comments, although that would be cool of you! Instead, I'm offering you a chance to have an even better piece, sort of like this one, but better, written for you by a content creator. That would be me! Check out my Services, Portfolio and Testimonials pages for details. And then shoot me an email at the address you'll find on the Contact page.
If you're a freelancer like me and are confused about learning how to make money online, especially through writing but also programming, design, or social media management, you can buy my book. It's called "From 0 To $2543 A Month With A Crappy Laptop – The Freelancing Course From A Self-Made Content Creator Boss" and you can find it on Amazon at 50% off!