Look, I am not a beach guy, but luckily Santorini, the pearl of the Greek Islands, is so much more than laying in the sun and getting fried like an onion ring all day. This island is so explorable, so fun to just drive on all day, and then explore the little villages and red, white, black, Martian and blue beaches, it's surely a destination made for explorers and non-beach lovers.
Yet Santorini can quickly turn into an overwhelming place. This is because there are so many tourists everywhere, even after the pandemic, it's sometimes just bad. And the heat is a lot, as there's a constant 30 degrees Celsius regardless if it's day or night. Even so, Santorini still sits at the top of the island exploring chain, in my books. Here are 10 things you have to do in order to enjoy this magical island.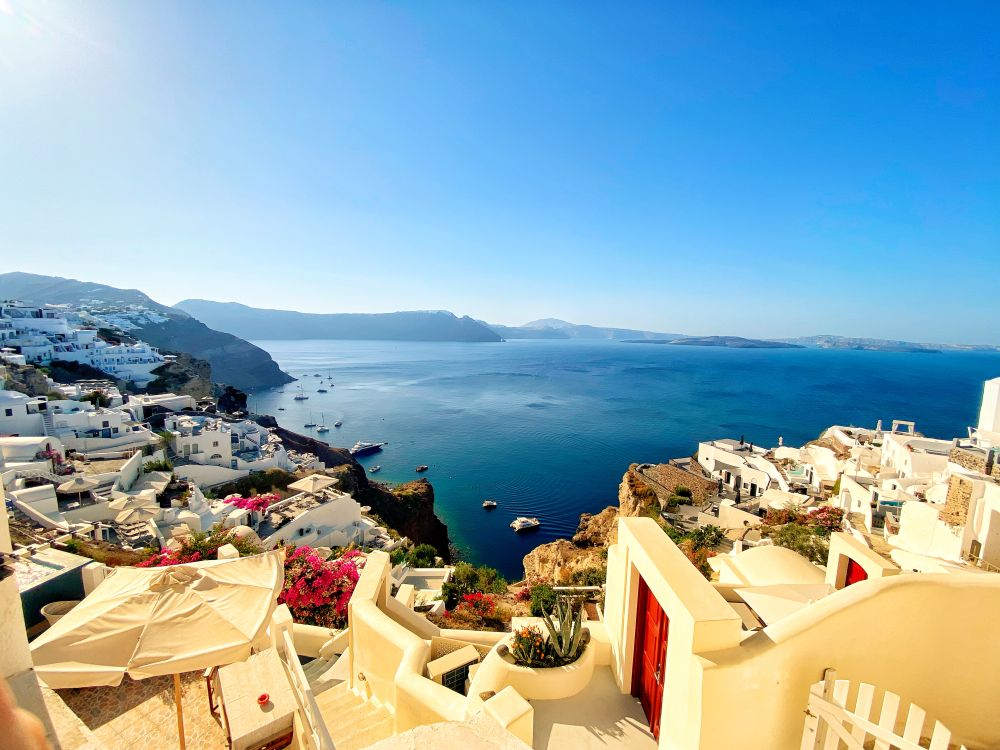 Rent a CAR (not a scooter/ATV/buggy)
Rental companies on the island of Santorini advertise ATV and buggy tours or just renting them to get around the island. And sure, that's fun… for the first 5 minutes! But Santorini is famous for its winds, so if you really want to see the ENTIRE island, as you should, go for the car. With a roof, a wheel, and everything. It's even cheaper than a scooter or ATV, and you won't cry.
From the wind, not the happiness spending 5 days on an ATV "brings". I got my car, a little Seat Ibiza, from a place called Mark Bikes in Perissa. I paid around 100 Euros for 5 days, which for me was awesome. No waiting for the bus in the sun, no ATV craziness, no worries. I only had to refill the tank by the end, which cost me around 20 Euros, basically 4 Euros a day.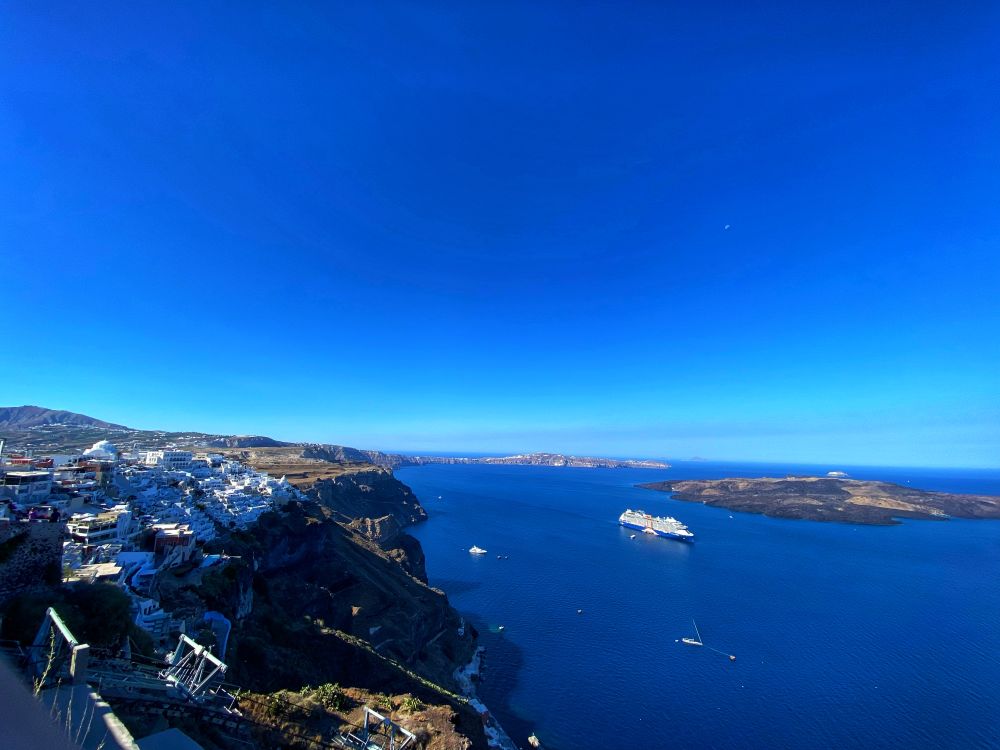 Settle somewhere quiet
Speaking of Perissa, this is the village where I'd chose to stay. It's at the southern end of the island and completely at sea level. Yes, there are no crazy views as in Oia or Fira, but the quiet you'll get is amazing. And the black sand beach, free beds, and cheap beer will make for the extravaganza of the more "famous" villages. I stayed at Hotel Gardenia, and I loved it!
Visit Megalochori and attend church service
Arriving in Santorini on a Saturday, I started exploring the villages around my base on Sunday. Starting with Megalochori, my absolute favorite place on the whole island. This little village is so picturesque, with the huge bell tower, the churches, white streets and the quietness, it's just picture perfect. And because there was a church service, I got in for 5 minutes.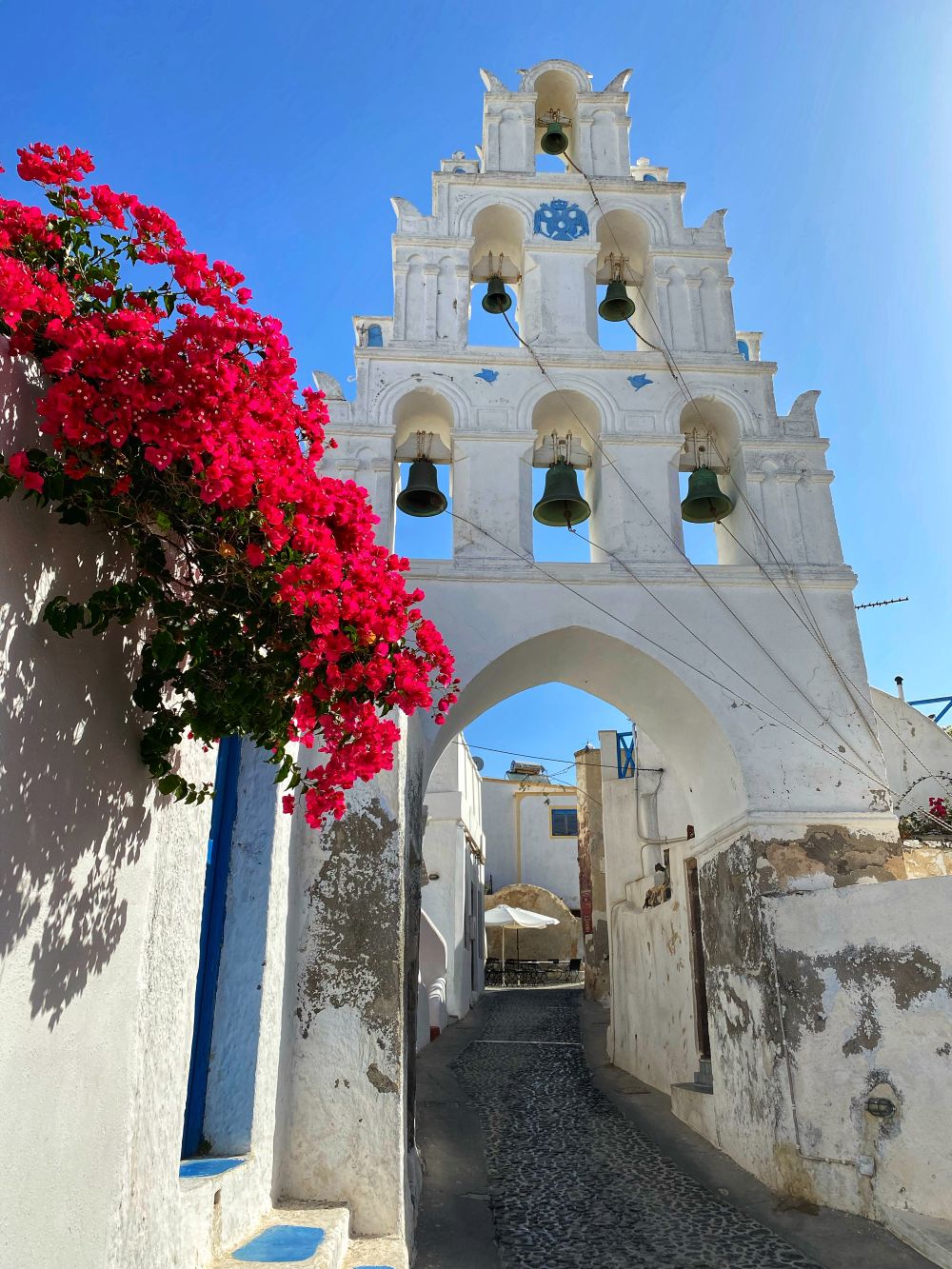 Coming out, I got served some bread, as this is the local tradition, much like in Romanian churches. I was told something in Greek but just said "thank you" and walked out, in embarrassment. But the bread was really nice, I'm not sure if eating it with moussaka was religiously okay, but God surely has forgiven me for this one. Megalochori? MUST DO!
Eat at Mama's Food
To be honest, Santorini was not amazing in terms of food. What I mean by that is actual food, because in terms of cakes and pastries? LEGENDARY places, coming up below! But as far as seafood and other Greek dishes, it was just fine. It's like pizza, or sex, even the bad ones are still good, but I was expecting so much more from this amazing place in terms of cooking.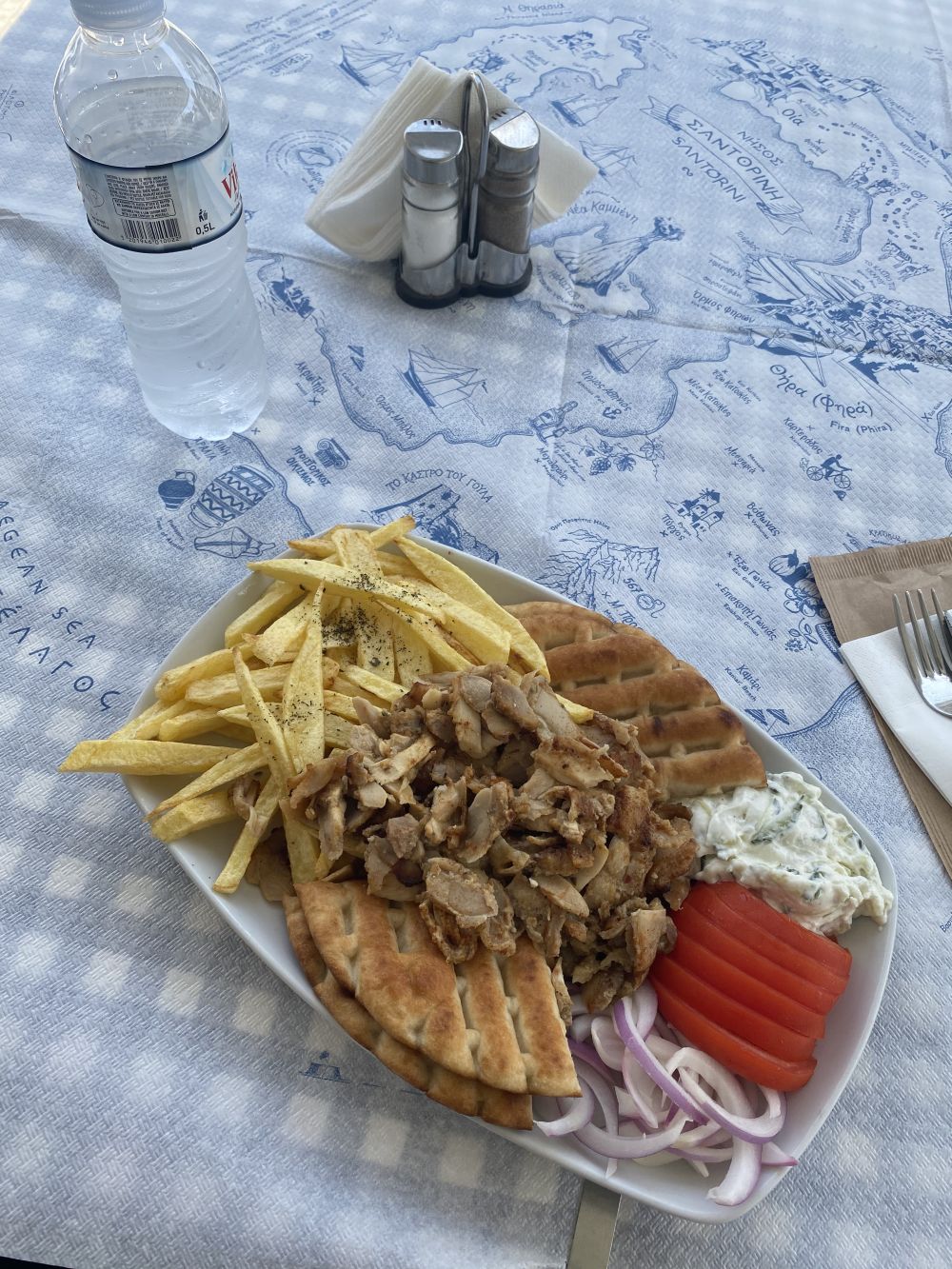 If there's one place I really liked it has to be Mama's Food right in Perissa. This place is actually run by a grandma, who takes your order and then prepares your food. The "mama" charged me around 10 euros for a huge plate of gyros with the best tzatziki sauce I've ever had. I also had the moussaka and the fried calamari, which were really good. Eat here when in Santorini.
Explore Gaudi's Beach
Out of all the beaches you can visit while on this volcanic island, the beach that I loved the most was this sort of sci-fi, almost Gaudi-style one. On one side you've got the sea, nothing out of the ordinary. But on the other side, there's these huge blocks of rock, the size of apartment buildings or hotels, all carved into by nature over centuries. It's so dramatic, so majestic, I was awed by it!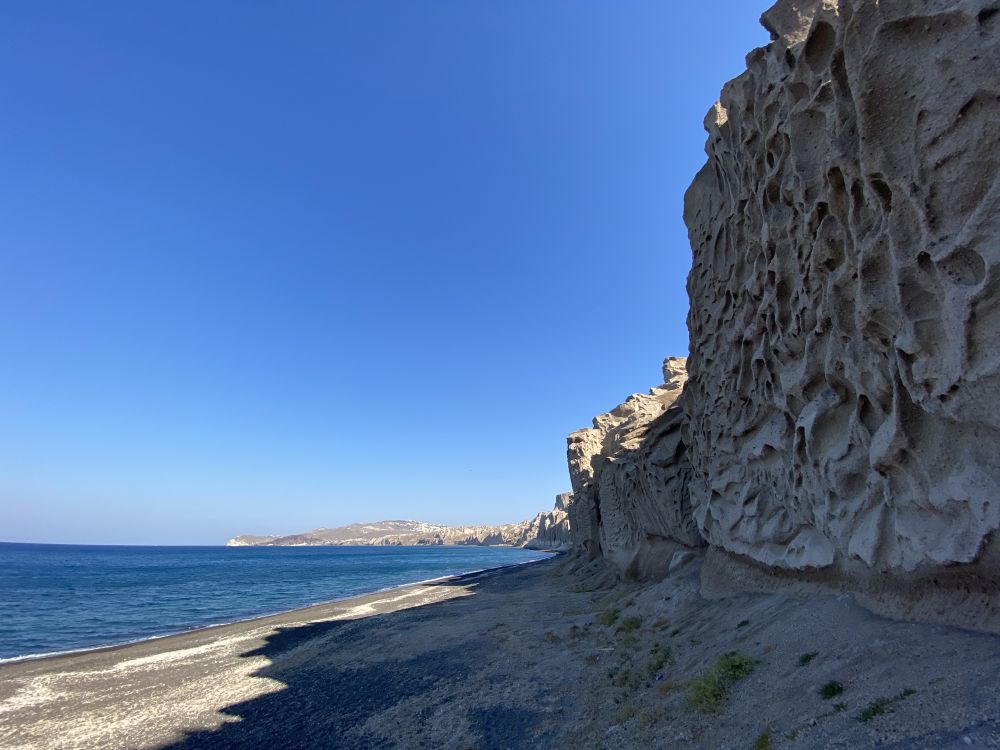 Take many photos in Oia and Imerovigli
Surely, you cannot miss the two most famous villages on the island when you're in Santorini. As a tip to not mess up your day, get to Oia by 8 in the morning if you wish to avoid the crowds and the heat. Take your photos, explore and admire the place, and then you're out. You should not pay $25 for a beer, I don't care how "AMAZING" the views over the caldera are. No, no, hell no!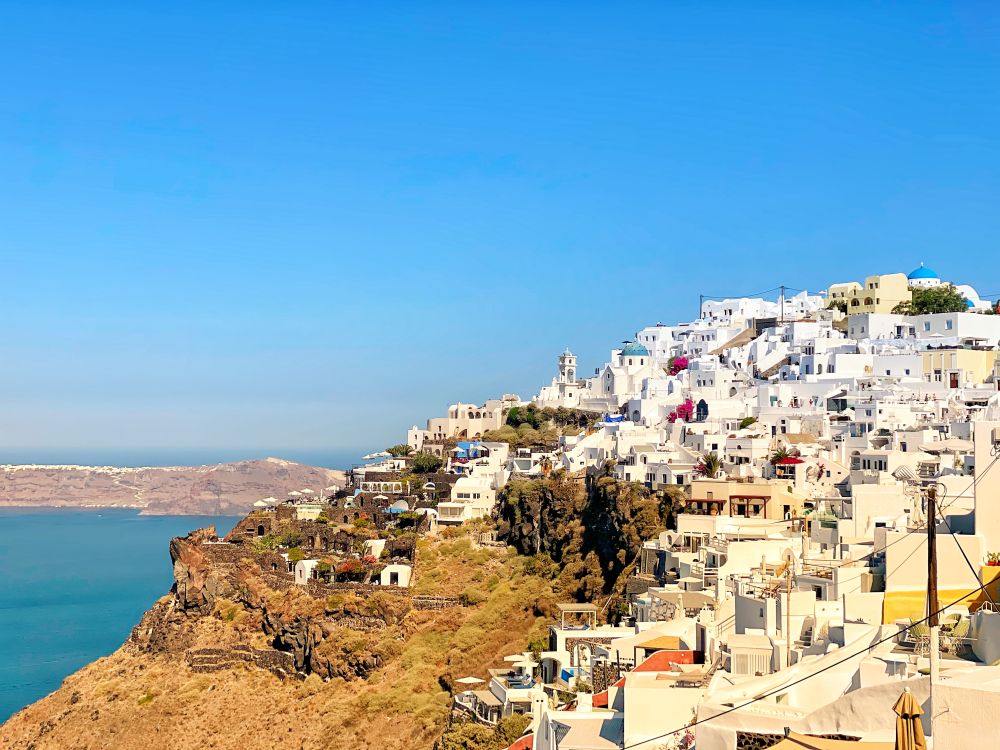 Another more laid-back but still pretentious village is Imergovili, set right next to the capital Fira. Here, the hotels are as expensive as in Oia, the views are dramatic, but somehow the number of people is reduced, hence allowing for more exploration and enjoyment. Just stay away from the "fresh juice bars", charging 7 Euros for a frozen strawberry smoothie. Come on people!?!
Pay 6 Euros to see a small golden bull
The entire island of Santorini is an archaeological site. Akrotiri is an ancient city, where many incredible sights have been uncovered from below the volcanic sediment. Most are exhibited at the Prehistoric Museum of Fira, which was 3 Euros last year, a fair price for a 3-room museum visit. Now it's 6 Euros, which is a bit of a lot considering the main attraction is a 6-inch-long golden bull and some alien-looking statues, as well as a bunch of pots. It's okay, as there is air-conditioning, but the information regarding the collection is scarce, so visit at your own risk.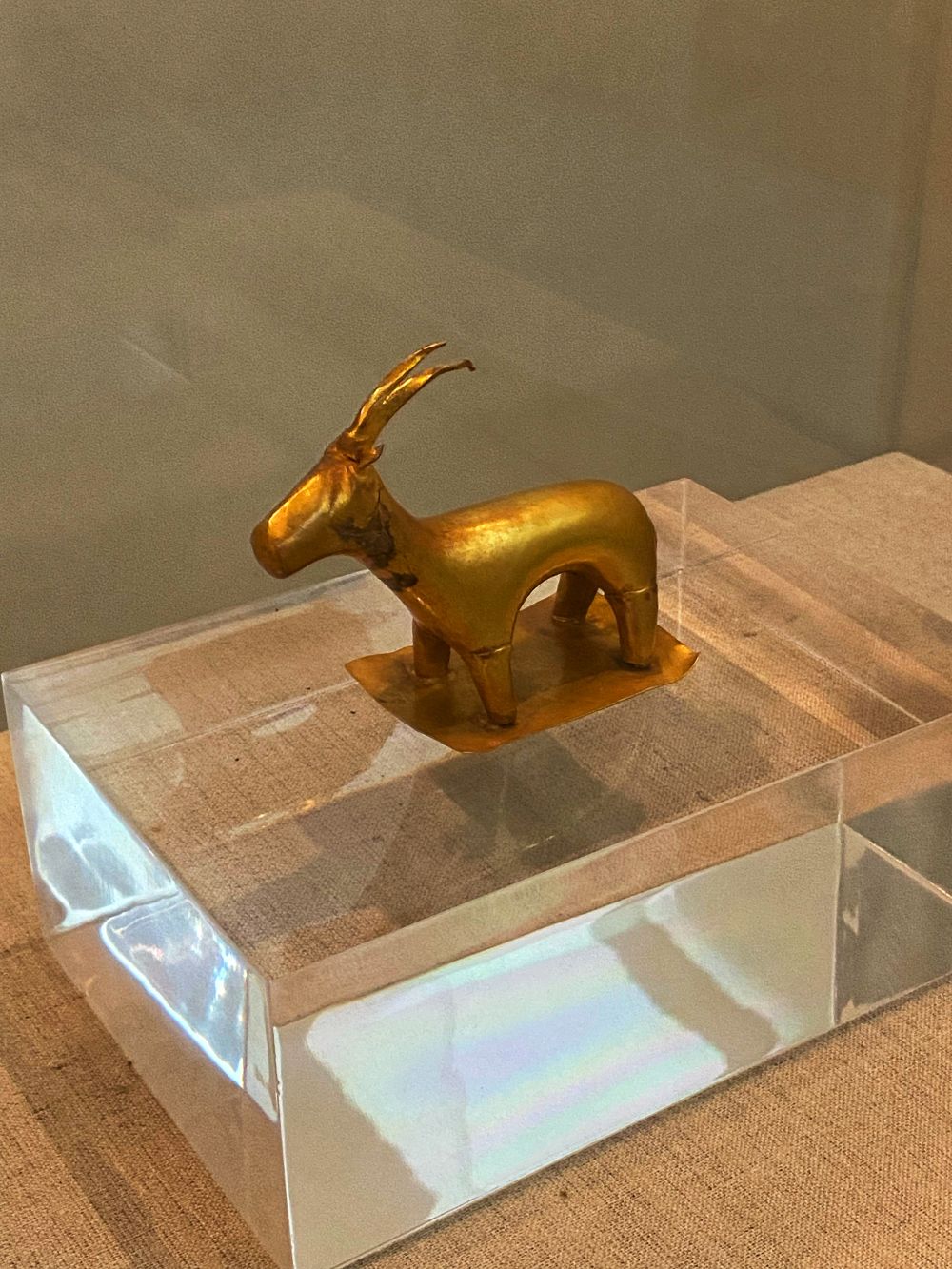 Indulge in the legendary pastries (The Family/Gregory/Santa Irini)
Now for my favorite part, the sweets and pastries on the island. By far, the best culinary experiences I've had while on Santorini were at the pastry shops run by families that have been doing this for generations. Regardless if you go to "The Family" (amazing cooked food, delicious coffee, cheap) or "Gregoris" (the best orange cake in the universe!) in Megalochori, or "Santa Irini" in Perissa (try the Nutella croissant!!!) you cannot go wrong. Very cool people as well!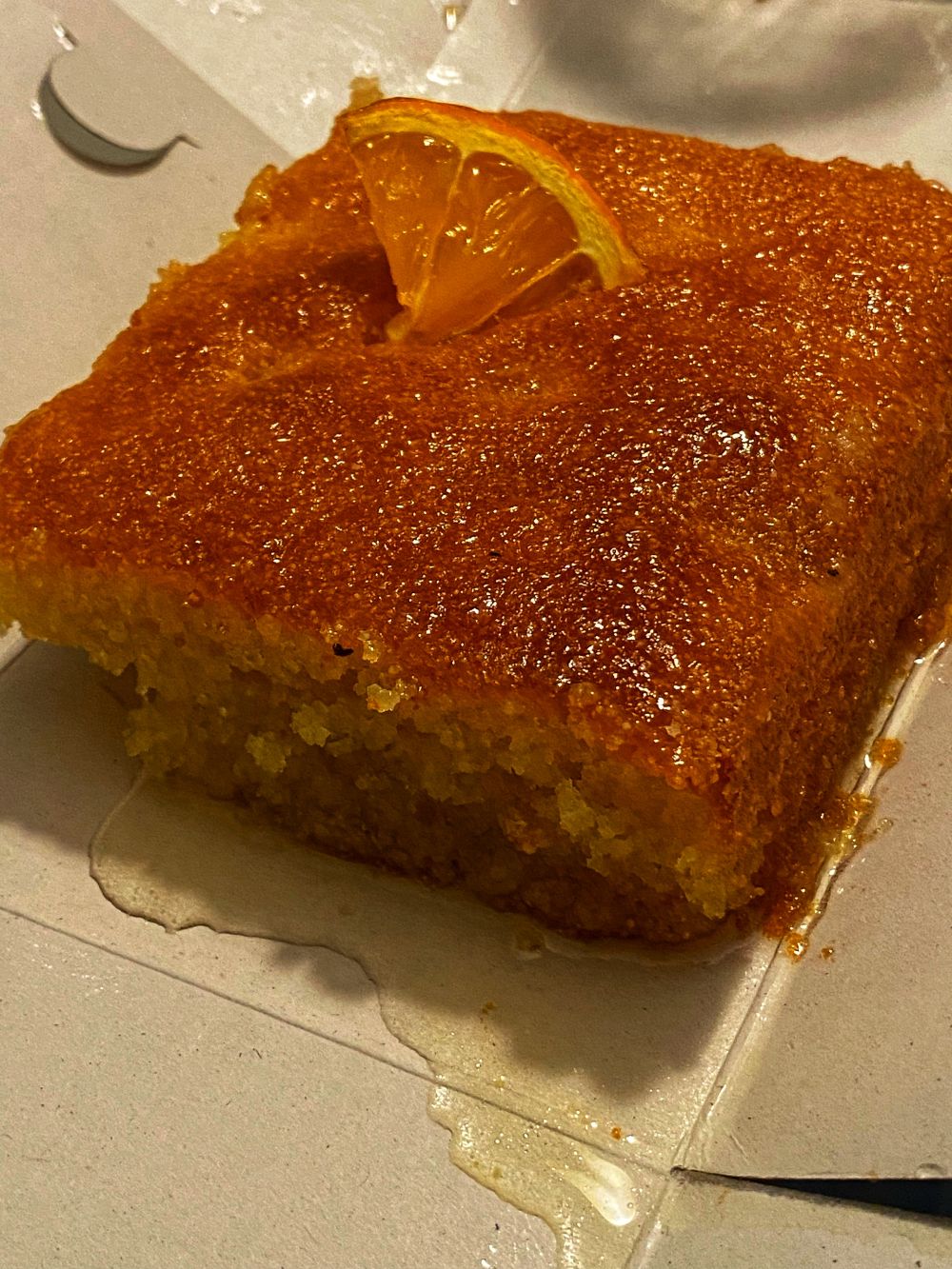 Eat the best gyros on the island
If you want to spend 6 euros the right way, have the best gyros on the island at Aris in Perissa. After trying a handful of other places, I have to say this one is the most amazing one. Perfect bread, yellow and soft, amazing sauce, good fries, and the most amazing chicken skewer on the island. And for 6 euros, you can get two! That's much better than a lame bagged smoothie…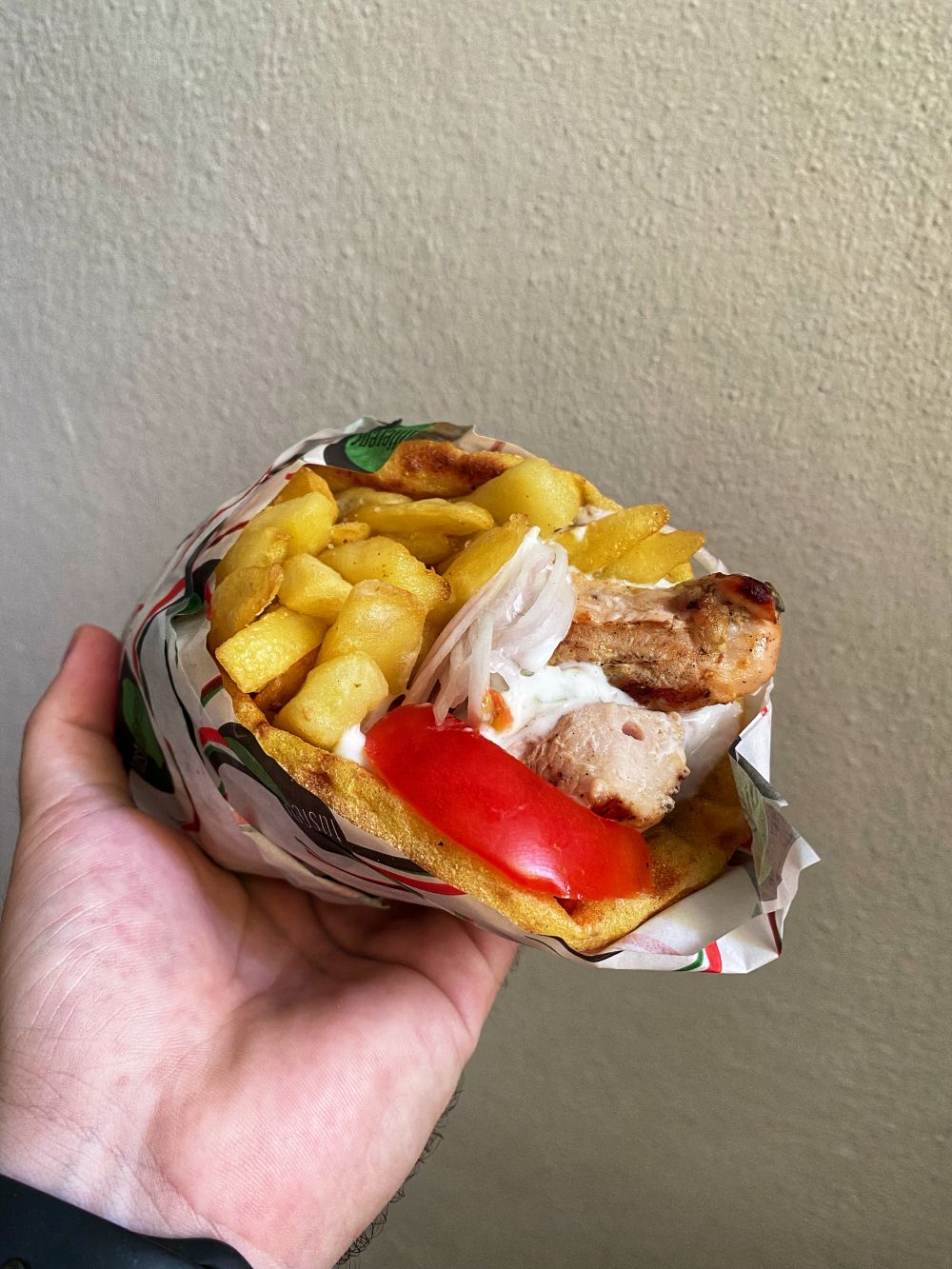 Watch the sunset at the viewpoint
The only way you can really mess up a trip to Santorini is by missing the sunset on the island. With so many viewpoints, you can literally go anywhere on the island and have a great view. Sure, Oia is the most famous place to watch the sun go down, but for me, it was the viewpoint in the middle of the island (just type "Heart of Santorini" in your Google Maps) where I saw it myself.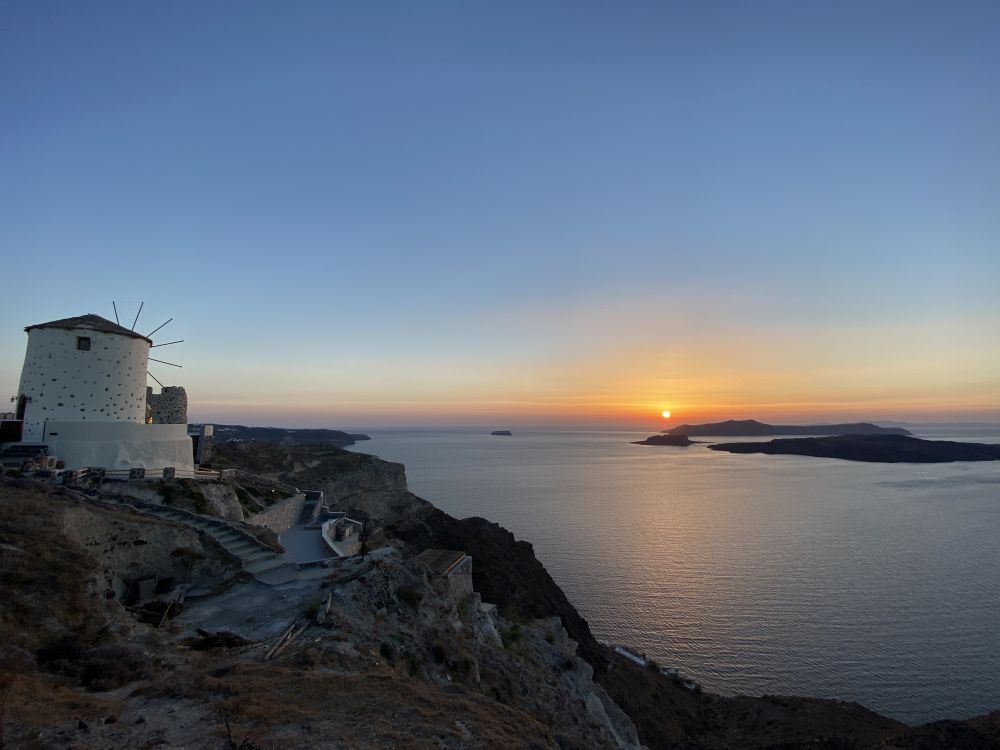 Honestly? This sunset was worth the entire Santorini trip. It was out of this world, watching the sun go down overlooking the amazing coastline and the boats, the volcano in the middle, the cities on the rocks, everything… it was just like looking at a godly painting in the making. I felt connected to a being higher than myself, to something so much more universal, unexplainable.
You must go and see the sunset on this island. It's one of those things you will never ever forget. Just close your eyes, and regardless if you've seen it a week ago, or 10 years ago, there it is, filling you up with that unmatched energy and sublime beauty.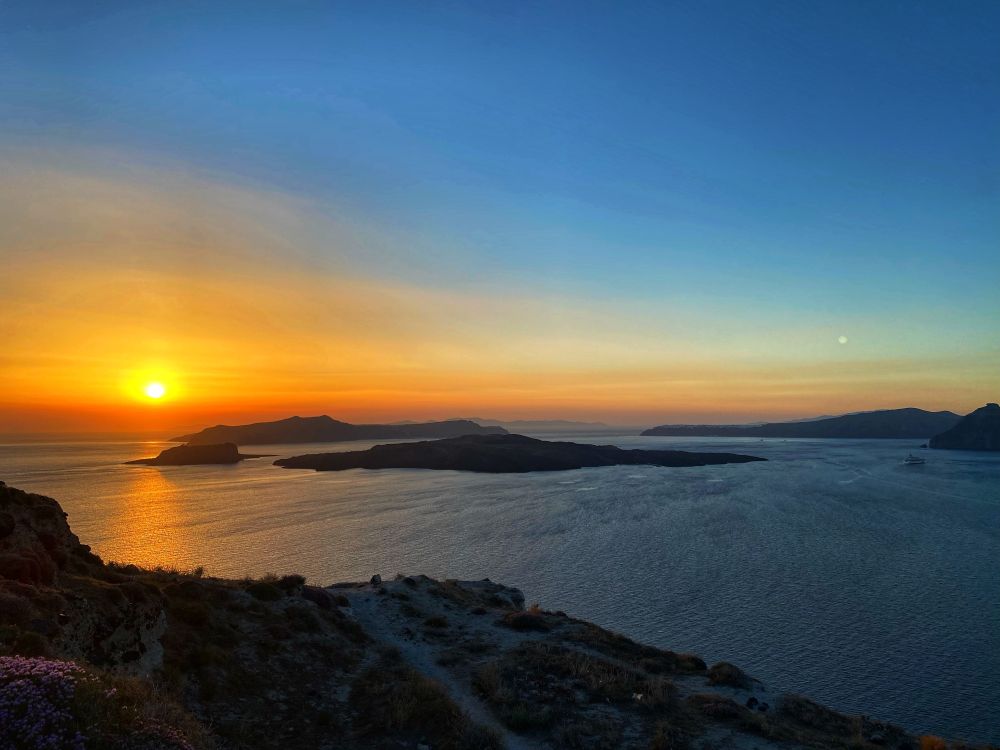 —
Hei, just a quick thing before you leave:
First, nice of you to read thus far, it means that you've enjoyed my writing!
I'm not here to ask you for any likes, shares, or comments, although that would be cool of you! Instead, I'm offering you a chance to have an even better piece, sort of like this one, but better, written for you by a content creator. That would be me! Check out my Services, Portfolio and Testimonials pages for details. And then shoot me an email at the address you'll find on the Contact page.
If you're a freelancer like me and are confused about learning how to make money online, especially through writing but also programming, design, or social media management, you can buy my book. It's called "From 0 To $2543 A Month With A Crappy Laptop – The Freelancing Course From A Self-Made Content Creator Boss" and you can find it on Amazon at 50% off!