Italians love their pizza so much, they put it on their national flag. I love their food so much, I might get citizenship! Red is for the tomatoes, white for the mozzarella cheese, while green is for the basil and other Italian spices. While this tale might not be exactly true, Italians love their food like Americans love their highways, Chinese their factories, Indians their cricket and Australians their kangaroos.
What is Italian food?
Italian food is simply taking the best, freshest ingredients and mixing them together to get the ultimate taste of good, honest, home cooking. Pizza is extremely simple in Italy, as well as pasta or the classic panini. Gelato is made with 2-3 ingredients. Even the most intricate dishes, like tripe stew or Bistecca alla Fiorentina, delicious desserts and drinks, are all made with just a few ingredients that can be remembered rather than written down in a cookbook.
In October I've spent 8 days travelling around Southern and Central Italy for my birthday. I sampled all the food that I could find, including fine dining, street food, desserts, even McDonald's Italian specials. There are some important things you need to know before diving into the actual food, so I will try my best to reveal all of them to you so that you may be prepared.
Eating in Italy – General rules
Italy is a worldwide phenomenon when it comes to food. Sure, they have some amazing scenic cities and villages, incredible artwork and great landmarks. Going to Italy can mean anything from seeing the Colosseum, visiting the Vatican, going to Pompeii for a tour of history, Cinque Terre or the Amalfi Coast for the craziest views on Earth, Milan for shopping and The Last Supper, and many more.
Still, probably the number one reason why so many people go to Italy in the first place, even if they don't realise it directly, is because of the incredible food. Italian food is sincere, simple, yet because it is made with just the best ingredients, it is delicious by default. Whatever you eat in Italy, it will taste so much better just because of the ingredients. Here are some general rules that you have to know before eating in Italy.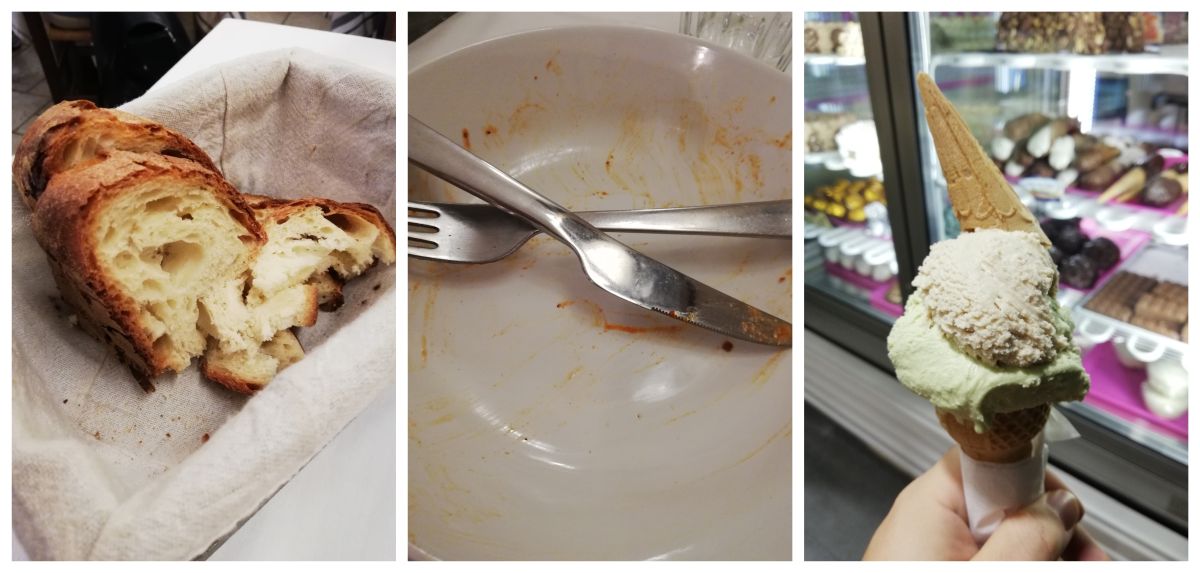 Restaurant hours
In most countries, restaurants have opening and closing hours. This is not the case in Italy. In Rome, Milan, Venice, Naples, Matera, heck, everywhere I visited in Italy, restaurants work by a special schedule. They open for lunch between 12 and 15, close their shops for an hour or two, then open again in the evening for dinner, usually between 19:00 and 23:00 or even at midnight. 
If you're starving in between those hours, good luck! That's why I've had to hit McDonald's a couple of times during my visits because all the places were closed. Also, it is very important to call in advance if you're looking for a reputable restaurant where you want to eat and reserve a table. Chances are you'll be unable to sit down if you don't do so because people stay in lines for hours, even with a reserved table, at the very best restaurants.
Sitting rules
Most Italian restaurants will have you seated by one of the staff members. You can't just sit anywhere, which works both in their and your favour. Why? Because the staff knows everything about the sitting area and will be ready to serve you based on the number of people, the place where you're seated, the things that you've ordered and so on. They simply know somehow. They have these rules for very good reasons, so if they tell you to sit at a certain table right in the middle of the dining table, just sit there. They know why.
Portion sizes
Food in Italy is delicious. Chances are even if you're eating a bowl of pasta at the train station, they're still going to taste like the best bowl of pasta you've ever had. When it comes to portion sizes, it's a "hit and miss" most of the time. I've had pasta bowls that were the size of a small football field, as well as some that were the size of a hockey puck. It really depends but, as a general rule, all you have to do is to look at your neighbour's tables and see what's the norm in the restaurant that you're in.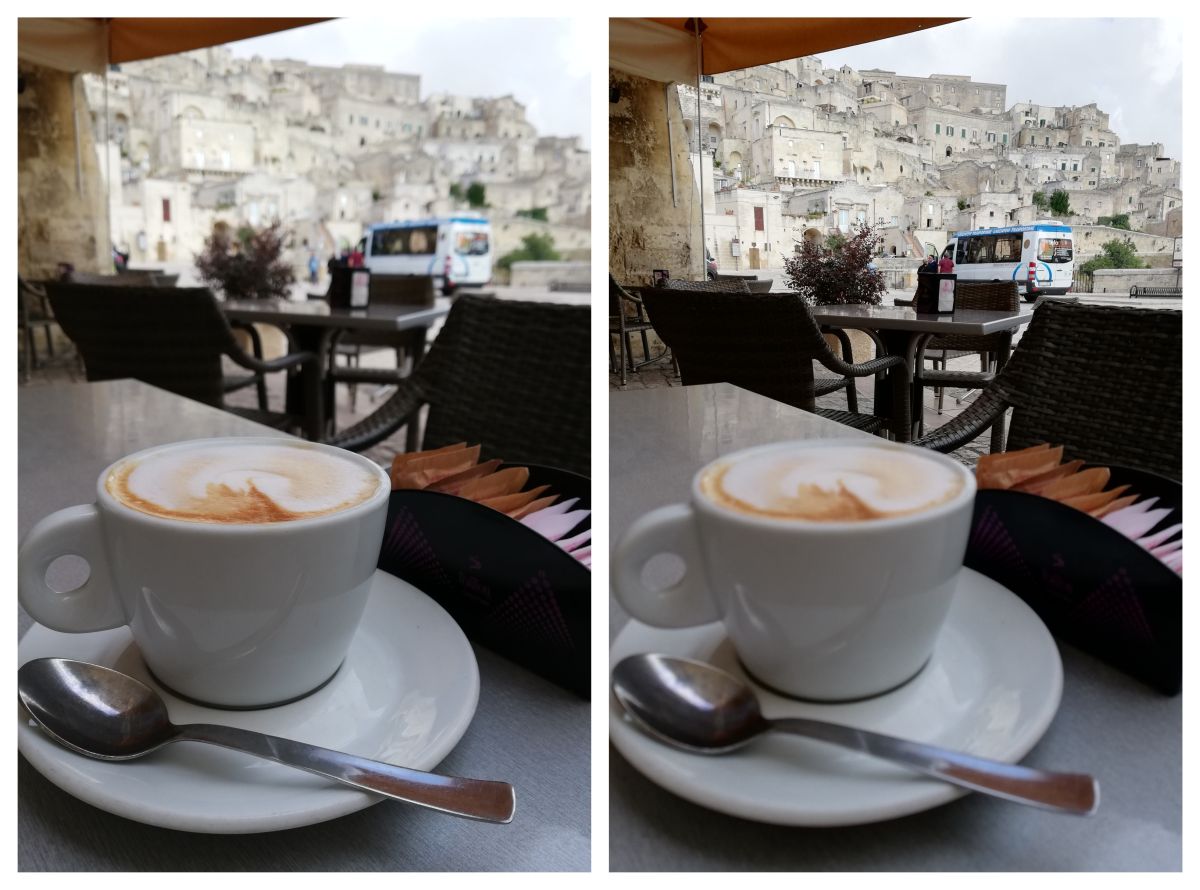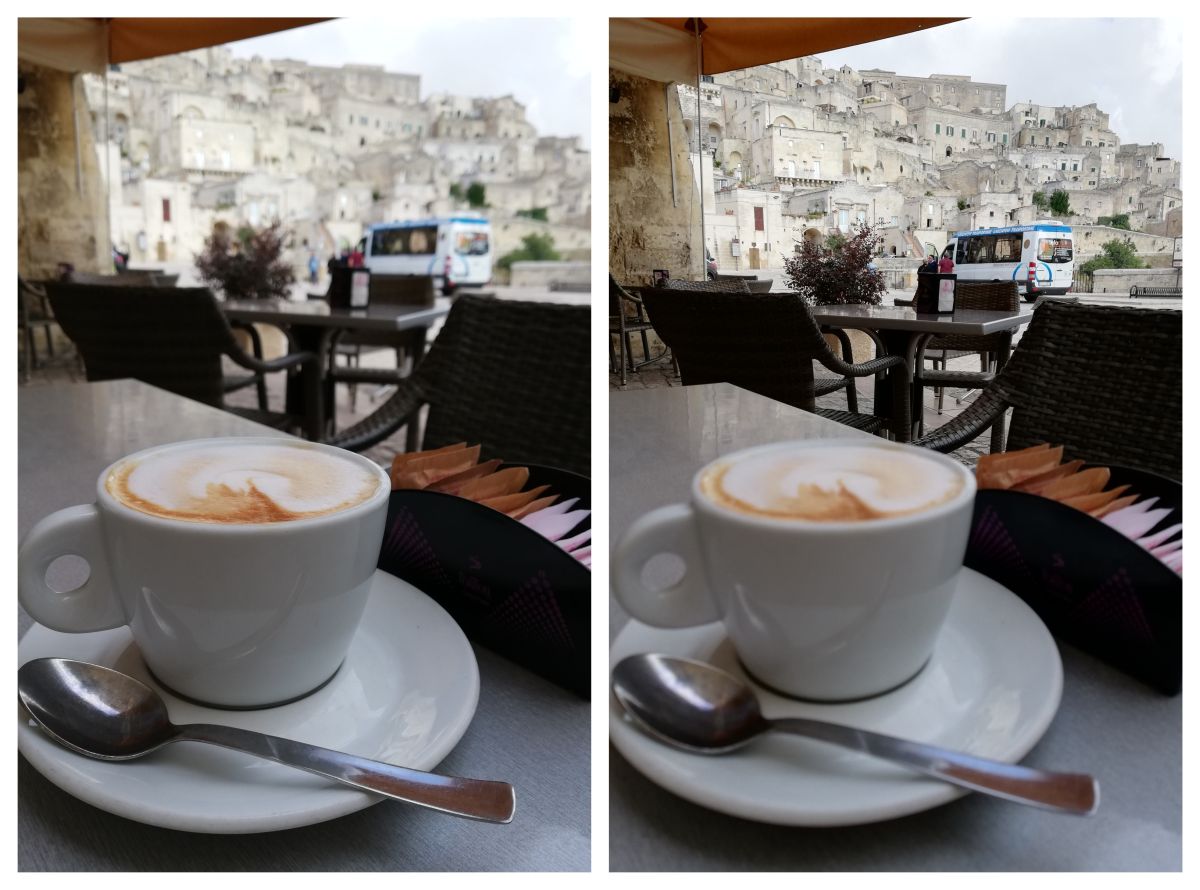 Drinks
Usually, Italians don't pair dishes with wines or beers. They drink mostly wine, but it's not such a strict rule of pairing this and that like you'd find in France or other countries. They simply love good white wine with pasta or fish and red wine with steak. Beer is another great drink in Italy. Besides prosecco and chianti, my favourite Italian drink is Moretti beer, which is simply delicious, especially if you find it on draft. As far as prices go, you'll pay anywhere between 3 and 10 euros for an amazing glass of wine.
Coperto
Before getting mad for being overcharged at a restaurant, Italian food lovers know that there's a coperto or service charge that's automatically added to your final bill. It doesn't matter if you sit down for a full meal or just a delicious cappuccino, you'll still be charged between 1 and 5 Euros depending on the restaurant. Coperto is a charge that's somewhat normal if you think about it because waiters mostly rely on tips to survive even in Italy. If you feel like you've been treated extra great, you can always leave a bigger tip over the coperto. 
Best food in Matera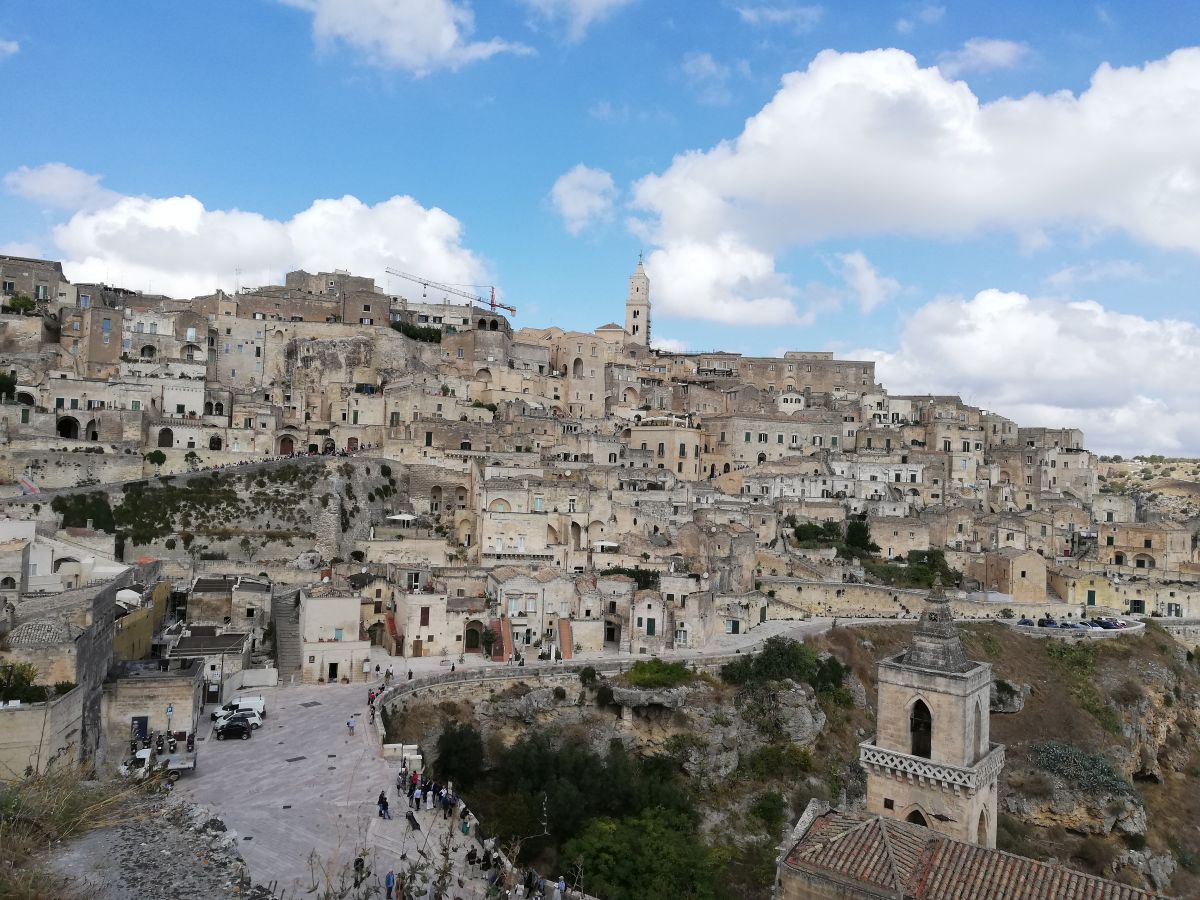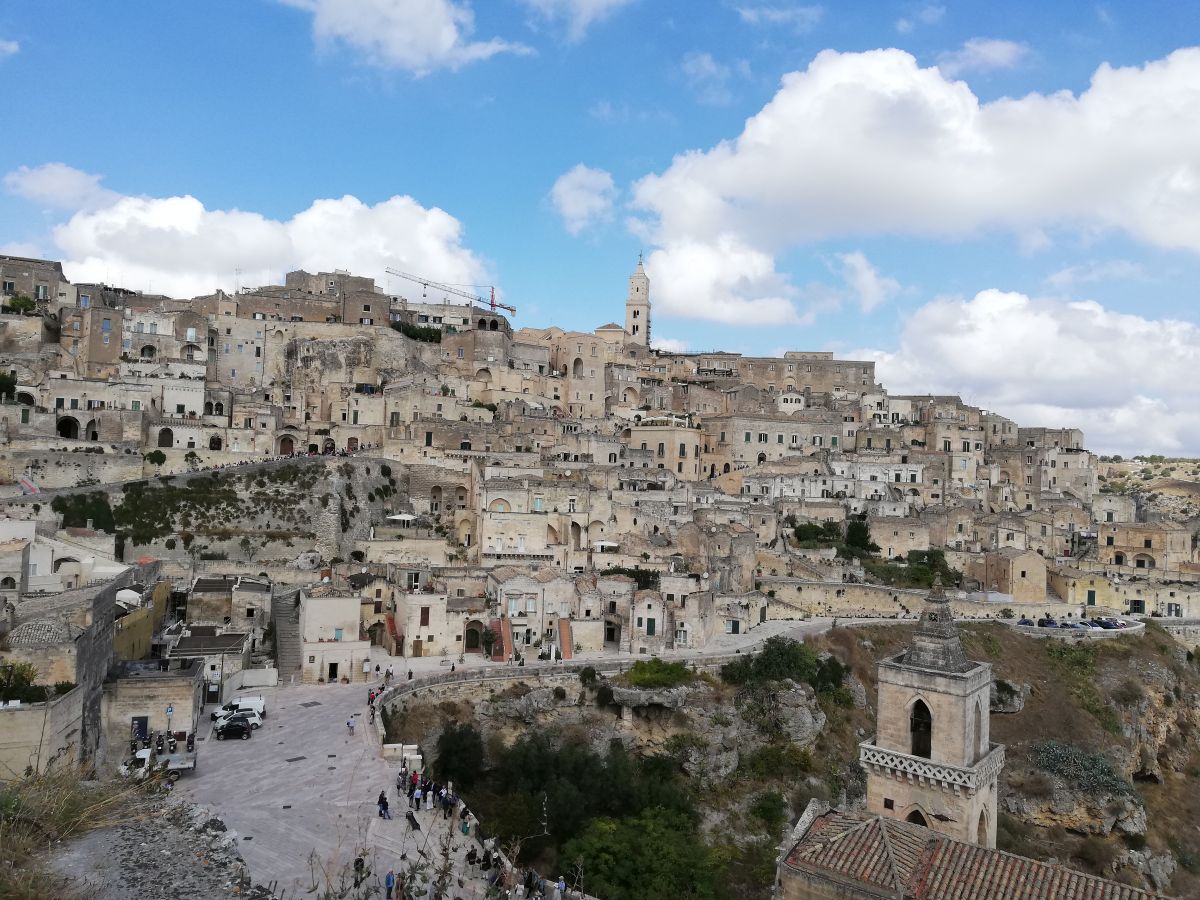 Matera is one of those cities you have to see with your own eyes to believe it actually exists. It is so picture-perfect, it looks almost fake. You'd expect a city like this would be mediocre when it comes to food "thanks" to the hordes of tourists that would basically eat all day and anything. You'd be very wrong actually. I've had the best pasta dish and dessert right in Matera during my trip to Italy. 
The restaurant I'm talking about is called Trattoria Lucana on Via Lucana 48. This place was packed when I arrived on my first night so I had to come back the second day at lunch when there was a line in front of it 30 minutes before opening. Luckily I got a seat and was treated with probably the best Materan home cooking in the city. I was surprised by the quality, quantity and price of the food.
I got a plate of bruschetta, a pasta dish with homemade pasta, sausages and mushrooms in a tomato sauce, as well as the pie of the day, one of the most incredible pies I have ever had. Served on a golden plate, of course. The pics speak for themselves.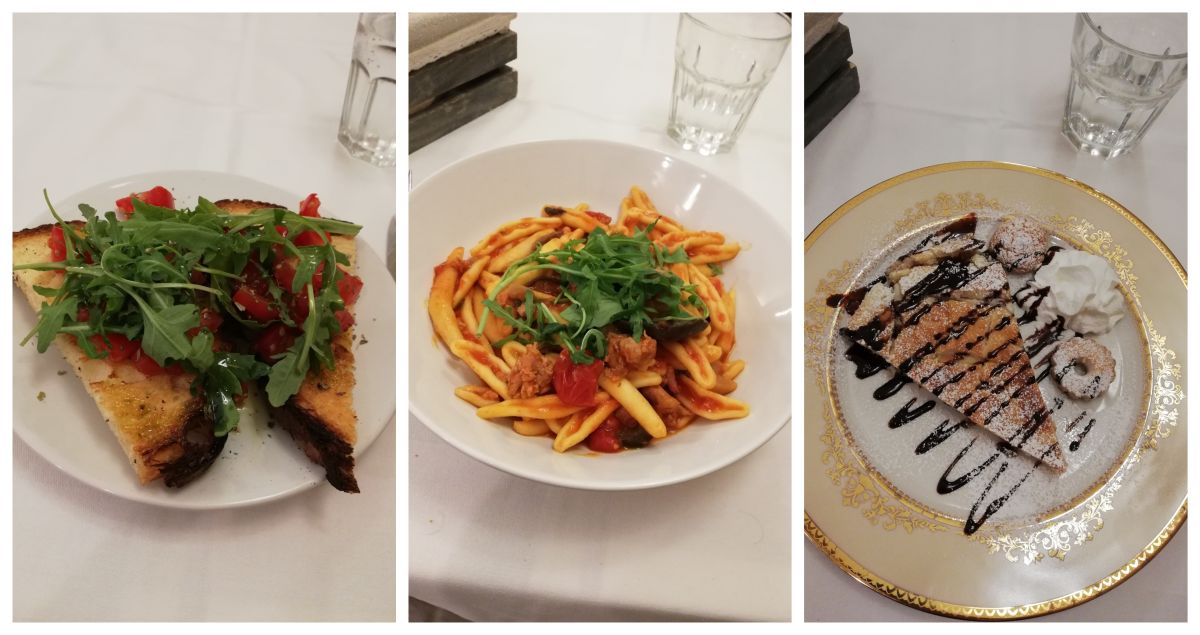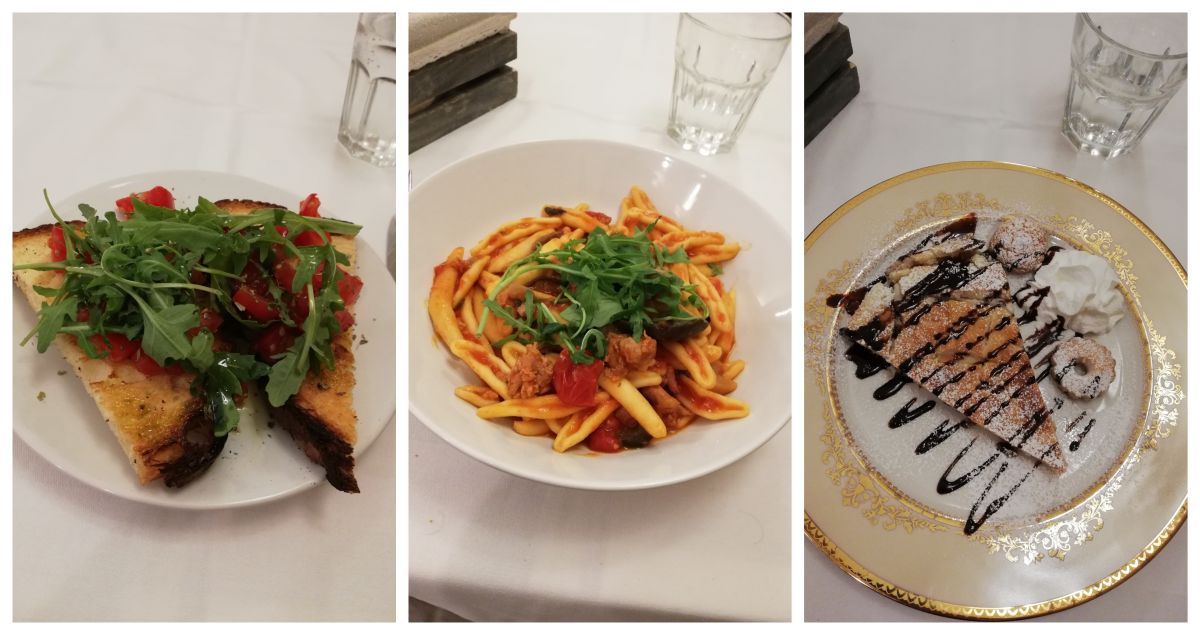 After such a meal I walked for two miles or so to the brim of the very old part of Matera. I'm talking caverns and hills that have been around since Flint Flinstone dropped the first bowling ball and scored a perfect score. A little hike makes you appreciate Italian food a little more! Here, I've had the most incredible cappuccino at Kiev Cafe on Piazza S. Pietro Caveoso. This is probably the best view you'll ever get while sipping coffee in the city.
Best food in Naples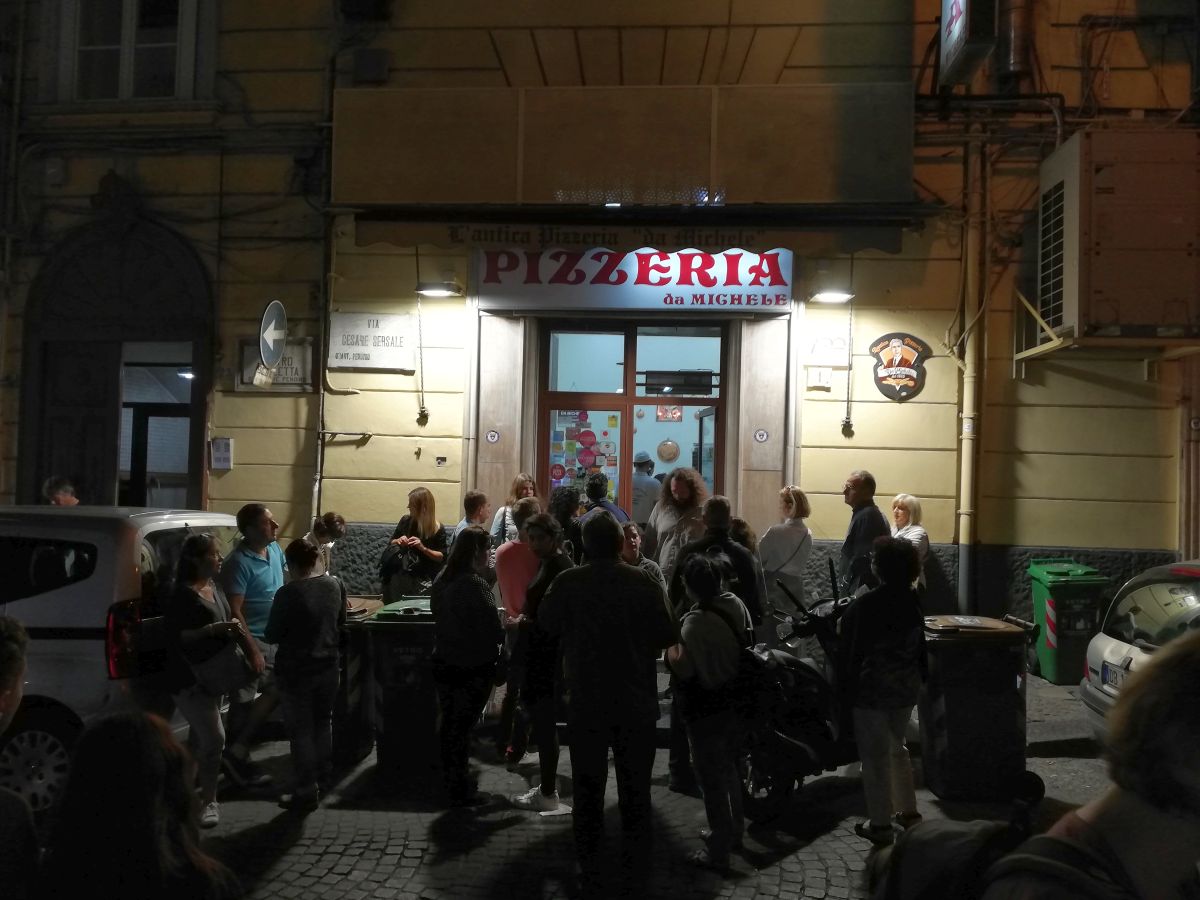 After a long bus ride from Matera to the Tyrrhenian Sea, I arrived in Naples, the beautiful second largest city of Italy. Cobbled streets, incredible vibe and people of all ages and nationalities searching the alleys for the real, the unique, the primal, the original, Neapolitan pizza. Going to Naples and not hopping into one of the antique pizzerias is like going to New York and not seeing the Empire State Building.
I hopped on a quest to eat at two pizzerias during my only night in Naples, but unfortunately, one of them was closed. So, after another 30 minutes of walking, I arrived at L'Antica Pizzeria da Michele which is literally in the heart of the city. I grabbed a seat near a Korean dude and was promptly served my Peroni beer in a heartbeat. It went down quite easily, so I asked for seconds.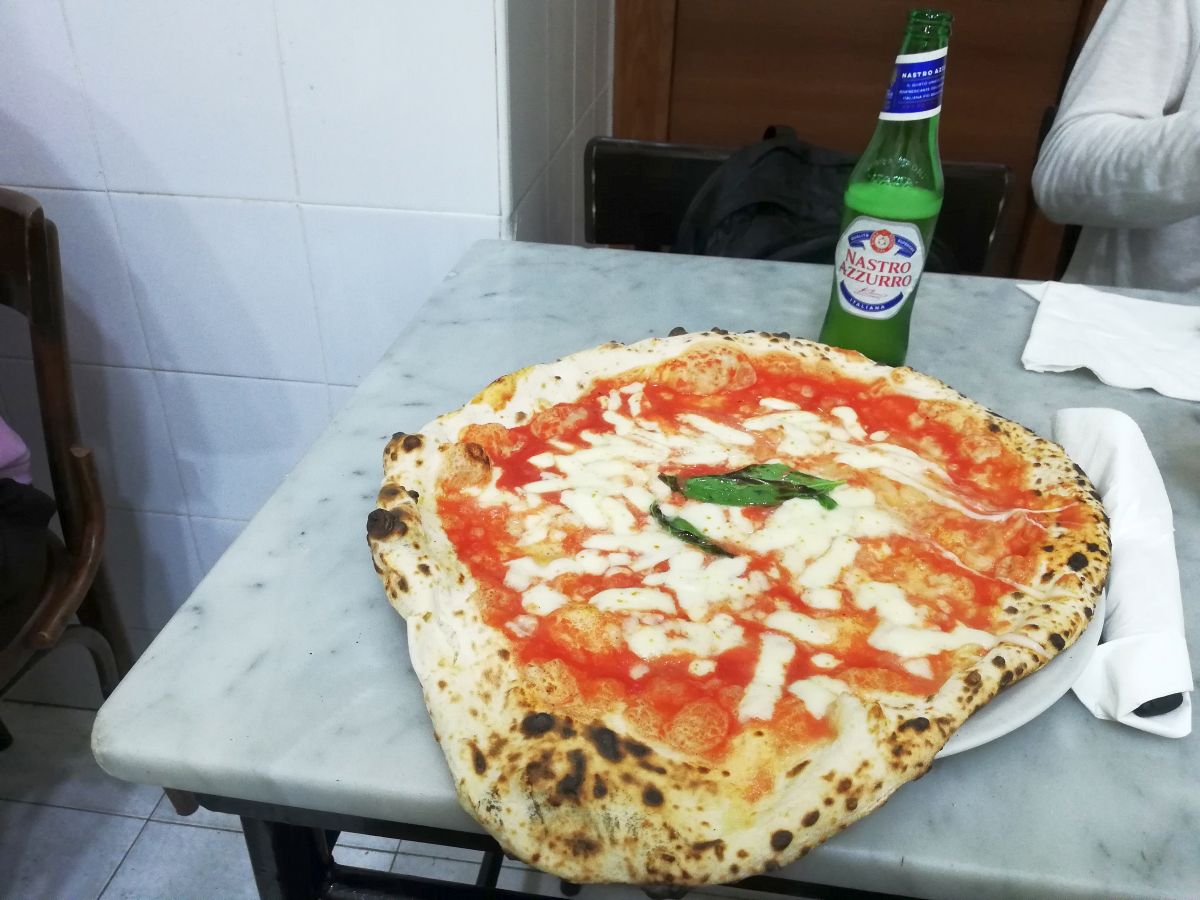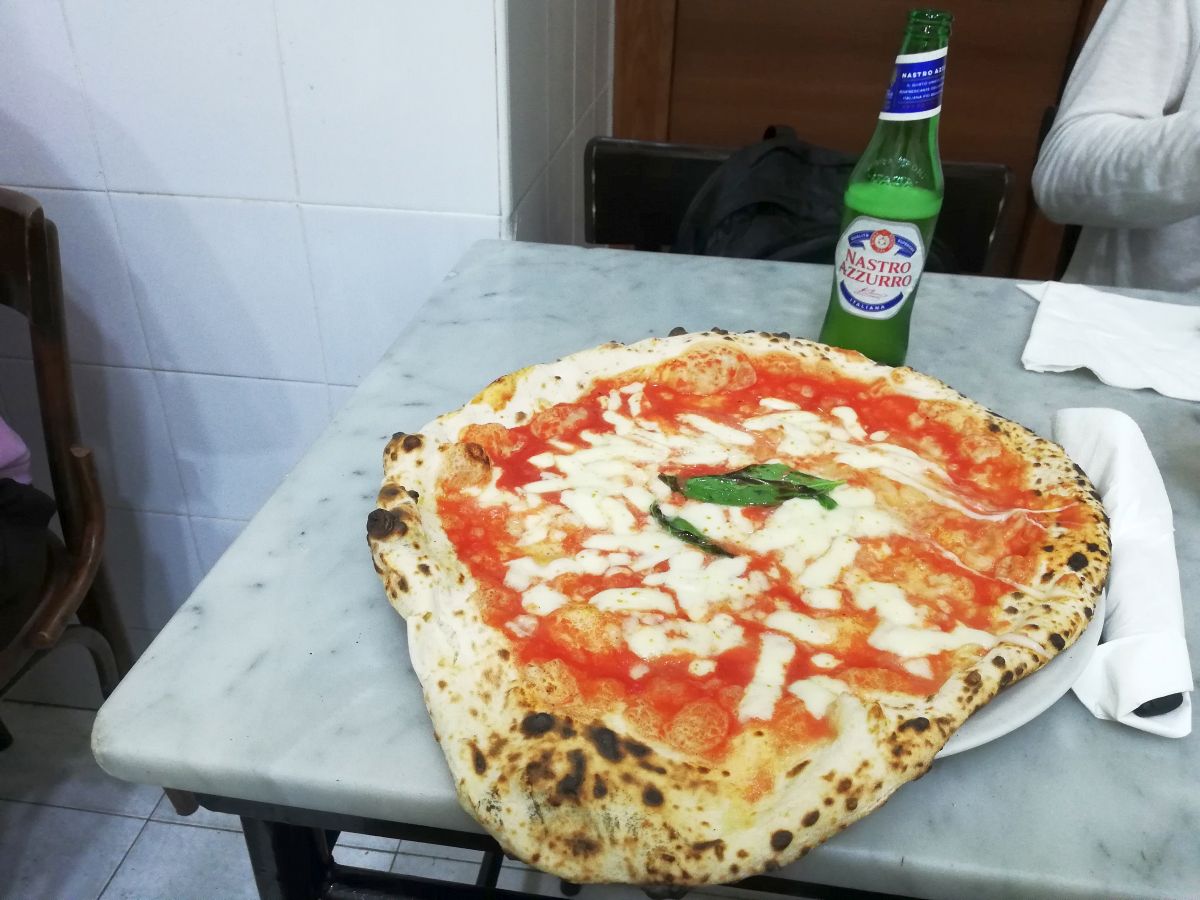 The pizza in Naples is like no pizza you're used to back home. It has no ridiculous amounts of toppings overflowing on the plate, no fancy crusty or thin or other types of bases you can choose from, like you were in one of those sports betting place, no sauces or oils that go with it. It's just dough, tomato sauce and mozzarella. You can only get a margherita, which was my choice, or marinara, which is the same but without the cheese. Some places put stuff on top of the base ingredients but that's not what you're supposed to do. This is not Pizza Hut.
Also, why would you get pizza without cheese?!?
The pizza tasted fresh. That's the one word that would best describe my feelings about the Neapolitan true, authentic pie. It tasted like it came straight out of the ground, the flour and yeast in the dough, the tomatoes in the red sauce, basil and of course the milk in the cheese, which tasted like it was milked out of the cow seconds before hitting my plate. One certain thing is, it tasted different from the pizzas that you and I are accustomed to.
It is simple, but absolutely delicious. So many people said that the pizza in Naples is too simplistic for them. And I get that, I thought the same during my first bites. But the more I ate, the more the flavours kept growing on me, the more I loved the dough, the cheese and the entire combination. The more you eat, the better it becomes. And for 7 Euros, having a pizza in one of the oldest, best pizzerias on Earth is a steal!
Best dessert and gelato in Pompeii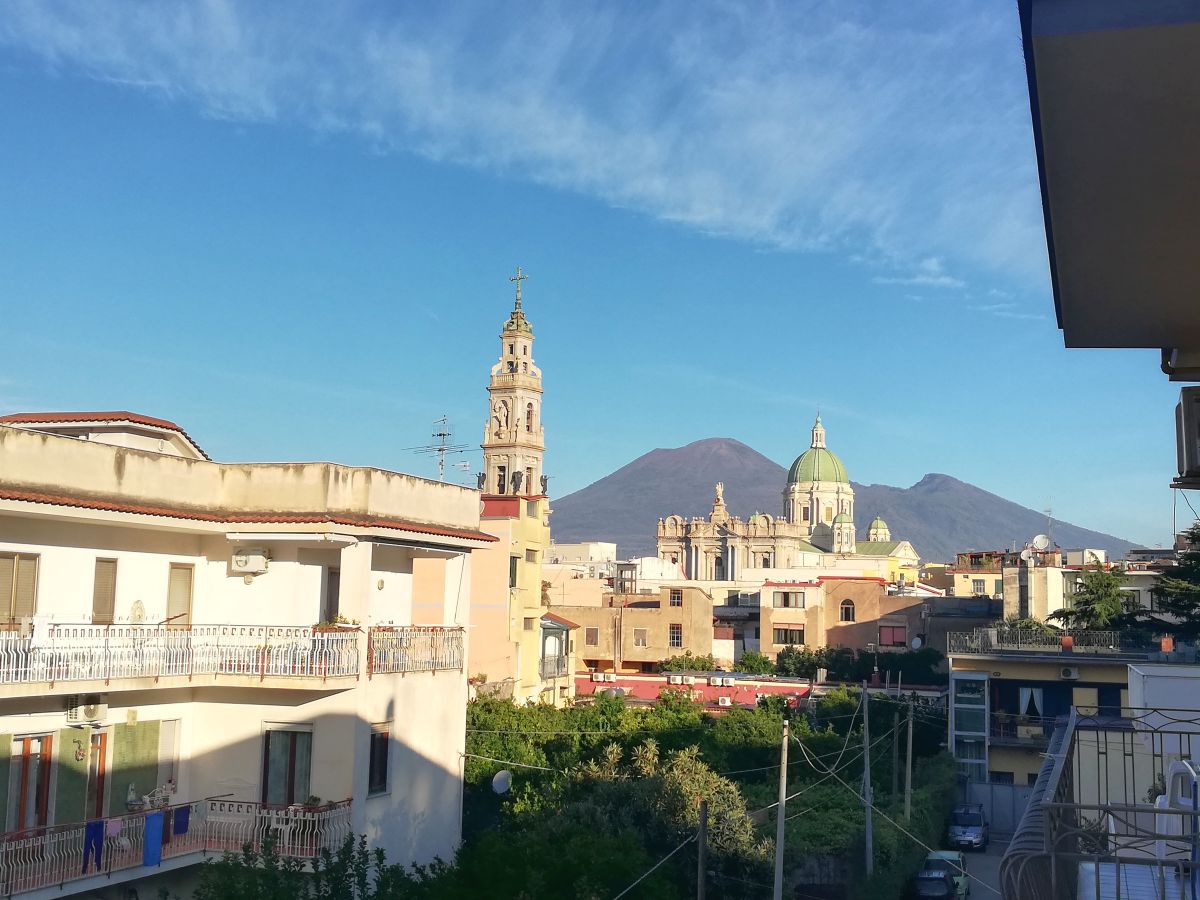 Although it is a touristy place, this pasticceria or pastry shop is a legendary spot for decades in Pompeii. Situated right before the entrance to the old ruins in the Piazza Anfiteatro on Via Roma, Pasticceria De Vivo operates in the same spot since 1955. The place is packed with people from all over the world, but a good sign for me was seeing some older Italians enjoying their espressos and smoking their tobacco outside the shop. If that is what you see, that is where you have to get something. Anything!
I went for the most famous of all Neapolitan desserts, the sfogliatella. Imagine puff pastry and pistachios filling taken to the ultimate level. Made to look like the tail of a lobster, this pastry is made out of many thin layers of dough that combine into the most amazing texture you'll ever put in your mouth. It's refreshing, sweet, but not too sweet, crunchy, and melts in your mouth. If you're going to Pompeii to see the ruins, and you totally should, stop here and enjoy this masterpiece.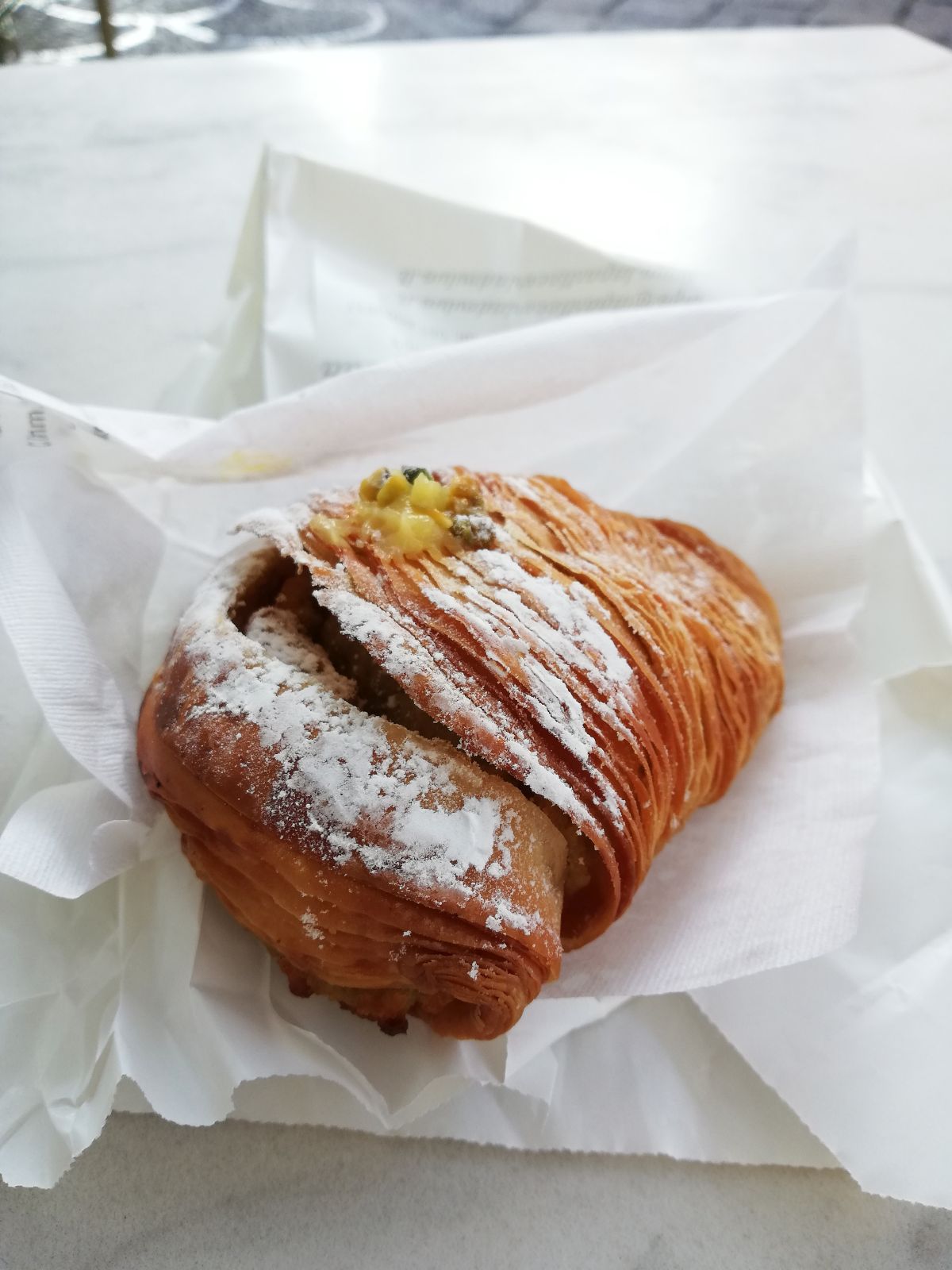 The shop is also famous for its gelato. I've had the coconut and the pistachios flavours, my usual order. They were some of the very best of the best I have ever had. Still, I haven't found a pistachios gelato as good as the one I've had in a small city called Conegliano where the famous prosecco is made. I'll keep searching…
Best food in Rome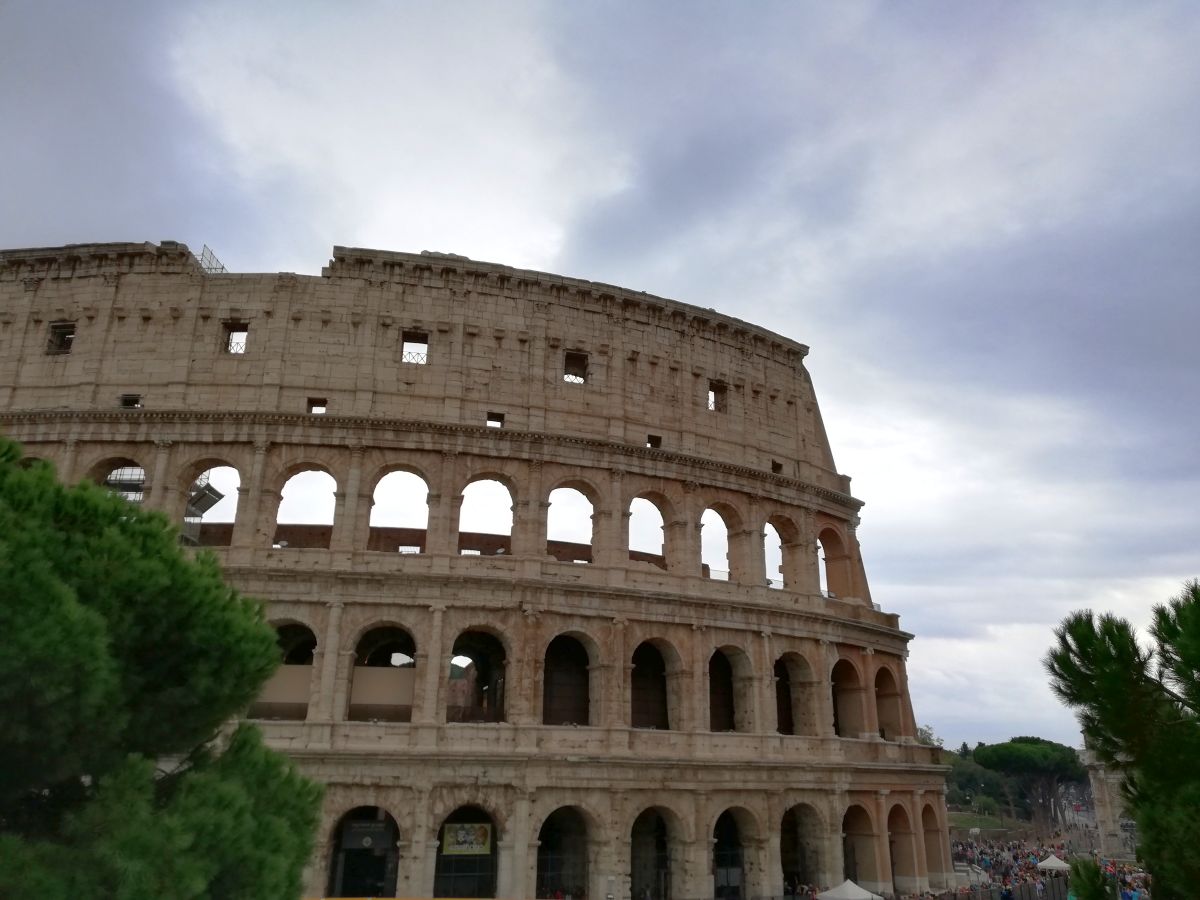 I have my favourite spots when in Rome. I've been there three times now, and I love this city more and more every time I see it. It has something that attracts me like no other city on Earth. It has a charm of its own and the fact that you can have breakfast, lunch and dinner while looking at the Colosseum or the Pantheon is unmatchable.
When it comes to Rome, pasta is king. Romans love pasta and are not so much into pizza or paninis. Sure, there are some amazing shops where you can get Roman pizza, which is shaped into squares and sold by weight, has a crustier, crunchier dough and is filled with ingredients. I'm just saying it's not something you'd typically eat if you were a Roman. 
Speaking of pasta, my favourite restaurant and pasta dish in Rome can be served meters away from Termini station, the main train hub of the city. It's called Elettra and is on Via Principe Amedeo. I love it so much, this was the only restaurant in this whole tour that I didn't even have to search the address for. The pasta to get here is called boscaiola, made with tagliatelle, ham and porcini mushrooms, all garnished with a delicious white sauce.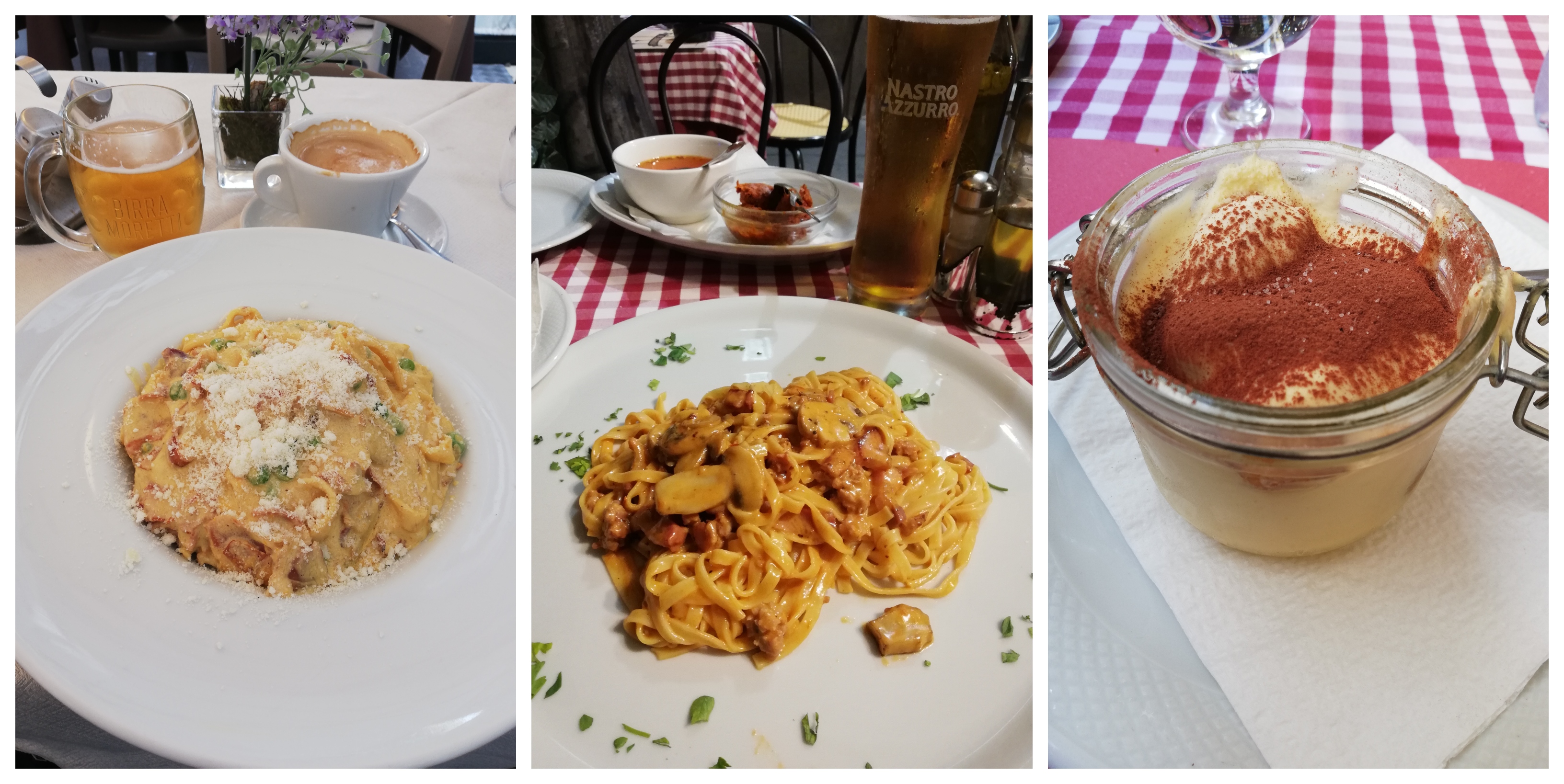 Roman pasta is divine
Coming back to Elettra after so many years, I was extremely happy to see that the pasta dish that made me fall in love with Italian food hasn't changed much. In fact, it got much better. It was simply spectacular, perfectly balanced and delicious.
The next day I visited a new restaurant, as Elettra was closed that Tuesday. It's called Pizzeria Andrea and it's located a few streets away from Termini, on Via Dei Mille. Naturally, I went for the same pasta boscaiola and I have to say, it was a spectacular dish. It wasn't better or worse than Elettra, as it was made in their style, but it was an incredible dish. Also, I loved the free starter they gave me consisting of freshly baked bread and spicy Italian salami, a simply stunning combination.
Prices were also great at both restaurants. For my pasta, beer, water and a dessert I paid around 17 Euros with the coperto included. I mean, you cannot beat that anywhere on Earth. And both places are meters away from the centre of Rome.
Conclusion
So there you have it, this is my complete guide to Italian food in Rome, Naples, Pompeii and Matera. If you're in Italy and happen to be in one of these cities, please do yourself a favour and visit these restaurants for the true Italian food experience. I promise you will not be disappointed. Enjoy the pasta, the authentic pizza, the beautiful beer and wines. And, of course, the tiramisu and sfogliatella that will simply leave you without words.
Ciao!