Money is always a dilemma for freelancers and small business owners.
This year, I've started my own freelancing website and serious Upwork profile building on the content creator side of things. Money-wise, everything went great. I can trully say I'm satisfied with this year on this aspect.
Although it doesn't matter how much money I've made in 2018 (don't think 6 or 7 figures, I'm many years away from that. But I do have a plan to get there) it matters how I've spent the money that I've made this year. To make it easier to follow, I've come up with a percentage chart!
Here's what's up:
Monthly bills — 2%
Spotify, website hosting, a few Netflix months, monthly bank fees that were like $1 or so. This is pretty good giving the fact that it doesn't go over a few hundred bucks. Yet again, I don't pay for electricity or gas, which is cool!
Savings — 2,23%
I am completely ASHAMED by this figure. I can't believe I've only put away 2,23% of my 2018 income. It is absolutely disgraceful. I will fix this one in 2019 for sure. Please, if you do make some money, don't be so stupid as I was and put some of it away. At least 20%!
Bank fees — 2,35%
Commissions. Transfer fees. Paypal fees. Exchange fees. Everything that you have to pay to get your money to your fingertips, regardless if you're talking local or internationally-made money. It's a pretty healthy sum, to be honest. But no, it's not crazy big, which means I've made some right choices regarding banks and online money services. A good way to go!
Debt — 4,8%
I have a bank loan due this next year for my car. Now that I look back, that almost 5% of my overall income going on it is quite decent. I'm not feeling like I'm turning half my money to banks, which is freeing. Never spend more than you can pay guys. Never!
Timisoara+Romania trips — 5,1%
I'm working from home or from the office most of the times, but from time to time, I have to go to Timisoara or any other city in Romania for both relaxation and work. To Timisoara, I'd usually go one to three times per week. To other cities in Romania, I'd probably go once a month or so. The money is decent here, so there are no complaints on how this sector came out.
Food and gas — 12,7%
I've eaten out a lot this year. I've also paid for a full tank of gas almost every month for my car. Which is enough, fortunately, because I only have to drive for 10 minutes to my office in town. From there I'd usually go for the train if I were to go to another city or take the bus, or the plane for overseas trips. I think I can improve on the "eating in" sector for 2019, but it's always nice to have the occasional meal out with a buddy or two.
Non-food — 33%
We did a lot of renovation at the house in 2018, which is why the second most expensive thing this year was the non-food sector. Basically, we're talking construction materials, wooden floors, a new heating system (which is CRAZY expensive in Romania, for some reason) a new kitchen and living room, a new grill (yes!) and so on. Also, non-food includes things like presents, car repairs, a new TV, a new fridge, a bike and so on.
International trips — 34,5%
Well, you all saw this one coming! My trips in 2018 were my biggest expenses. Which is normal, considering I've seen so many places this year. I've been to London, Budapest, Cairo, Hurghada, Istanbul, Conegliano, Venice, Florence, Munich and a few other smaller places I can't remember right now.
I'm quite happy with this percentage because it means I've only spent one-third of my income on quite a lot of trips. Which means I'm a responsible adult who's been able to help around the house and do adult stuff with his money. Minus saving some money out for weak days, but yeah, you live and learn.
I've even made this fancy pie chart for you. Now I'm a real financial blogger.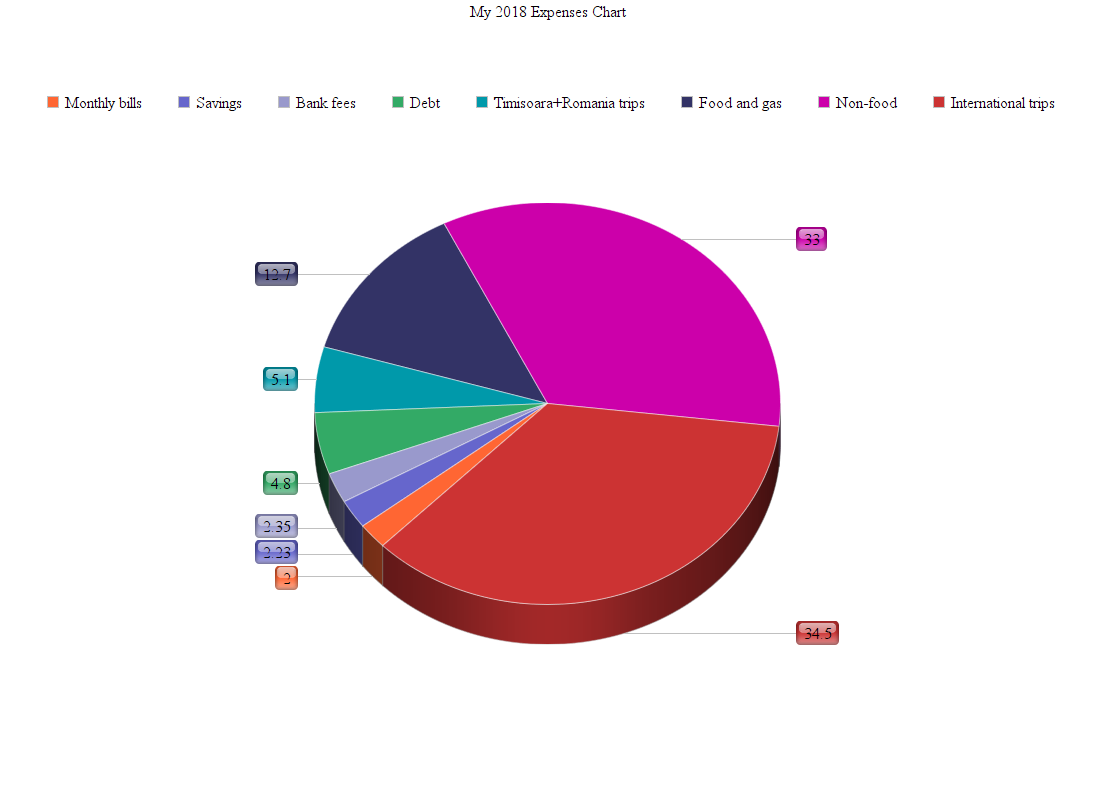 Prospects for 2019
The main focus in 2019 will lean towards saving money. I'm planning a huge European tour in the summer, which means I'll have to raise a good fund until that time. I'm planning on saving almost half of my income every single month. I do have a plan and it looks easy to implement.
With the non-food sector sorted, now that the house is done and we don't have to buy anything else for years to come, I can turn that money into savings. With that being said, I'll also work on the food sector and try and cut down on eating out and other useless expenses.
Also, I'll do an even clearer and more precise expenses chart for 2019, so in a year from now, I'll know exactly how much money I've spent on KFC, how much on plane tickets, how much on condiments and ice cream and how much on books, amongst everything else.
Article first published on Medium.